Wednesday, August 16th, 2017 ( 1 year ago )
Stable Notes
Aug 16, 2017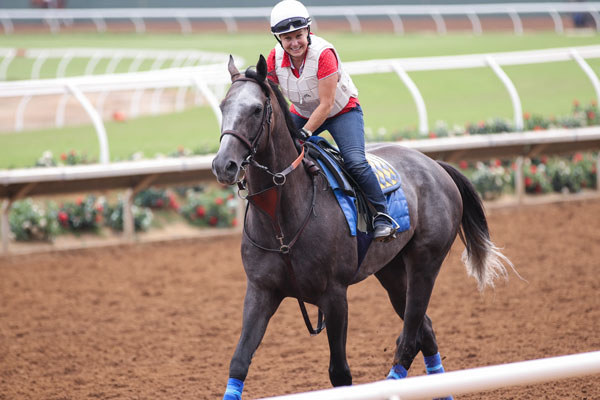 Arrogate © Del Mar Thoroughbred Club
ARROGATE'S A CLASSIC 'OUTSIDER' AND THAT'S FINE WITH BAFFERT
Arrogate drew the outside post and was established as the even-money morning line favorite as a field of eight was entered for Saturday's 27th running of the Grade I $1 million TVG Pacific Classic.
The field, from the rail out, with riders and morning line odds: Royal Albert Hall (Corey Nakatani, 30-1), Collected (Martin Garcia, 5-2), Accelerate (Victor Espinoza, 3-1), Sorry Erik (Kent Desormeaux, 30-1), Hard Aces (Santiago Gonzalez, 20-1), Donworth (Mario Gutierrez, 15-1), Curlin Road (Flavien Prat, 20-1) and Arrogate (Mike Smith, 1-1).
"It's a good draw, I'm happy with it," Hall of Fame trainer Bob Baffert said of the post for Arrogate, the No. 1 rated and all-time highest earning horse in North America. Baffert will saddle both Arrogate, an earner of more than $17 million in nine career starts but a shocking fourth of five in the San Diego Handicap here on July 22, and Collected.
"It's (the draw) not that big of a deal," Baffert continued Wednesday morning. "In a mile-and-a-quarter race there's a long run to the turn to get positioned. I would have preferred to have Collected more outside, but he should be fine from where he is."
John Sadler, trainer of San Diego Handicap winner Accelerate, expressed content with his horse's No. 3 draw and provided a picture of the race from his perspective.
"I was happy to draw outside of Collected, so it's a good draw for us," Sadler said. "It's pretty simple. Collected is going to go the front, (Accelerate) is going to sit second and Arrogate is going to sit third."
Despite the San Diego result, track oddsmaker Russ Hudak said he was never tempted to make Arrogate anything but the favorite. Arrogate was a morning-line 1-5 for the San Diego and went off at 1-20.
"As soon as the San Diego was over they started training him for this, and everything has gone well," Hudak said. "I thought (even money) was a good starting point."
The dreaded No. 1 post went to Royal Albert Hall, so it was unsurprising when trainer Kristin Mulhall said "No," albeit with a smile, when asked for her thoughts.
"It seems like I've been drawing the No. 1 a lot lately," Mulhall said.
Mulhall decided to enter Royal Albert Hall, a recent $50,000 claim, with the idea of trying the English-bred 5-year-old on dirt. A half-mile work in :47 flat on Monday was enough to prompt entry.
"We worked him behind horses and the dirt (kickback) in his face didn't bother him," Mulhall said. "He's worked well on dirt, so we might take a chance. It's an experiment. I'm not sure we're going to run, it depends on who comes out and who stays. If it's a five-horse field we'll run, if there's six, we probably won't."
Keith Desormeaux, trainer of 3-year-old Sorry Erik, thought the No. 4 was a good post, but said he'll have to do some serious thinking before fully committing to the Classic. The Grade II $250,000 Del Mar Derby, at 1 1/8 miles on grass September 3, beckons.
"He runs well on dirt or turf and he'll love the mile and a quarter, so there is some inclination to run," Desormeaux said. "But in all probability, we won't. The Del Mar Derby is the goal. If the field comes up with any more than five, I'll wait for the Del Mar Derby."
Sadler did not enter Hard Aces in Saturday's Del Mar Handicap as he had previously indicated he might. That would have meant withdrawing the veteran handicap division runner from the Pacific Classic. Sadler said he'll monitor developments in the coming days before making a decision.
Horses can be scratched as late as two hours before the race, which has a post time of approximately 5:40 as the eighth on an 11-race card. The TVG Pacific Classic is a "Win and You're In" qualifier for the $6 million Breeders' Cup Classic here on November 4.
---
FIELD OF 13 ENTERED IN SATURDAY'S DEL MAR HANDICAP
A near-capacity field of 13 was entered Wednesday in Saturday's 78th running of the $250,000 Grade II Del Mar Handicap, presented by The Japan Racing Association. The 1 3/8-mile turf event is a "Win and You're In" qualifier for the $4 million Longines Breeders' Cup Turf here on November 4.
Trainer Phil D'Amato, who leads the meeting with five stakes victories, has three representatives entered – Big John B, Hunt and Up With the Birds.
"I'll run all three," D'Amato said. "I'm putting Big John B back on the grass where he's shown consistency in the past and hope he springs to life on us. Hunt (Eddie Read winner) is doing well and we're going to stretch him out to the furthest distance he has ever run and see if he can get the extra quarter of a mile. Up With the Birds is an old- timer, and consistently gives a good effort. He came flying late in the Eddie Read and I think the extra distance will suit him well."
The field from the rail: Liam the Charmer (Victor Espinoza), Inordinate (Rafael Bejarano), Big John B (Corey Nakatani), Editore (Tiago Pereira), Itsinthepost (Tyler Baze), Monster Bea (Joe Talamo), Flamboyant (Brice Blanc), Ashleyluvssugar (Gary Stevens), He Will (Mike Smith), Up With the Birds (Jamie Theriot), Hunt (Flavien Prat),Mr. Roary (Santiago Gonzalez) and Prime Attraction (Stewart Elliott).
The Del Mar Handicap will go as the seventh on an 11-race program.
---
BAKERS' DOZEN IS WHAT'S COOKIN' IN DEL MAR OAKS
A field of 13 was entered Wednesday for Saturday's Grade I $300,000 Del Mar Oaks presented by The Jockey Club. The 1 1/8-mile turf event generally determines the champion 3-year-old filly of the meeting.
Madam Dancealot, winner of the Oaks-prep Grade II $200,000 San Clemente at a mile on turf on July 23 at odds of 21-1, would solidify her claim to the 3-year-old filly championship with an Oaks win. Storm The Hill (4th) and Kenda (5th) join Madam Dancealot in following a San Clemente start with one in the Oaks.
"We're taking a shot," trainer Phil D'Amato said of Kenda. "It (San Clemente) was her first time beyond a sprint and she was in the hunt until the eighth pole when she kind of tired a little bit. I think having that two-turn race under her belt will benefit her and, it's a Grade I, so why not take a shot.
The field from the rail: Kenda (Tyler Baze), Madam Dancealot (Jamie Theriot), Blame It On Alphie (Victor Espinoza), Pistol Packin Rose (Mario Gutierrez), Con Te Partiro (Flavien Prat), Meadowsweet (Kent Desormeaux), Vexatious (Rafael Bejarano), Kathy's Song (Gary Stevens), Storm the Hill (Santiago Gonzalez), Dream Dancing (Julien Leparoux), Pacific Wind (Corey Nakatani), Beau Recall (Joe Talamo) and Tapped (Mike Smith).
The Oaks will go as the 10th on an 11-race program.
---
ROMAN RETURNS IN TRIUMPH FROM EMERALD DOWNS WITH LEAD
Apprentice Evin Roman made his first out-of-town assignment a success on Sunday, guiding Gold Rush Dancer to victory in the Grade III Longacres Mile at Emerald Downs near Seattle. It was the first graded stakes victory for the 19-year-old from Puerto Rico who has been the sensation of the Southern California circuit for the past two months.
Roman enters the fourth week of the meeting atop the jockey standings with 22 wins from 128 mounts. He has a two-win margin over Flavien Prat (20-for-100) and six over Rafael Bejarano (16-for-89), the co-champions of the 2016 summer meeting.
Roman is scheduled to ride seven of eight races on Wednesday's program, as is Bejarano. Prat has four scheduled mounts.
Defending champion Phil D'Amato continues to lead the trainer standings with 12 wins to Doug O'Neill's 10. Richard Baltas (8) and Peter Miller (7) follow in order.
The closest competitors could make up some ground today. D'Amato has no runners on the card while O'Neill is scheduled to send out four, Baltas three and Miller one.
---
MANDATORY PICK SIX PAYOUT THIS SATURDAY AT DEL MAR
Del Mar will have an extra lure for exotic players Saturday in conjunction with its special TVG Pacific Classic Day program in that its Pick Six bet will be presented under "mandatory payout" rules.
There will be at least one Pick Six winner that day and that winner – or winners -- not only will get the majority of the Pick Six pool, but also collect all of the "Pick Six Jackpot" pool that has been building since it was last hit on Thursday, August 10. The "Jackpot" pool currently is at $82,395 going into Wednesday's card. Should the pool carry forward to Saturday, it is likely to be over $125,000 at a minimum and could be higher according to how the Pick Six plays out the rest of the week.
On "mandatory" days, if nobody hits the Pick Six with six winners, those next best -- with five, or four, and so forth -- collect the winner's share.
Del Mar will have an 11-race card Saturday, which means the Pick Six bet will be on races 6 through 11.
---
DEL MAR/SARATOGA ALL STAKES PICK FOUR ON TAP SATURDAY
Del Mar and Saratoga will team up to offer racing fans a deluxe "all stakes" Pick Four Saturday, a separate bet that proved especially popular last year when it was offered for the first time and drew more than $600,000 in wagers.
This year's version of the "all stakes" Pick Four will feature the Grade I Alabama Stakes from Saratoga, as well as the Grade II Lake Placid from the upstate New York venue. Del Mar's portion of the bet will consist of the Grade I TVG Pacific Classic and the Grade I Del Mar Oaks.
---
CLOSERS – Selected works from 260 officially timed over the last three days. Monday – Arrogate (4f, :47.60), Colonist (4f, 48.80), Royal Albert Hall (4f, :47.00), Vale Dori (4f, :48.60), American Anthem (5f, 1:00.80), Beach Bum (5f, 1:01.20), Camino de Estrella (5f, :59.20), Midnight Storm (5f, 1:02.20) Vyjack (5f, 1:01.20), West Coast (5f, 1:00.20); Tuesday – Princess Karen (4f, :46.60), Amboseli (5f, 1:02.20), Cupid (5f, 1:00.40), Danzing Candy (5f, 1:00.60), Calculator (6f, 1:14.00), Well Developed (6f, 1:13.00); Wednesday – Om (3f, :36.80), Abel Tasman (4f, :49.40), Bal a Bali (4f, :47.40), Edwards Going Left (:46.60), Mr. Hinx (4f, :48.80), Infobedad (5f, 1:01.60).
---
DEL MAR STATISTICS
Jockey Standings
(Current Through Sunday, August 13, 2017 Inclusive)
| | | | | | | | |
| --- | --- | --- | --- | --- | --- | --- | --- |
| Jockey | Mts | 1st | 2nd | 3rd | Win% | In-money% | Money Won |
| Evin Roman | 128 | 22 | 24 | 12 | 17% | 45% | $846,997 |
| Flavien Prat | 100 | 20 | 16 | 17 | 20% | 53% | $1,426,336 |
| Rafael Bejarano | 89 | 16 | 12 | 13 | 18% | 46% | $754,656 |
| Kent Desormeaux | 65 | 13 | 17 | 8 | 20% | 58% | $732,960 |
| Tyler Baze | 104 | 11 | 15 | 14 | 11% | 38% | $640,335 |
| Joseph Talamo | 74 | 11 | 7 | 7 | 15% | 34% | $508,090 |
| Corey Nakatani | 32 | 7 | 9 | 0 | 22% | 50% | $451,465 |
| Santiago Gonzalez | 49 | 7 | 5 | 9 | 14% | 43% | $335,779 |
| Drayden Van Dyke | 57 | 7 | 4 | 10 | 12% | 37% | $518,465 |
| Mario Gutierrez | 45 | 7 | 4 | 5 | 16% | 36% | $341,470 |
Trainer Standings
(Current Through Sunday, August 13, 2017 Inclusive)
| | | | | | | | |
| --- | --- | --- | --- | --- | --- | --- | --- |
| Trainer | Sts | 1st | 2nd | 3rd | Win% | In-money% | Money Won |
| Philip D'Amato | 55 | 12 | 13 | 3 | 22% | 51% | $998,277 |
| Doug F. O'Neill | 60 | 10 | 7 | 7 | 17% | 40% | $522,370 |
| Richard Baltas | 51 | 8 | 9 | 4 | 16% | 41% | $601,539 |
| Peter Miller | 72 | 7 | 12 | 8 | 10% | 38% | $435,272 |
| Mark Glatt | 33 | 7 | 4 | 6 | 21% | 52% | $339,662 |
| Bob Baffert | 20 | 5 | 4 | 3 | 25% | 60% | $350,930 |
| Robert B. Hess, Jr. | 28 | 5 | 4 | 3 | 18% | 43% | $148,385 |
| Simon Callaghan | 23 | 5 | 2 | 1 | 22% | 35% | $305,585 |
| Thomas F. Proctor | 12 | 5 | 0 | 4 | 42% | 75% | $291,678 |
| Michael W. McCarthy | 20 | 4 | 6 | 2 | 20% | 60% | $175,215 |
Winning Favorites Report
(Current Through Sunday, August 13, 2017 Inclusive)
Winning favorites -- 50 out of 174 -- 28.74%
Winning favorites on dirt -- 35 out of 109 -- 32.11%
Winning favorites on turf -- 15 out of 65 -- 23.08%
Winning odds-on favorites -- 14 out of 26 -- 53.85%
In-the-Money favorites -- 121 out of 174 -- 69.54%
In-the-Money odds-on favorites -- 22 out of 26 -- 84.62%