Sunday, August 13th, 2017 ( 1 year ago )
Stable Notes
Aug 13, 2017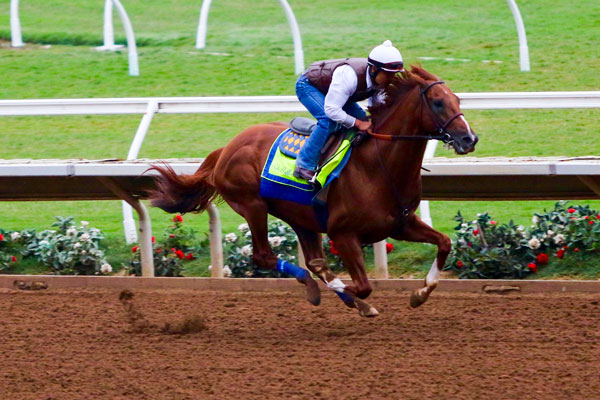 Collected © Del Mar Thoroughbred Club
ACCELERATE, COLLECTED WORK FOR CLASSIC; SONGBIRD IS OUT
Accelerate and Collected put in final workouts Sunday in preparation for Saturday's $1 million TVG Pacific Classic, the signature event of the summer meeting.
Classic-nominated champion 4-year-old filly Songbird also worked before owner Rick Porter put out word, via Facebook, that she would run next in the Grade I, $700,000 1 1/8-mile Personal Ensign Stakes at Saratoga on August 26. It means Songbird will continue to compete against female runners rather than make an initial start against males in the 1 ¼-mile TVG Pacific Classic.
San Diego Handicap winner Accelerate, the upsetter of North American No. 1 Arrogate in the race, went six furlongs in 1:12.40 under exercise rider Jose Contreras.
"It will be one of the quicker works, I imagine," trainer John Sadler. It was tied for third-fastest of 12 at the distance. "He looks good and he galloped out well. A very nice work."
Collected, a romping 14-length winner in the Precisionist Stakes in June at Santa Anita last out, covered five furlongs in 1:01 flat under regular rider Martin Garcia.
"He went very nice, looked really good, like his usual self," trainer Bob Baffert said. "Nothing really serious, but we did his serious work last week." Collected worked a mile in 1:37.20 on August 7.
Songbird went to the track at around 5 a.m. as planned, under exercise rider Fred Rodriguez. The daughter of Medaglia d' Oro, a winner of 13 of 14 career starts with the only loss coming by a nose to Beholder in the 2016 Longines Breeders' Cup Distaff, covered 5 furlongs in 1:01. Del Mar clockers got interim splits of :25.80, :37.80 and :49 flat and labelled the effort "breezing," a sparingly-used term on the West Coast.
"Fantastic, but when is she not," Dan Ward, chief assistant to Hollendorfer, said later Sunday morning at the stables here. "She goes a little faster the first part when Mike (regular rider Mike Smith) works her, but I prefer a little slower and then a strong finish. Those numbers are just beautiful."
"A very nice work and very inspiring to me," Hollendorfer said via telephone. The Hall of Fame trainer confirmed that Songbird would not be entered on Tuesday, if only to keep options open in case of a short field.
"I wouldn't do that, no," Hollendorfer said.
Close of entries is Tuesday morning. The post position draw will be conducted at a gathering at the Brigantine Restaurant from 3:30-5:30 that afternoon.
---
PASSING GRADES AS MEETING PASSES THE MIDWAY POINT
The finish of the last race on Friday marked the midpoint of the racing season. Eighteen days down, 18 to go.
And from a racing perspective, the first half of the 78th Summer Season got four thumbs up – two from Racing Secretary David Jerkens and two from Executive Vice President Racing and Industry Relations Tom Robbins – on Saturday morning.
"Handle is up, field size is up so it has been a good meet," Jerkens said. "We're not going to pat ourselves on the back right now because there's another half to go. But so far, so good."
Average field size was 8.5 per race for the first half of the meeting, up from 8.2 at a similar point a year ago. "That's solid and among the highest in the country," Jerkens pointed out.
The meeting opened with uncertainty, based on a marginal California horse population and the specter of Santa Anita being forced to cancel two days of its long meeting due to a shortage of entries.
"You always go into a meet with a plan but no expectations and take it day by day," Jerkens said. "I didn't know what to expect with this meet. Thus far, we're pleased and we're going to work as hard as we can, day by day, to keep it going."
So, for the grades-obsessed, what letter should be attached at midterm.
"I'm pretty hard on myself, and if I had to give it a grade, I'd say a 'B'," Jerkens said.
Overhearing, Robins chimed in with: "I'd give him an A. We saw what Santa Anita did the last month and we have had to deal with five days (of racing each week), not the four they had."
Regarding the track itself:
"We made some changes to the track," Robbins said. "We know we're never going to please everybody, we accept that. Overall the feedback has been positive and we're pleased. But we know we've got a long way to go."
---
WHILE THE APPRENTICE JOCKEY IS AWAY WILL THE VETS MAKE HAY?
Apprentice jockey Evin Roman is in the Seattle area today, riding four stakes on the card of the Longacres Mile program, signature event at Emerald Downs.
The 19-year-old from Puerto Rico, on track to become the first apprentice to win a Del Mar riding title since Steve Valdez in 1973, headed for the Northwest after one win from nine mounts on Saturday left him with a three-win lead on Flavien Prat.
Roman has 22 wins from 128 mounts, Prat 19 from 93. Prat had two victories on Saturday, the last, aboard Run Away in the Best Pal, was his meet-leading sixth in a stakes.
Five-time defending riding champion Rafael Bejarano, the last shared with Prat in 2016, went 0-for-5 on Saturday and is third with 15 wins from 85 mounts. Prat is scheduled to ride seven of the nine races on the Sunday program, Bejarano four.
Defending training champion Phil D'Amato enters the Sunday program with an 11-10 win advantage over four-time titlist Doug O'Neill. They notched one win each on Saturday.
D'Amato has two horses entered Sunday, O'Neill six.
---
ELEVEN ENTERED FOR FRIDAY'S GREEN FLASH HANDICAP
Pacific Classic weekend kicks off with the $75,000 Green Flash Handicap on Friday, the first of five stakes in a three-day period.
A field of 11 was entered Friday for the Green Flash, a five-furlong turf sprint for older horses.
Among the group is Tribalist, a 6-year-old gelded son of Tribal Rule who will be making his first start since a victory here in July of last year. A win by Tribalist would extend an interesting pattern that has gone on for three straight years – run once at Del Mar, win, don't race until a year later. It started in July of 2014 and has repeated in 2015, 2016 and is set up for a repeat on Friday. This time, the comeback is in an overnight stakes instead of the allowance level.
"Once a year for the past three years," trainer Blake Heap said with a smile Sunday morning. "The race we had for him didn't go, so the owners said 'Let's see what happens. He's a pretty fast horse and he's been training well. Now all we need is a little bit of luck."
The field from the rail: Gutsy Ruler (Santiago Gonzalez), St. Joe Bay (Kent Desormeaux), Tribalist (Victor Espinoza), Richard's Boy (Flavien Prat), Jimmy Bouncer (Martin Pedroza), K Thirty Eight (Tiago Pereira), Shrewd Move (Drayden Van Dyke), Horse Laugh (Ricardo Gonzalez), Kristo Skye (Tyler Baze), Rocket Heat (Evin Roman) and Guns Loaded (Rafael Bejarano).
---
CLOSERS – Happy Birthday No. 53 for trainer Victor Garcia and good luck with Little Juanito (5-2) in today's fifth race … Selected works from 201 on dirt and 29 on turf officially timed Sunday morning: Dirt – It Tiz Well (4f, :51.60), The Lieutenant (4f, :46.80), Collected (5f, 1:01.00), Giant Expectations (5f, :59.00), Gormley (5f, 1:02.60), Hard Aces (5f, 1:00.60), Ocho Ocho Ocho (5f, 1:01.00), Songbird (5f, 1:01.00), Accelerate (6f, 1:12.20), Big Score (6f, 1:13.00), St. Patrick's Day (1:12.00); Turf – Goodyearforroses (5f, 1:01.20), He Will (5f, 1:03.00), Hunt (5f, 1:04.40), Big John B (6f, 1:18.40), Bowies Hero (6f, 1:16.60), Itsinthepost (6f, 1:16.00), Up With The Birds (6f, 1:16.60) and Madame Stripes (7f, 1:29.80) … It Tiz Well will ship this week to Saratoga for Saturday's $600,000 Alabama Stakes.
---
DEL MAR STATISTICS
Jockey Standings
(Current Through Saturday, August 12, 2017 Inclusive)
| | | | | | | | |
| --- | --- | --- | --- | --- | --- | --- | --- |
| Jockey | Mts | 1st | 2nd | 3rd | Win% | In-money% | Money Won |
| Evin Roman | 128 | 22 | 24 | 12 | 17% | 45% | $846,997 |
| Flavien Prat | 93 | 19 | 15 | 15 | 20% | 53% | $1,364,606 |
| Rafael Bejarano | 85 | 15 | 12 | 12 | 18% | 46% | $713,646 |
| Joseph Talamo | 71 | 11 | 7 | 7 | 15% | 35% | $505,840 |
| Kent Desormeaux | 61 | 10 | 17 | 8 | 16% | 57% | $643,815 |
| Tyler Baze | 98 | 10 | 15 | 13 | 10% | 39% | $601,155 |
| Corey Nakatani | 29 | 7 | 8 | 0 | 24% | 52% | $444,985 |
| Drayden Van Dyke | 51 | 7 | 3 | 10 | 14% | 39% | $485,545 |
| Santiago Gonzalez | 44 | 7 | 3 | 9 | 16% | 43% | $313,053 |
| Gary Stevens | 34 | 7 | 3 | 5 | 21% | 44% | $437,628 |
Trainer Standings
(Current Through Saturday, August 12, 2017 Inclusive)
| | | | | | | | |
| --- | --- | --- | --- | --- | --- | --- | --- |
| Trainer | Sts | 1st | 2nd | 3rd | Win% | In-money% | Money Won |
| Philip D'Amato | 53 | 11 | 13 | 3 | 21% | 51% | $960,732 |
| Doug F. O'Neill | 54 | 10 | 7 | 6 | 19% | 43% | $512,695 |
| Richard Baltas | 49 | 8 | 9 | 4 | 16% | 43% | $599,954 |
| Peter Miller | 71 | 7 | 11 | 8 | 10% | 37% | $422,872 |
| Mark Glatt | 31 | 7 | 4 | 5 | 23% | 52% | $332,117 |
| Robert B. Hess, Jr. | 27 | 5 | 4 | 3 | 19% | 44% | $148,040 |
| Simon Callaghan | 21 | 5 | 2 | 1 | 24% | 38% | $304,040 |
| Thomas F. Proctor | 11 | 5 | 0 | 3 | 45% | 73% | $284,478 |
| Michael W. McCarthy | 20 | 4 | 6 | 2 | 20% | 60% | $175,215 |
| John W. Sadler | 35 | 4 | 5 | 5 | 11% | 40% | $594,205 |
Winning Favorites Report
(Current Through Saturday, August 12, 2017 Inclusive)
Winning favorites -- 46 out of 165 -- 27.88%
Winning favorites on dirt -- 31 out of 103 -- 30.10%
Winning favorites on turf -- 15 out of 62 -- 24.19%
Winning odds-on favorites -- 12 out of 24 -- 50.00%
In-the-Money favorites -- 113 out of 165 -- 68.48%
In-the-Money odds-on favorites -- 20 out of 24 -- 83.33%