Saturday, August 12th, 2017 ( 1 year ago )
Stable Notes
Aug 12, 2017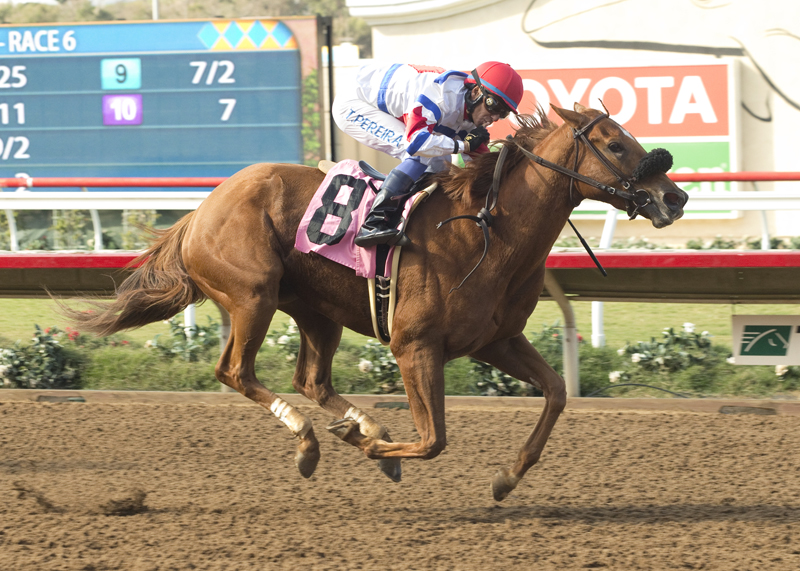 Skye Diamond © Benoit Photo
SKYE DIAMONDS IS LATEST SPAWR CLAIM-TO-FAME STAKES WINNER
Acquiring a horse through a claim and turning it into a stakes winner could be considered the signature move of trainer Bill Spawr.
He's done it many times over his 40-year career with horses like Exchange ($50,000 claim to Grade I winner and $1 million-plus earner), Sensational Star ($32,000 claim to Del Mar sprint champion of 1990) among others.
In Sunday's Grade III $100,000 Rancho Bernardo Handicap, Spawr will saddle
8-5 morning line favorite Skye Diamonds, a 4-year-old daughter of First Dude that he plucked for $40,000 from a winning race here a year ago who comes into the event fresh from victory in the Grade II Great Lady M Stakes at Los Alamitos on July 8.
Another Spawr wonder claim? "I think so. I really think she's the real deal," Spawr said recently.
Since joining the Spawr stable, Skye Diamonds has five wins and two second-place finishes in seven starts to compile the major portion of her $449,150 career earnings from eight wins in 15 career starts.
"She was consistent, she was a 3-year-old and a Cal-bred, so we just took a chance to see that it might turn out," Spawr said of the thinking behind the claim. Spawr has consistently kept her at one-turn distances, 6 ½-7 furlongs, but did give her one mile and one 1 1/16-mile assignment. Skye Diamonds won the mile test and was second to Vale Dori in the 1 1/16-mile Grade III Adoration Stakes over a wet/fast track at Santa Anita on May 7.
"She's better sprinting," Spawr said. "I've been asked to compare her to Amazombie (2011 Breeders' Cup Sprint champion) and I could compare her even though it's still early for her.
"I think it's possible she could accomplish some of the things that he did in his career."
While focusing only on the present, Spawr said that the $1 million Breeders' Cup Filly & Mare Sprint here on Saturday, November 4, is "absolutely" a target. That race is at 7 furlongs, a distance Spawr considers the best for Skye Diamonds.
The field from the rail: Rockport Babe (Mario Gutierrez, 10-1), Bendable (Mike Smith, 9-5), Skye Diamonds (Tiago Pereira, 8-5), Constellation (Flavien Prat, 2-1) and Munny Spunt (Drayden Van Dyke, 15-1).
---
TVG PACIFIC CLASSIC UPDATE, ONE WEEK OUT
Hall of Fame trainer Bob Baffert's direct response Saturday morning to backstretch skepticism questioning whether he'll wind up saddling both Arrogate and Collected in the $1 million TVG Pacific Classic next Saturday: "Like I told you before, I'm running them both."
Trainer Doug O'Neill on Friday workouts for his Pacific Classic duo of Donworth and Curlin Road: "Donworth worked by himself (6f, 1:14.20 under Mario Gutierrez), showed good energy and looked great. He's ready to roll. Same thing with Curlin Road (6f, 1:12.80 under Flavien Prat). He worked in company (with Mopotism) and showed how he's a complete pro and how much he likes this track."
Trainer Kristin Mulhall said that Royal Albert Hall, acquired via claim here on July 23, will be put through one more dirt workout on Monday before a decision is made regarding a Classic start. Twenty-two of the 5-year-old Royal Applause gelding's career starts have been on turf. "We worked him once on the dirt and he looked really good," Mulhall said Saturday. "We were never pointing him to the Pacific Classic and I don't know if we're going in it, but the nomination deadline came up and if it's a small field we may give it a shot."
Songbird is scheduled to work at 5 a.m. Sunday and Accelerate at 6:30 in what will be their final Pacific Classic major exercises. Arrogate will go at 7:45 a.m. on Monday. Although nominated to the Classic, it is one of several options for champion filly Songbird and would represent her first race against males. If Songbird and Arrogate are both entered, it would pose a dilemma for Hall of Fame jockey Mike Smith, the regular rider for both.
Entries will be taken Tuesday morning. The post-position draw will be conducted at a gathering at the Brigantine restaurant from 3:30-5:30 that afternoon.
---
MAJESTIC HEAT'S SOLANA BEACH REPEAT ANCHORS MANDELLA DOUBLE
Majestic Heat's successful title defense in the Solana Beach on Friday was stakes win No. 61 at Del Mar for Richard Mandella and was gratifying to the Hall of Fame trainer because the 5-year-old Majestic Heat mare did it coming off a nine-month layoff.
"When I brought her in to train, I didn't think I had enough time to make the race," Mandella said Saturday morning. "But I could see with each work, the way she moved, she didn't need a lot of practice.
"In the race, she looked good to me all the way. She got a little tired near the end because she hadn't had a lot of training, but then her heart showed up and she made it. We're going to enjoy this now before we decide what's next.
"I don't know that we'll bring her back (this meeting). We'll probably wait for Santa Anita. But you never know. We'll see how she is and then decide."
Majestic Heat completed back-to-back wins for Mandella on Friday. Anonymity ($21.00) was conspicuous in a 3 ¼-length victory under Victor Espinoza in the seventh race, immediately before the Solana Beach.
---
COMEBACK SET FOR DECKED OUT IN WEDNESDAY'S CTT AND TOC
Decked Out, runner-up in last year's Grade I Del Mar Oaks and winner of the Grade I American Oaks to end her 3-year-old campaign, returns to action in a field of 10 for Wednesday's featured $75,000 CTT and TOC Handicap.
The American Oaks victory on New Year's Eve over a turf course rated "good" at Santa Anita was the last start for Decked Out, a daughter of Street Boss owned by Big Chief Racing LLC and trained by J. Keith Desormeaux.
Hall of Fame jockey Kent Desormeaux, the trainer's brother, will be aboard for the 1 3/8-mile turf marathon.
The field from the rail: You're a Goat (Norberto Arroyo, Jr.,), Dreamarcher (Rafael Bejarano), Responsibleforlove (Joe Talamo), Dynamic Mizzes K (Gary Stevens), Place des Vosges (Corey Nakatani), Decked Out (Kent Desormeaux), Kiss Me Now (Drayden Van Dyke), Goldy Espony (Mike Smith), Ginga (Tiago Pereira) and Hiking (Martin Pedroza).
---
CLOSERS --- Happy birthday, No. 60, to Peter Eurton, who'll be hoping to put icing on the cake with French-bred import from England Kencumin (4-1) in today's eighth race … A tribute over the public address system to Glen Hill Farm patriarch Leonard Lavin, who died last week at age 97, before Friday's second race became especially significant when Glen Hill's Chicago Style, trained by Tom Proctor and ridden by Drayden Van Dyke, rallied in the stretch for a three-quarter length victory…Notable works from 169 officially timed Saturday morning: Ayacara (4f, :49.60), Drefong (4f, :48.40), Kobe's Back (4f, :46.60), Lord Simba (4f, :48.40), Ashleyluvssugar (5f, 1:01.40), Klimt (5, 1:00.00) and Mor Spirit (5f, 1:05.80).
---
DEL MAR STATISTICS
Jockey Standings
(Current Through Friday, August 11, 2017 Inclusive)
| | | | | | | | |
| --- | --- | --- | --- | --- | --- | --- | --- |
| Jockey | Mts | 1st | 2nd | 3rd | Win% | In-money% | Money Won |
| Evin Roman | 119 | 21 | 23 | 11 | 18% | 46% | $777,507 |
| Flavien Prat | 88 | 17 | 14 | 15 | 19% | 52% | $1,192,861 |
| Rafael Bejarano | 80 | 15 | 12 | 10 | 19% | 46% | $694,701 |
| Joseph Talamo | 67 | 10 | 7 | 6 | 15% | 34% | $490,030 |
| Tyler Baze | 90 | 8 | 14 | 12 | 9% | 38% | $524,090 |
| Kent Desormeaux | 54 | 8 | 14 | 7 | 15% | 54% | $531,670 |
| Corey Nakatani | 27 | 7 | 7 | 0 | 26% | 52% | $403,685 |
| Santiago Gonzalez | 42 | 7 | 3 | 8 | 17% | 43% | $305,268 |
| Gary Stevens | 32 | 7 | 3 | 5 | 22% | 47% | $436,938 |
| Drayden Van Dyke | 47 | 7 | 2 | 8 | 15% | 36% | $462,105 |
Trainer Standings
(Current Through Friday, August 11, 2017 Inclusive)
| | | | | | | | |
| --- | --- | --- | --- | --- | --- | --- | --- |
| Trainer | Sts | 1st | 2nd | 3rd | Win% | In-money% | Money Won |
| Philip D'Amato | 50 | 10 | 12 | 3 | 20% | 50% | $935,387 |
| Doug F. O'Neill | 52 | 9 | 7 | 6 | 17% | 42% | $475,495 |
| Richard Baltas | 46 | 8 | 9 | 3 | 17% | 43% | $588,809 |
| Peter Miller | 70 | 7 | 11 | 8 | 10% | 37% | $422,527 |
| Mark Glatt | 31 | 7 | 4 | 5 | 23% | 52% | $332,117 |
| Thomas F. Proctor | 10 | 5 | 0 | 2 | 50% | 70% | $277,038 |
| John W. Sadler | 33 | 4 | 5 | 5 | 12% | 42% | $581,860 |
| Peter Eurton | 21 | 4 | 4 | 2 | 19% | 48% | $229,120 |
| Robert B. Hess, Jr. | 24 | 4 | 3 | 3 | 17% | 42% | $123,295 |
| Simon Callaghan | 19 | 4 | 2 | 1 | 21% | 37% | $180,140 |
Winning Favorites Report
(Current Through Friday, August 11, 2017 Inclusive)
Winning favorites -- 43 out of 155 -- 27.74%
Winning favorites on dirt -- 28 out of 97 -- 28.87%
Winning favorites on turf -- 15 out of 58 -- 25.86%
Winning odds-on favorites -- 11 out of 23 -- 47.83%
In-the-Money favorites -- 105 out of 155 -- 67.74%
In-the-Money odds-on favorites -- 19 out of 23 -- 82.61%