Friday, August 11th, 2017 ( 1 year ago )
Stable Notes
Aug 11, 2017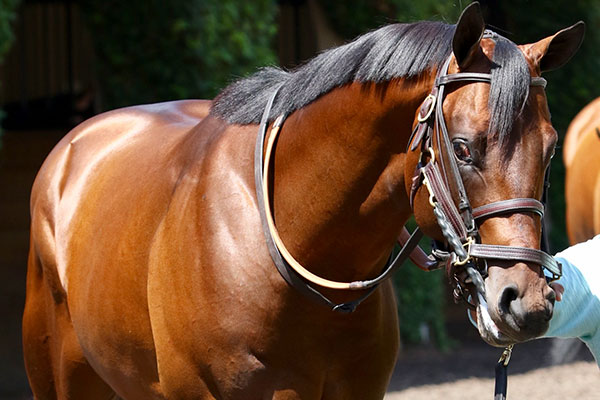 RUN AWAY CAN'T HIDE FROM HIGH EXPECTATIONS IN BEST PAL
Kaleem Shah's Klimt used a victory in the Best Pal Stakes as a springboard to another in the Del Mar Futurity and honors as 2-year-old of the meeting in 2016.
Now the founder and president of CalNet technology company, who maintains residences in San Diego and Vienna, Virginia, is seeking to repeat the initial step when he sends out Run Away in Saturday's 47th running of the Grade II $200,000 Best Pal.
Klimt was trained by Bob Baffert, with whom Shah parted company at the beginning of the year. Run Away is trained by Simon Callaghan.
"Obviously, we're hoping that (Run Away) can show he's as good a horse as Klimt," Callaghan said recently. "He's got to step forward again, but I think there's every chance he will."
A Kentucky-bred son of Run Away and Hide, Run Away was a $325,000 purchase at the Barretts sale in March and has been undefeated in two career starts. He took a 4 ½-furlong maiden special at Santa Anita in May by 2 ¼ lengths and came back to win the 5 ½-furlong Santa Anita Juvenile Championship in July by 1 ½ lengths.
Run Away has had four workouts in the past month here.
"He's doing really well," Callaghan said. "He drew the No. 1 hole, which we wouldn't have chosen, but except for that … He's got lots of speed and he's quick away from the gate, so I think he'll place himself on or close to the lead.
"We've got him ready and I think he's the one to beat. We've always thought he was a good horse, but it was good to see in his second race that he's willing to battle and he wore the other horse down, fought off of him and was pulling away at the end.
"It's what you like to see from one race to another, that development mentally."
Chief among Run Away's rivals in the field of eight: Baffert-trained Serengeti, an 11-length winner in his second career start in June at Santa Anita.
The field from the rail: Run Away (Flavien Prat, 8-5), Dia De Pago (Corey Nakatani, 20-1), Master Ruler (Evin Roman, 15-1), Armour Plate (Rafael Bejarano, 10-1), Serengeti (Mike Smith, 9-5), Fleetwood (Kent Desormeaux, 10-1), Arawak (Julio Garcia, 4-1) and An Ocala Ten (Victor Espinoza, 15-1).
---
NOMS ARE IN FOR TVG PACIFIC CLASSIC, DEL MAR 'CAP AND OAKS
Nominations closed Thursday at midnight for the three major stakes on the Saturday, August 19 card—the Grade I $1 million TVG Pacific Classic, Grade I $300,000 Del Mar Oaks and the Grade II $250,000 Del Mar Handicap.
Late entries could still arrive via mail and supplemental entries, for a fee, can be received up until a deadline of Tuesday for the Classic or Wednesday for the Handicap and Oaks. Preliminary indications are for a field of around six, from 11 nominees, for the TVG Pacific Classic and double-figure fields for the Handicap and Oaks.
Nominated to the Classic are: Accelerate, Arrogate, Collected, Cupid, Curlin Road, Donworth, Giant Expectations, Hard Aces, Royal Albert Hall, Songbird and Sorry Erik.
For several of those nominees, the Classic – with North American No. 1 rated Arrogate – is not the race of choice among more than one option.
Trainer Keith Desormeaux said "I'm trying to talk myself into running in the Del Mar Derby," with 3-year-old Sorry Erik, a winner of an allowance grass event here in July. Trainer John Sadler said Hard Aces will likely be switched back to turf in the Handicap. Trainer Peter Eurton said the Grade II $200,000 Pat O'Brien sprint on August 26 is the primary aim with Giant Expectations.
A decision regarding the excellent 4-year-old filly Songbird, who has accomplished almost everything possible against her own gender but has yet to run against males, isn't likely before the Tuesday deadline.
San Clemente Handicap winner Madam Dancelot is a standout among 29 nominees to the Oaks which, unlike the Classic, appears to have piqued interest in the East. Eleven nominees would have to ship in from the opposite coast or overseas for the race. Among them, and considered "fifty-fifty" to run is New Money Honey, a Chad Brown-trained daughter of Medaglia d'Oro who won the Grade I Belmont Oaks in July at Belmont Park.
The top three finishers in the Eddie Read Stakes – Hunt, Ashleyluvssugar and Mr. Roary – are among 22 nominees for the Handicap. The field for the 1 3/8-mile turf test could also be bolstered by eastern invaders from the stables of trainers H. Graham Motion and Mark Casse.
---
SKYE DIAMONDS SLIGHT FAVORITE IN SUNDAY'S RANCHO BERNARDO
Trainer Richard Mandella was three years away from induction into racing's Hall of Fame when he sent out Advancing Star to win the 1998 Rancho Bernardo Handicap for Golden Eagle Farm. The following year, Bill Spawr-trained Enjoy the Moment secured victory in the event for Farfellow Farms.
On Sunday, the veteran conditioners are given the best chances to be in the winner's circle following the Grade III $100,000 6 ½-furlong sprint for the first time since their only previous scores when they saddle the favorites in the 46th running of the race.
Spawr's Skye Diamonds was established Friday as the 8-5 favorite on oddsmaker Russ Hudak's morning line. Mandella's Bendable is 9-5 in the field of five.
From the rail out: Rockport Babe (Mario Gutierrez, 10-1), Bendable (Mike Smith, 9-5), Skye Diamonds (Tiago Pereira, 8-5), Constellation (Flavien Prat, 2-1) and Munny Spunt (Drayden Van Dyke, 15-1).
---
THEIR BREEDERS' CUP RUNNETH OVER FOR DEL MAR 2017
Del Mar hosts the 34th running of the Breeders' Cup World Championships on November 3-4. It consists of 13 races with purses totaling more than $28 million over the two days capped by the $2 million Longines Breeders' Cup Distaff on Friday, November 3 and the $6 million Breeders' Cup Classic on Saturday, November 4.
A victory in a "Win and You're In" Challenge series race, of which there are 81 from January to October, guarantees a spot in a Breeders' Cup race and other considerations.
Here are the horses who have qualified to date.
Winner
Race
Date
BC Division
Legal Eagle
L'Ormarins Queens Plate
Kenilworth, South Africa
January 7
Mile
Bela-Bela
Main Chance Farms Paddock
Kenilworth, South Africa
January 7
F&M Turf
Gold Dream
February Stakes
Tokyo, Japan
February 19
Classic
Chautauqua
Darley TJ Smith Stakes
Randwick, Australia
April 1
Turf Sprint
Somewhat
Star Doncaster Mile
Randwick, Australia
April 1
Mile
Foxplay
Queen of the Turf
Randwick, Australia
April 1
F&M Turf
Kiriaki
Gran Premio Criadores
Palermo, Argentina
May 1
Distaff
Ordak Dan
Grab Premio 25 de Mayo
Palermo, Argentina
May 25
Turf
Top Casablanca
Hipico de Santiago Falabella
Club Hipico de Santiago, Chile
May 28
Mile
Bal a Bali
Shoemaker Mile
Santa Anita
June 3
Mile
Satono Aladdin
Yasuda Kinen
Tokyo, Japan
June 4
Mile
Mor Spirit
Metropolitan Mile
Belmont Park, N.Y.
June 10
Dirt Mile
Songbird
Ogden Phipps
Belmont Park, N.Y.
June 10
Distaff
Voador Magee
Grande Premio Brasil
Hippodromo de Gavea, Brazil
June 11
Turf
Forever Unbridled
Fleur de Lis
Churchill Downs, Ky.
June 17
Distaff
Gun Runner
Stephen Foster
Churchill Downs, Ky.
June 17
Classic
Satono Crown
Takarazuka Kinen
Hanshin, Japan
June 25
Turf
Birdie Gold
Gran Premio Pamplona
Hippodomo de Monterrico, Peru
June 25
F&M Turf
Curlin's Approval
Princess Rooney
Gulfstream Park, Fla.
July 1
F&M Sprint
Imperial Hint
Smile Sprint Stakes
Gulfstream Park, Fla.
July 1
Sprint
Green Mask
Highlander Stakes
Woodbine, Canada
July 2
Turf Sprint
Mind Your Biscuits
Belmont Sprint Championship
Belmont Park, N.Y.
July 8
Sprint
Enable
King George VI & Queen Elizabeth
Ascot, England
July 29
Turf
Ransom The Moon
Bing Crosby
Del Mar
July 29
Sprint
Girvin
Haskell Invitational
Monmouth Park, N.J.
July 30
Classic
Stellar Wind
Clement L. Hirsch
Del Mar
July 30
Distaff
Here Comes When
Quatar Sussex
Goodwood, England
August 2
Mile
Gun Runner
Whitney
Saratoga, N.Y.
August 5
Classic
There are two "Win and You're In" races on Saturday at Arlington Park in Chicago. The Beverly D is a qualifier for the $2 million Filly & Mare Turf, the Arlngton Million for the $4 million Longines Breeders' Cup Turf. Both are on Saturday, November 4.
---
O'NEILL DUO WORKS FOR $1 MILLION TVG PACIFIC CLASSIC
Donworth and Curlin Road, trainer Doug O'Neill's pair for the $1 million TVG Pacific Classic, both breezed six furlongs on Friday morning.
Donworth, runner-up in the San Diego Handicap, was timed in 1:14.20 with interim fractions of :25.60, :38.20 and 1:02.20, galloping out seven furlongs in 1:27.40 under regular rider Mario Gutierrez. Curlin Road, working in company with Mopotism was timed in 1:12.80 under Flavien Prat.
Arrogate, Accelerate and Songbird are scheduled to have final Pacific Classic tune-ups over the weekend. Plans are for Songbird to hit the track at 5 a.m. on Sunday, followed by Accelerate at 6:30. Arrogate will complete his Classic preparation Monday morning at 7:45.
---
SMITH TO BE FETED AT "WINNERS" FUNDRAISER PACIFIC CLASSIC NIGHT
Hall of Fame jockey Mike Smith, who will become the 14th winner of the prestigious Laffit Pincay, Jr. Award on Sunday, August 20, will be feted for it the night before at a fundraising event for the Winners Foundation in downtown Del Mar.
Smith will meet and greet fellow horsemen and racing fans at the Del Mar Plaza on the deck just outside Il Fornaio restaurant from 7:30 to 9:30 p.m. Earlier that day he will ride the superstar Arrogate in Del Mar's premier race of the season, the $1-million TVG Pacific Classic. Joining him that evening will be Pincay, along with fellow jockeys and trainers, all of whom know and respect the two premier riders.
The Winners Foundation is an organization that for more than 30 years has aided those in racing affected by substance abuse and/or mental health issues.
Tickets for the event cost $100 and can be obtained at the Winners Foundation website ( winnersfoundation.org ), or by calling their offices at (626) 574-6498.
---
CLOSERS – Selected works from 139 officially timed Friday morning: Miss Sunset (4f, :49.40), Ann Arbor Eddie (5f, 1:00.60), Mrs McDougall (5f, 1:00.40), Curlin Road (6f, 1:12.80), Donworth (6f, 1:14.20), Irap (6f, 1:13.40), Mopotism (6f, 1:12.60), Noted and Quoted (6f, 1:12.20) and Paradise Woods (7f, 1:25.60).
---
DEL MAR STATISTICS
Jockey Standings
(Current Through Thursday, August 10, 2017 Inclusive)
| | | | | | | | |
| --- | --- | --- | --- | --- | --- | --- | --- |
| Jockey | Mts | 1st | 2nd | 3rd | Win% | In-money% | Money Won |
| Evin Roman | 112 | 19 | 23 | 9 | 17% | 46% | $730,512 |
| Flavien Prat | 85 | 16 | 13 | 15 | 19% | 52% | $1,094,016 |
| Rafael Bejarano | 75 | 14 | 10 | 10 | 19% | 45% | $657,011 |
| Joseph Talamo | 63 | 10 | 7 | 6 | 16% | 37% | $484,705 |
| Tyler Baze | 84 | 8 | 14 | 12 | 10% | 40% | $519,495 |
| Kent Desormeaux | 50 | 7 | 13 | 6 | 14% | 52% | $481,225 |
| Corey Nakatani | 27 | 7 | 7 | 0 | 26% | 52% | $403,685 |
| Santiago Gonzalez | 40 | 7 | 3 | 8 | 18% | 45% | $304,578 |
| Gary Stevens | 32 | 7 | 3 | 5 | 22% | 47% | $436,938 |
| Drayden Van Dyke | 43 | 6 | 1 | 8 | 14% | 35% | $415,615 |
Trainer Standings
(Current Through Thursday, August 10, 2017 Inclusive)
| | | | | | | | |
| --- | --- | --- | --- | --- | --- | --- | --- |
| Trainer | Sts | 1st | 2nd | 3rd | Win% | In-money% | Money Won |
| Philip D'Amato | 48 | 10 | 11 | 3 | 21% | 50% | $927,707 |
| Doug F. O'Neill | 50 | 9 | 6 | 6 | 18% | 42% | $468,350 |
| Richard Baltas | 45 | 8 | 8 | 3 | 18% | 42% | $584,209 |
| Peter Miller | 69 | 7 | 10 | 8 | 10% | 36% | $409,527 |
| Mark Glatt | 31 | 7 | 4 | 5 | 23% | 52% | $332,117 |
| John W. Sadler | 32 | 4 | 5 | 5 | 13% | 44% | $580,560 |
| Peter Eurton | 20 | 4 | 4 | 1 | 20% | 45% | $224,920 |
| Simon Callaghan | 19 | 4 | 2 | 1 | 21% | 37% | $180,140 |
| Ronald W. Ellis | 13 | 4 | 1 | 2 | 31% | 54% | $109,950 |
| Thomas F. Proctor | 9 | 4 | 0 | 2 | 44% | 67% | $238,038 |
Winning Favorites Report
(Current Through Thursday, August 10, 2017 Inclusive)
Winning favorites -- 41 out of 147 -- 27.89%
Winning favorites on dirt -- 28 out of 92 -- 30.43%
Winning favorites on turf -- 13 out of 55 -- 23.64%
Winning odds-on favorites -- 9 out of 20 -- 45.00%
In-the-Money favorites -- 100 out of 147 -- 68.03%
In-the-Money odds-on favorites -- 17 out of 20 -- 85.00%