Thursday, August 10th, 2017 ( 1 year ago )
Stable Notes
Aug 10, 2017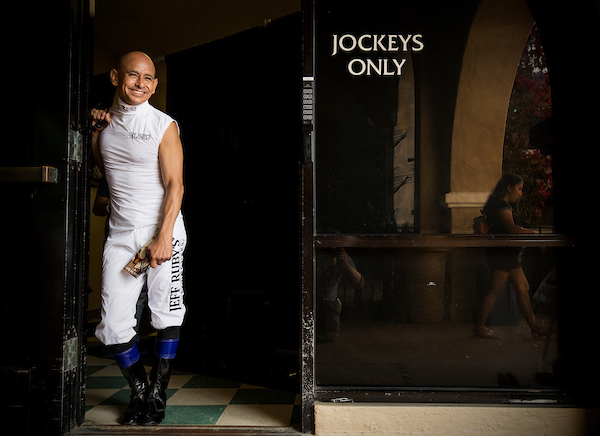 Mike Smith © Del Mar Thoroughbred Club
SMITH PLANS A QUIET BIRTHDAY, PARTLY COUNTING HIS BLESSINGS
If, as the saying goes, you're as young as you feel, how old is Mike Smith today?
"I'm feeling pretty good, so I'd say I'm about 35," Smith said Thursday morning by telephone, undercutting what the calendar says by 17 years. Smith, a member of Thoroughbred racing's Hall of Fame since 2003, was not booked on any mounts for his 52nd birthday and planned to keep things low key.
"I'm just sitting here drinking coffee and watching a little television," Smith said. "I'm going to go to the gym, probably walk on the beach and have a quiet dinner this evening. Nothing too exciting."
For 15 of the 17 years since Smith relocated from the East Coast, Del Mar has been his summer base. The place from which he's established connections that led to 18 of his record 25 Breeders' Cup victories to go with five Triple Crown triumphs. Accomplishments that earned him the nickname "Big Money Mike" for his ability to consistently get marquee horses like Skip Away, Azeri, Zenyatta and, this year, Arrogate and Songbird, into the winner's circle in races where the spotlights are shining brightest.
Equibase statistics this season show Smith with 46 wins from 146 mounts, for purse earnings of nearly $15 million, No. 3 in North America. An average earnings per start of $91,214.
"I need to get that (average per start) up above $100,000 where it was earlier, but it's been an incredible year thanks to the horses I get to ride and the people who put me on them," Smith said. "I'm enjoying riding more this year than I think I ever have. Who wouldn't with the opportunities I have to ride these great horses? I'm blessed to be in the position I am, and I'm thankful for it."
---
FIVE ENTERED FOR SUNDAY'S RANCHO BERNARDO HANDICAP
A field of five was entered Thursday for Sunday's $100,000 Grade III Rancho Bernardo Handicap, a 6 ½ furlongs sprint for older fillies and mares on the main track.
It's the 46th running, and it's been 10 years and 10 different winning trainers since the Rancho Bernardo was won back-to-back by Bob Baffert with Behaving Badly in 2005-06. Jerry Hollendorfer, who won it last year with Tara's Tango, has a chance for consecutive scores with Constellation. In her last start, the Great Lady M Stakes at Los Alamitos on July 8, the 4-year-old daughter of Bellamy Road was second to probable Rancho Bernardo favorite Skye Diamonds.
Trainer Doug O'Neill entered Munny Spunt, a 3-year-old daughter of Munnings who won a $32,000 claiming event at the Rancho Bernardo distance here on July 29. She was claimed for $25,000 in June out of a runner-up finish at six furlongs.
"We know she likes the course, so we thought we'd take a shot and see what happens," O'Neill said.
The field from the rail: Rockport Babe (Mario Gutierrez), Bendable (Mike Smith), Skye Diamonds (Tiago Pereira), Constellation (Flavien Prat) and Munny Spunt (Drayden Van Dyke).
---
O'NEILL'S TVG PACIFIC CLASSIC HORSES TO DRILL FRIDAY
Donworth and Curlin Road, the duo trainer Doug O'Neill has targeted for the $1 million TVG Pacific Classic on August 19, will breeze separately on Friday, O'Neill said, in what will be their final major exercises for the event.
"They'll go six furlongs, gallop into it and gallop out of it," O'Neill said. "Then, if they come out of it well, it's on to the Pacific Classic."
Donworth, a 5-year-old son of Tiznow, was second in the $300,000 TVG San Diego Handicap on July 22, beaten 8 ½-lengths by Accelerate but finishing nearly seven lengths ahead of fourth-place Arrogate. Mario Gutierrez, aboard for all of Donworth's five starts for O'Neill, will be in the irons for the workout.
Curlin Road, a 4-year-old son of Curlin, was a narrow winner of the Grade III $100,000 Cougar II Handicap at 1 ½ miles on July 26 in his fourth start for O'Neill after being claimed for $40,000 on April 22. Flavien Prat, aboard for the Cougar II, will likely ride the workout.
The deadline for nominees for the TVG Pacific Classic is midnight tonight. Horses not nominated at that time can be supplemented for $10,000 as late as the close of entries next Tuesday morning. The draw for the signature event of the meeting will be conducted on Tuesday* evening at the Brigantine Restaurant.
---
RUN AWAY IS NARROW MORNING LINE CHOICE FOR BEST PAL
Run Away, undefeated (2-for-2) winner of the Santa Anita Juvenile on July 3, was established as the 8-5 favorite in a field of eight for Saturday's Grade II $200,000 Best Pal Stakes.
The 6 ½ furlong sprint for 2-year-olds is a stepping stone to the Grade I $300,000 Del Mar Futurity on September 4. A win by Run Away, trained by Simon Callaghan, would give owner Kaleem Shah a shot at back-to-back victories in both the Best Pal and Futurity. Shah's Klimt accomplished the Best Pal/Futurity double last year.
The field from the rail: Run Away (Flavien Prat, 8-5), Dia De Pago (Corey Nakatani, 20-1), Master Ruler (Evin Roman, 15-1), Armour Plate (Rafael Bejarano, 10-1), Serengeti (Mike Smith, 9-5), Fleetwood (Desormeaux, 10-1), Arawak (Julio Garcia, 4-1) and An Ocala Ten (Victor Espinoza, 15-1).
---
FINAL DONUTS DAY DRAWS SMITH, D'AMATO AND DADO
The last of two Donuts Days at Del Mar will be held Saturday from 8-10 a.m.
Free coffee, orange juice and donuts will be provided as track announcer Trevor Denman hosts a behind-the-scenes look into the world of Thoroughbred racing with a question and answer session. Scheduled guests on Saturday are Hall of Fame jockey Mike Smith, defending meeting training champion and current meeting co-leader Phil D'Amato and Del Mar Thoroughbred Executive Vice President and Chief Marketing Officer Craig Dado.
---
LAWSON, PRIVMAN ARE HANDICAPPING SEMINAR GUESTS
Jockey agent Derek Lawson and Daily Racing Form reporter Jay Privman will be providing insights and selections on the upcoming weekend handicapping seminars.
Lawson, who books mounts for Flavien Prat, has the call on Saturday. Privman will be host Scott Shapiro's guest on Sunday.
The seminars are held from 12:45-1:30 p.m. at the Seaside Terrace near the top of the stretch.
---
CLOSERS – Selected works from 137 on dirt and 12 on turf officially timed Thursday morning. Dirt – Frank Conversation (4f, :49.00), Oregon (4f, :49.00), Danzing Candy (5f, :59.80), Denman's Call (5f, 1:00.60), Pavel (5f, 1:01.00); Turf – Battle of Midway (4f, :49.20), Flamboyant (5f, 1:01.20) and Om (5f, 1:02.20) … With $17,102,600 accumulated, Arrogate is the No. 1 all-time North American earner, but No. 3 world-wide according to statistics provided by The Blood Horse. No.1 is Orfevre ($19,005,275) and No. 2 is Gentildonna $18,468,392. Orfevre raced in France and Japan, Gentildonna primarily in Japan. Both are retired from racing.
---
DEL MAR STATISTICS
Jockey Standings
(Current Through Wednesday, August 9, 2017 Inclusive)
| | | | | | | | |
| --- | --- | --- | --- | --- | --- | --- | --- |
| Jockey | Mts | 1st | 2nd | 3rd | Win% | In-money% | Money Won |
| Evin Roman | 106 | 19 | 22 | 8 | 18% | 46% | $720,247 |
| Flavien Prat | 80 | 14 | 13 | 14 | 18% | 51% | $1,029,831 |
| Rafael Bejarano | 73 | 14 | 9 | 10 | 19% | 45% | $643,811 |
| Joseph Talamo | 58 | 10 | 6 | 6 | 17% | 38% | $473,270 |
| Tyler Baze | 82 | 7 | 14 | 12 | 9% | 40% | $479,775 |
| Kent Desormeaux | 46 | 7 | 11 | 4 | 15% | 48% | $451,945 |
| Corey Nakatani | 27 | 7 | 7 | 0 | 26% | 52% | $403,685 |
| Santiago Gonzalez | 40 | 7 | 3 | 8 | 18% | 45% | $304,578 |
| Gary Stevens | 31 | 7 | 3 | 5 | 23% | 48% | $434,898 |
| Drayden Van Dyke | 43 | 6 | 1 | 8 | 14% | 35% | $415,615 |
Trainer Standings
(Current Through Wednesday, August 9, 2017 Inclusive)
| | | | | | | | |
| --- | --- | --- | --- | --- | --- | --- | --- |
| Trainer | Sts | 1st | 2nd | 3rd | Win% | In-money% | Money Won |
| Philip D'Amato | 46 | 9 | 11 | 3 | 20% | 50% | $886,907 |
| Doug F. O'Neill | 49 | 9 | 6 | 6 | 18% | 43% | $467,110 |
| Richard Baltas | 44 | 8 | 8 | 3 | 18% | 43% | $583,009 |
| Peter Miller | 69 | 7 | 10 | 8 | 10% | 36% | $409,527 |
| Mark Glatt | 30 | 6 | 4 | 5 | 20% | 50% | $296,117 |
| John W. Sadler | 30 | 4 | 4 | 5 | 13% | 43% | $576,215 |
| Peter Eurton | 19 | 4 | 4 | 1 | 21% | 47% | $223,720 |
| Ronald W. Ellis | 12 | 4 | 1 | 2 | 33% | 58% | $109,605 |
| Thomas F. Proctor | 9 | 4 | 0 | 2 | 44% | 67% | $238,038 |
| Vladimir Cerin | 15 | 4 | 0 | 2 | 27% | 40% | $88,190 |
Winning Favorites Report
(Current Through Wednesday, August 9, 2017 Inclusive)
Winning favorites -- 39 out of 139 -- 28.06%
Winning favorites on dirt -- 27 out of 87 -- 31.03%
Winning favorites on turf -- 12 out of 52 -- 23.08%
Winning odds-on favorites -- 7 out of 18 -- 38.89%
In-the-Money favorites -- 94 out of 139 -- 67.63%
In-the-Money odds-on favorites -- 15 out of 18 -- 83.33%
---
*Previous version of this story had Wednesday as the draw night