Sunday, August 3rd, 2014 ( 6 years ago )
Skyway Wins Best Pal Stakes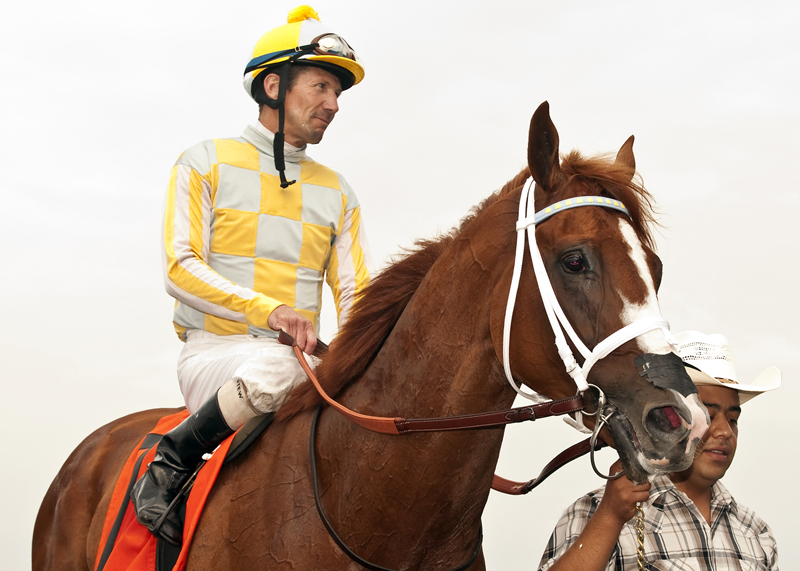 Eastern invader Skyway, ridden by Del Mar newcomer Stewart Elliott, gamely withstood the late stretch challenge of fast-closing Henry's Holiday to win the featured Grade II $200,000 Best Pal Stakes Sunday before a crowd of 14,204.
Skyway, a New York-bred son of Sky Mesa, clicked by 1 ¼ lengths over Henry's Holiday with Bad Read Sanchez another length back in third and 2 ¼ lengths in front of Highway Boss in the field of seven two-year-olds. Conquest Bigluck E and Rowdy Dylan were scratched.
For trainer Mark Casse, campaigning at Del Mar for the first time with a home base in Toronto, Canada, it was his first victory at the seaside track.
Skyway, the 2-1 favorite owned by John Oxley, ran the 6 ½ furlongs in 1:16.67 and returned $6.20, $3.60 and $2.80 while earning a prize of $120,000 with his second win in three starts. After breaking his maiden at Keeneland in early April, the colt was third in the Bashford Manor Stakes at Churchill Downs June 28. His bankroll now is $157,390.
Henry's Holiday, who was ridden by Tyler Baze, paid $4.40 and $3.20, while Bad Read Sanchez returned $3 to show.
Baze, seeking a milestone 2,000th win, had three seconds on the program.
The Best Pal is the major steppingstone to the Grade I $300,000 Del Mar Futurity at sevenfurlongs on closing day, Wednesday, Sept. 3.
With no perfect tickets in the Pick Six, Wednesday's program will have a carryover of $195,206.
---
STEWART ELLIOTT (Skyway, winner) – "He broke well, we were in a good spot and he was comfortable. When I asked him (in the stretch), he responded well. He was a little green there. He was wanting to lean in changing his leads (in the stretch). Part of maturing. He'll learn and go on from here. He broke his maiden on the Poly(track) (at Keeneland) and the last time he got beat on the dirt. He might have liked going back to the Poly. Riding for Mark (trainer Mark Casse) is such a pleasure. He's a really good horseman and he sees it all and he understands it all. If a horse doesn't show up, he understands. He knows. You don't have to make up any excuses for him."
TYLER BAZE (Henry's Holiday, second) – "This one is a nice colt. And watch out when we hit two turns. Then you'll see him shine."
MARIO GUTIERREZ (Bad Read Sanchez, third) – "He just went a little flat at the end. Good race; good trip. But he just went a little flat."
MARK CASSE (Skyway, winner) – "I was just wanting any win, but to do it in a Grade II is very special. As long as horses run good, that's all you can ask for. Any other place if I go 0-for-10 – at Woodbine it happens all the time – people would have been yelling for me to go back home. At New York it would have happened about five starts ago. But here, everybody's been wonderful. "
---
FRACTIONS: :22.20 :45.23 1:09.94 1:16.67
The stakes win was the first ever at Del Mar for rider Elliott. This is his first season riding at the shore track.

The stakes win was the first ever at Del Mar for trainer Casse. This is his first season training at the shore track.

John C. Oxley is an oilman, breeder and polo player from Tulsa, OK. He won the 2001 Kentucky Derby with Monarchos.