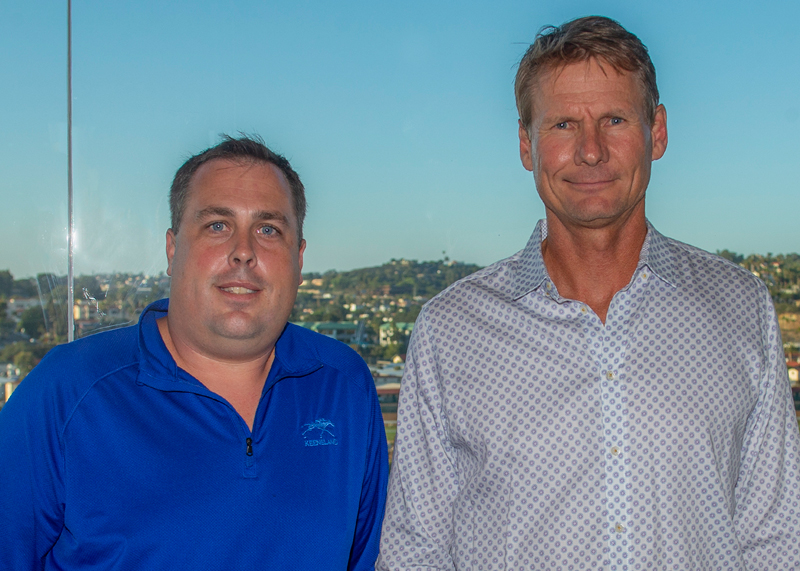 Craig Seidler (L) and Chris Bahr © Benoit Photo
Craig Siedler, from Henderson, NV, catapulted into the lead in the second race Saturday and never looked back in the two-day 18th annual Del Mar Summer Challenge. Siedler won handily over 127 classy entries with a final bankroll of an unfathomable $100,000 from the $3,000 starting bankroll. Prize winnings totaled $50,000 including $35,000 cash, a $10,000 Breeders' Cup Betting Challenge (BCBC) entry at Del Mar and an August 21 $5,000 Pacific Classic Betting Challenge Del Mar entry. The final bankroll and prizes totaled $150,000.
Matt Arndt of Tempe, AZ and Jim Meeks from Elko, NV finished second and third to round out the top three. Cash and prizes for Matt were $27,000 while Jim received $15,000.
Siedler hit exacta and trifecta wagers in the contest's second race to put him in the lead with a score of over $19,000 then followed that up with a nearly all-time exacta payoff in race 7. Siedler had 78-1 winner Miss Carousel over 27-1 After Midnight an amazing 50 times for more than $51,000 in race winnings. The $1 exacta payoff of $1,025 just missed an all-time Del Mar record. His incredible day ended with $82,617 and he kept firing Sunday pushing his total all the way to the insurmountable six figure finale.
The top five finishers receive BCBC entries in the November 5 and 6 Breeders' Cup at Del Mar.
| PLACE | NAME | FINAL BANKROLL |
| --- | --- | --- |
| 1 | Craig Siedler | $100,000.70 |
| 2 | Matt Arndt | $47,080.00 |
| 3 | Jim Meeks | $36,000.00 |
| 4 | Bill Chenvert | $27,400.50 |
| 5 | Ron Myeress | $20,315.20 |
| 6 | Rob Talstra | $14,003.50 |
| 7 | Michael Shutty | $13,000.00 |
| 8 | Carl Rasak | $12,456.00 |
| 9 | Gary West | $11,570.00 |
| 10 | Steve Eisner | $8,416.50 |