Wednesday, August 2nd, 2017 ( 1 year ago )
Show It N Moe It Wins C.T.B.A. Stakes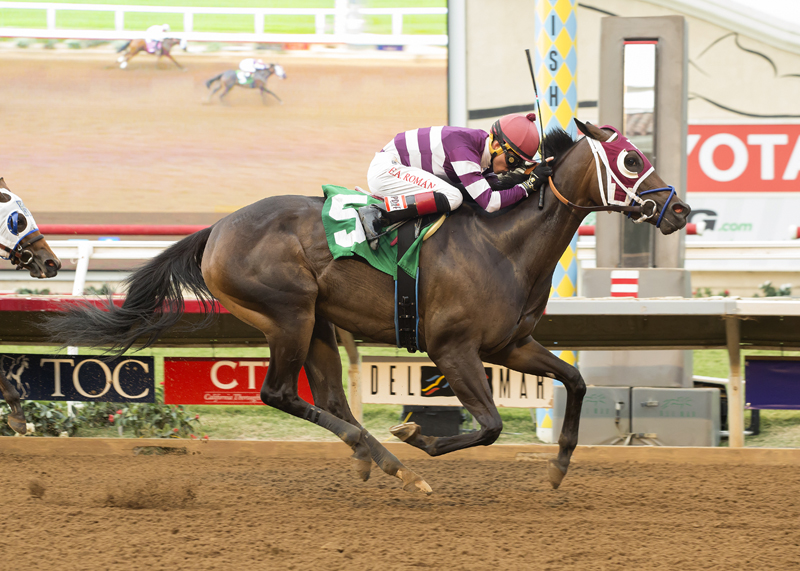 Show It N Moe It © Benoit Photo
Show It N Moe It, piloted by talented apprentice jockey Evin Roman, wore down 8-5 favored Kimberlea K in the stretch and went on to score a solid triumph in Wednesday's featured $100,000 C.T.B.A. Stakes for California-bred two-year-old fillies.
Always prominent under the 19-year-old Roman, Show It N Moe It moved up determinedly to engage Kimberlea K entering the stretch and responded to urging in the final sixteenth to win by a length and one-half in 1:05.11 for the five and one-half furlongs.
Gorgeous Ginny finished third, with Family Girl fourth in the field of eight fillies. Spiced Perfection was withdrawn from the original line-up.
Show It N Moe It, a daughter of Grace Upon Grace, is owned by the partnership of breeder Terry Lovingier, Tom London and Eugene Zondlo and trained by Gary Sherlock. The filly broke her maiden in her third attempt, scoring easily by six and one-quarter lengths at Santa Anita.
Sent to the gate at 5-1, Show It N Moe It returned $12.20, $4.20 and $3.20. First place was worth $57,000. Runner-up Kimberlea K, who was ridden by Flavien Prat, paid $3.60 and $2.60, while Gorgeous Ginny returned $2.80 to show.
---
EVIN ROMAN (Show It N Moe It, winner) – "I had a lot of horse. She ran well for me. This is my first stakes win at Del Mar. Bueno!"
FLAVIEN PRAT (Kimberlea K, second) – "She's really fast. She ran well here, but she was second best today."
JAMIE THERIOT (Gorgeous Ginny, third) – "She grabbed a quarter (cut her front hoof with her rear hoof) coming away from there. She's cut a little bit. But she still ran well. She's a nice filly."
---
GARY SHERLOCK (Show It N Moe It, winner) – "I told (Evin Roman) not to get into a speed duel and the kid rode her perfectly. Under normal circumstances, I wouldn't ride a bug boy without the (five-pound allowance) in a stakes race. But he rode her real well the last time and he's just a very good rider."
---
FRACTIONS: :21.93 :45.56 :58.43 1:05.11
---
The stakes win was the first ever at Del Mar for rider Roman.
The stakes win was the first of the meet for trainer Sherlock and first in the CTBA. He now has two stakes wins at Del Mar.
The winner is owned by Terry Lovingier, Tom London and Eugene Zondlo.