Wednesday, September 21st, 2016 ( 2 years ago )
"Ship and Win" Back Again During Del Mar's Fall Meeting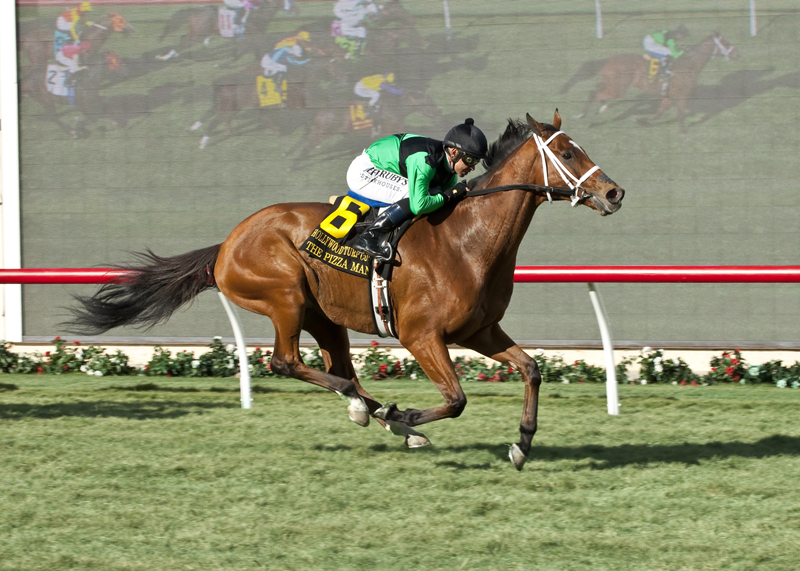 For the sixth straight year and the third consecutive fall, the productive "
Ship and Win
" program, which has attracted hundreds of out-of-state horses to California since it was started at Del Mar in 2011, will return to the seaside track for its upcoming Fall session beginning on Friday, November 11.
Local horsemen or out-of-state owners and trainers who take advantage of the lucrative incentive arrangement receive an automatic check for $1,000 when their horse makes his/her first start at Del Mar. Additionally, purse monies won in that initial outing have a further
30% tacked on top
. So, for instance, in the case of a horse winning a straight maiden race with its $52,000 purse at the meet, the owner collects $31,200 as the winner's share, along with an additional 30% -- or $9,360. All told then, the "Ship and Win" horse rings the bell to the tune of $41,560 for that tally.
The 30% first-race bonus applies to all purse monies won from first down to fifth place.
"'Ship and Win' has been a winner at Del Mar right from the beginning," said Del Mar's racing secretary David Jerkens. "We've had hundreds and hundreds of horses start at our meets over the years and the vast majority of them stay on the circuit and continue to enhance California fields. Just this past summer, we had 120 new horses qualify under the conditions and they made 174 starts during the meet. The program has been a key reason our field size remains the largest in California and among the best in the country."
The "Ship and Win" program has several obvious lures to out-of-staters: Southern California's exceptional weather, year-round racing in a relatively compact area, the attractive racing venues and substantial fan base are all strong selling points. Its lucrative purse offerings and top riders add further luster to the formula.
The program has served as an incentive to local horsemen to seek out horses not only from out-of-state, but also from overseas. Several local trainers have enhanced their barns and their owners' accounts with its substantial payments and bonuses.
With the aid of "Ship and Win," Del Mar has been able to stay north of eight horses per race for the past half-dozen years. Most wagering studies show a notable increase in handle can be tied directly to field size. New additional horses feed field size, which feeds handle, which in turn feeds purses, making "Ship and Win" a positive in all regards.
Jerkens pointed out two other examples of enhancements to purse values when "Ship and Win" monies are added in. In the case of $40,000 claiming races, the standard purse there is $36,000. With the "S & W" incentives layered on, that prize increases to $46,800. For $10,000 claimers, the purse bulks up from $17,000 to $22,100.
There are just a few basic rules involved with "Ship and Win" horses: An eligible horse must have made his/her last start outside California and cannot have started in the state within the past 12 months. First-time starters are not eligible. All stakes runners are eligible to receive the $1,000 starter fee, but no stakes runners – including overnight stakes – are eligible for the 30% bonus.
Those with questions concerning the program are encouraged to contact Del Mar's executive vice president for racing Tom Robbins, or Jerkens at (858) 792-4230.