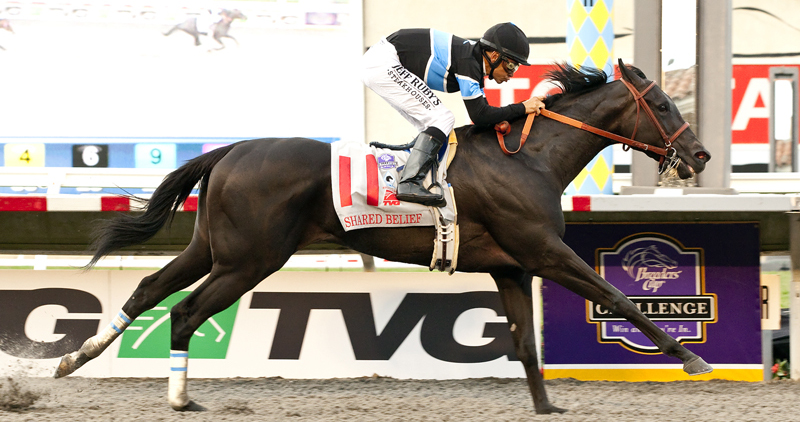 Emulating his sire, Candy Ride, victor in Del Mar's signature race in 2003, three-year-old Shared Belief showed he is the "real deal" Sunday with a brilliant triumph in the 24th running of the Grade I $1million TVG Pacific Classic.
Giving Hall of Fame jockey Mike Smith his fourth win of the afternoon and his fourth success in the Pacific Classic, 6-5 favored Shared Belief won by 2 ¾ lengths over Toast of New York, with 37-1 Imperative nosing out 5-2 second choice Game On Dude, the 2013 winner, for third money in the field of ten horses. Frac Daddy was scratched.
Like Candy Ride, Shared Belief came into the Pacific Classic sporting a perfect 5-for-5 record. And he came through in a memorable way.
Positioned in mid-pack by Smith in the early going, Shared Belief launched a strong rally entering the stretch, passing Toast of New York and a faltering but courageous Game On Dude. He drew out in the final furlong to be a convincing winner in a fast 2:00.28 for the mile and one-quarter.
The inquiry sign was posted after the race as Del Mar's stewards studied an incident involving Shared Belief who bore in while passing Toast of New York in the upper stretch. They ruled that the winner had sufficient clearance and a disqualification was not warranted.
Shared Belief, owned by the partnership of nationally prominent sportscaster Jim Rome's Jungle Racing LLC, trainer Jerry Hollendorfer and George Todaro, earned $600,000 to push his bankroll past the million mark to $1,372,200. He also clinched a spot in the $6 million Breeders' Cup Classic Nov. 1 at Santa Anita since the Pacific Classic is a "Win and You're In" qualifier.
A solid betting choice in the Pacific Classic, Shared Belief paid $4.40, $3.20 and $2.80. Toast of New York, who was piloted by Victor Espinoza in a valiant effort, returned $5.20 and $4.60, while Imperative paid $8.40 to show.
Shared Belief is the fifth three-year-old to win the Pacific Classic, following Best Pal, General Challenge, Came Home and Dullahan. According to weight-for-age conditions, he carried 118 pounds, as did Toast of New York, also a three-year-old. Older horses carried 124 pounds.
Attendance Sunday was 28,290.
---
MIKE SMITH (Shared Belief, winner) -- "I don't believe I caused any trouble in the stretch. When I came over, I had room. If I did cause any trouble, it surely wasn't intentionally. He just ran a terrific race. He's a special horse. I heard someone say this might be the coming out of a super star. I think now this horse deserves that accolade. I'll tell you what: he's as good a young horse as I've sat on in a while."
VICTOR ESPINOZA (Toast of New York, second) -- "His people told me I'd have to stay after him at the end; to encourage him. He's a one-paced horse and he needs some help late. Mike's horse (Shared Belief) did come over on us and I had to take a hold. Maybe it's different if I don't. But he ran good. He's a nice horse and this was a big effort for him."
KENT DESORMEAUX (Imperative, third) -- "Career effort for this horse. I've been riding him and I've not see this kind of race from him before. This was a truly good effort."
MARTIN GARCIA (Game On Dude, fourth) -- "I can't believe they did that. I can't believe they ran like that." (The reference was to Mystery Train and his pace-pressing effort alongside Game On Dude.)
ELVIS TRUJILLO (Irish Surf, fifth) -- "He gave it his best."
TYLER BAZE (Majestic Harbor, sixth) -- "My horse couldn't handle the track. He didn't run on it at all."
TIAGO PEREIRA (Ice Cream Truck, seventh) -- "No complaints. We had a good trip."
EDWIN MALDONADO (You Know I Know, eighth) -- "I had a perfect trip and then he just stopped running. I don't know what happened. He might have bled."
FERNANDO PEREZ (Mystery Train, ninth) -- "He gave it a good effort. It was a good try for him."
JOE TALAMO (Clubhouse Ride, 10th) -- "Perfect trip. That's all."
JERRY HOLLENDORFER (Shared Belief, winner) -- "I'm sure (about the inquiry) but the stewards are looking into it. I don't think he did anything wrong. Great performance (by Shared Belief). I've been impressed by his consistency all along."
JAMIE OSBORNE (Toast of New York, second) -- "He ran a great race, the race of his life. No hard feelings. The first two horses were the best. The winner may be the best 3-year-old anywhere. My horse stepped up quite a bit from his win in the UAE [United Arab Emirates] Derby."
BOB BAFFERT (Game on Dude, fourth) -- "Longshots are always the biggest danger to a horse like Game on Dude. They always want to go after him. I hate to see that. I think he was gonna win if they hadn't gone after him like that. It's frustrating to train a horse and get him ready for his biggest race and have a horse who has no shot to win take that chance away."
---
FRACTIONS: :22.49 :45.75 1:10.08 1:35.19 2:00.28
The stakes win was Smith's second of the day and his fourth in the Pacific Classic. He now has eight stakes wins at the current meet, the most by any rider. This was his 47th Del Mar stakes win. He rode eight mounts on the day and had four wins and three seconds.
The stakes win was Hollendorfer's second of the Del Mar meet and his first in the Pacific Classic. He now has 22 stakes wins at Del Mar.
Shared Belief is owned by Jungle Racing (Jim Rome), George Todaro, Jerry Hollendorfer, Jason Litt and Alex Solis II.
This is the first time 3-year-olds have finished one, two in this race. Three-year-olds carry 118 pounds in the race; all older horses carry 124. Four 3-year-olds have won the race previously.
---
JOCKEY-OWNER-TRAINER PRESS CONFERENCE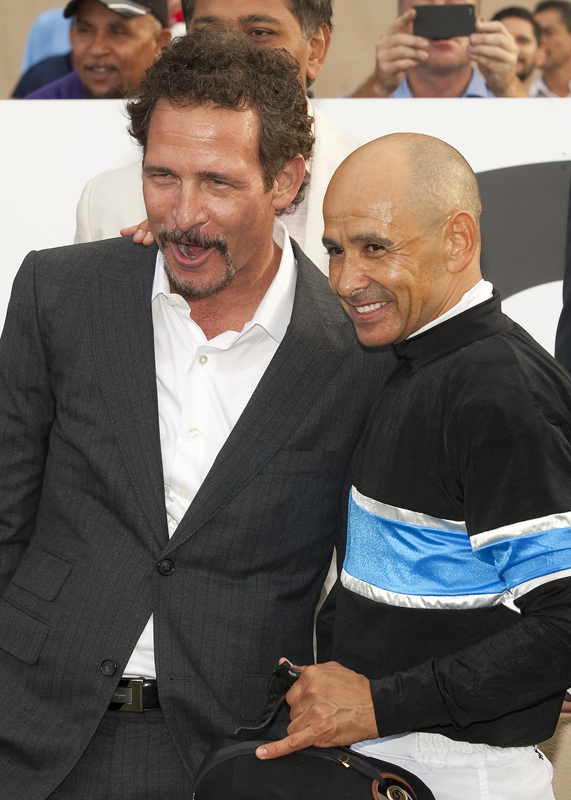 Jockey Mike Smith: "The first part I was farther back than I anticipated being. Leaving the gate his right hind end bounced off it which was not good. But two jumps later I saw that the 10 (Mystery Train) was going to put the pressure on Game On Dude, so I saw my chance to make up for it by saving all the ground I could.
"I tried to follow the horses that I thought I needed to follow. I got behind the other 3-year-old (Toast of New York) that I knew was good on Polytrack. I felt confident that I was going to get the trip from that point on.
"When he can spot them four or five lengths leaving the gate the way he did and run the way he did, that's incredibly impressive."

Owner Jim Rome: The whole thing is so surreal to me. I keep getting the question, This is easy, right? We all know it's the hardest thing in the world. Janet and I got started in the game back in 2007 and we didn't have a lot of success early on. I've always said Thoroughbred racing is a kick in the ass and a punch in the face, and I was getting my face punched in. But because of those times, now good things are happening and we have an immense appreciation for it. It's incredible, it's surreal, it's spectacular. Some of the greatest days of my entire life have been spent at the track."

Trainer Jerry Hollendorfer: "I really didn't notice he hit the gate. I knew he came out a little funny, but I really didn't notice that. When they were going down the backside I was a little concerned because Mike was going between horses. But then I could see he guided him with a way out. Once he got through there I thought he would make a good run. Once they got to the quarter pole you could see he was going to have a good chance.
"Just another really good turn of foot by this horse and it's really extraordinary the way that he does that.
"When you have horses run in these big races, everybody wants to dissect them and be critical. What people were wondering was could he come down to Del Mar and handle the mile and a quarter? He answered that question. There'll be other horses and other races in the future and we'll all be under the microscope again."