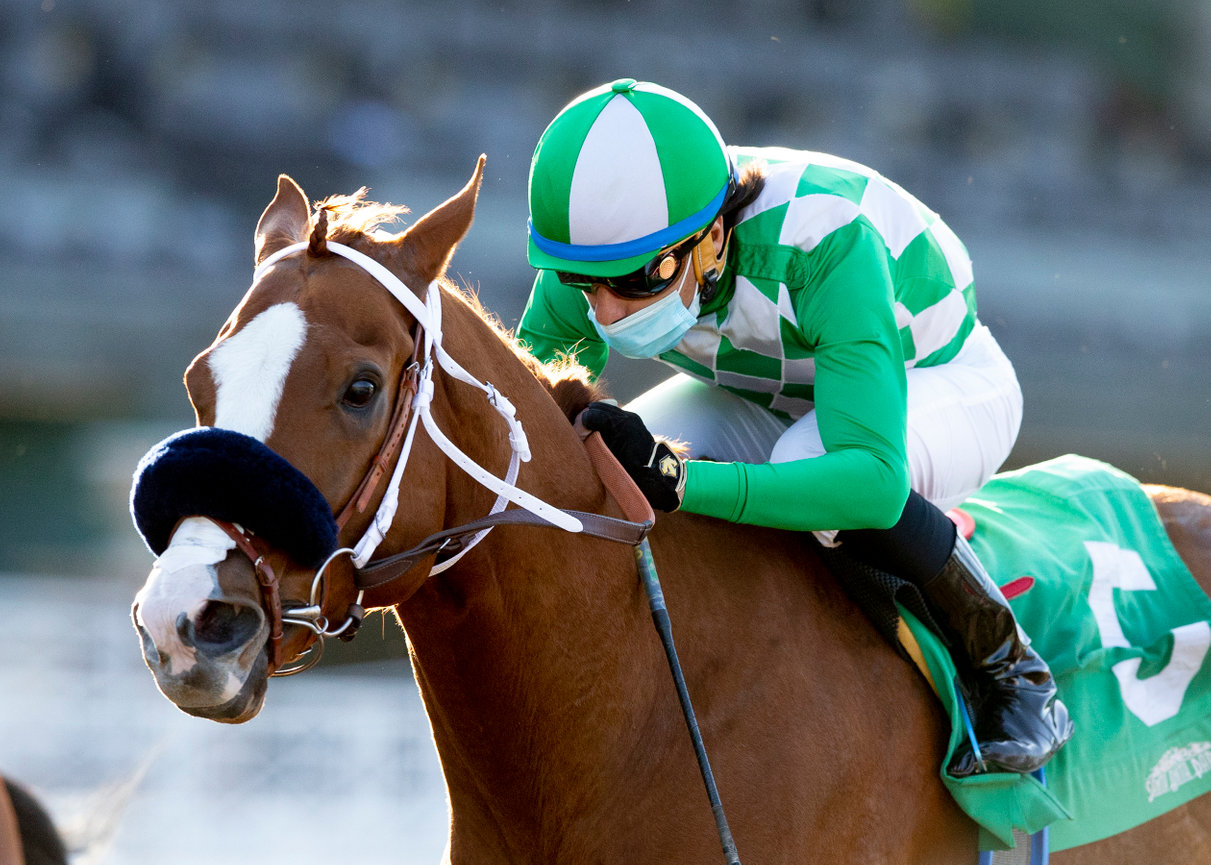 Fashionably Fast © Benoit Photo
Not one, but two former winners of the Cary Grant Stakes are going to try and pull off a double at Del Mar Sunday when they're part of a seven-horse field that will compete in the 38th edition of the stakes for California-bred 3-year-olds and up.
The seven-furlong spin was previously known as the On Trust Stakes and it was contested at the now-closed Hollywood Park site. The last seven have been at Del Mar, a spot where the famous movie star Grant was a regular visitor back in the day.
The pair who'll be trying for the two-bagger are Harris Farms, Antonsen or Nicolett's Fashionably Fast and Thomsen Racing's Loud Mouth. The former took down the prize as a 4-year-old here in 2019, while the latter was also 4 when he rang the bell last year.
Here's the full lineup for the stakes from the rail out with riders and morning line odds:
Fashionably Fast (Tiago Pereira, 3-1); Downstream Racing's None Above the Law (Joe Bravo, 3-1); C T R Stables or Aldabbagh's Positivity (Juan Hernandez, 4-1); Jay or Julie Manoogian's Colt Fiction (Geovanni franco, 5/2); Hess Jr. or McCanne's Peaceful Transfer (Edwin Maldonado, 8-1); Loud Mouth (Abel Cedillo, 8-1), and Mia Familia Racing Stable's Principe Carlo (Kent Desormeaux, 12-1).
Fashionably Fast, a homebred by the late Lucky Pulpit, has finished in the top three in 21 of his 26 starts and has banked $683,891. The 6-year-old gelding capture his last start – the Harris Farms Stakes at Fresno on October 9.
Loud Mouth is an eight-time winner who has earned $374,570. The full horse by Boisterous was awarded a victory after finishing second in the E.B. Johnston Stakes at Los Alamitos on September 12 when the horse across the line first – Peaceful Transfer was moved back to second for a bumping incident in the stretch.
Peaceful Transfer is also in the Cary Grant. The 6-year-old by Ministers Wild Cat has seven victories under his belt and a bankroll that reads $284,442.
Colt Fiction has won four of his six starts at Del Mar. The gelded 6-year-old by Ministers Wild Cat was pitched high in his most recent start – the Grade II Santa Anita Sprint Championship – but will no doubt like this reduction in competition.
None Above the Law won twice at Del Mar this past summer, once on grass (Del Mar Derby) and once on the main (Real Good Deal Stakes). He's a gray 3-year-old by the late sire Karakontie.
First post Sunday is at 12:30 p.m.