Friday, December 8th, 2017 ( 1 year ago )
Santa Anita & Del Mar Thoroughbred Club Join Forces Following Fire to Provide Off-Site Stabling During San Luis Rey Downs Training Center Reconstruction
With Eight Barns at San Luis Rey Destroyed by Lilac Fire on Thursday, Training & Stabling Facilities Immediately Required for Nearly 500 Thoroughbreds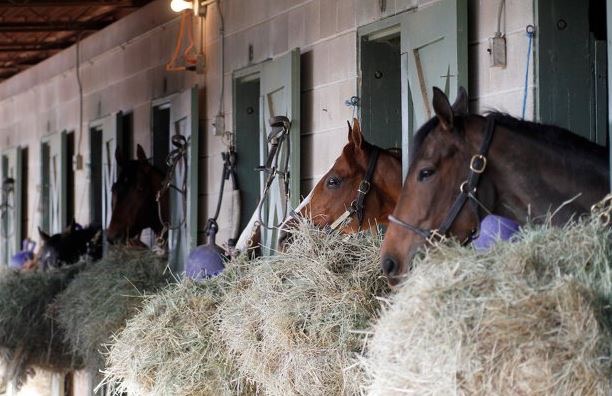 Following an emergency meeting of the California horse racing industry's Stabling and Vanning Committee Friday afternoon, it has been announced that Santa Anita Park and the Del Mar Thoroughbred Club have joined forces to accommodate nearly 500 displaced horses as San Luis Rey Downs Training Center undergoes reconstruction following yesterday's devastating Lilac Fire.
The fire, first reported at 11:30 a.m. PT, near Interstate 15 and south of state Route 76, spread rapidly westward when fueled by fierce Santa Ana winds and engulfed San Luis Rey Downs early Thursday afternoon, resulting in the destruction of at least eight barns and the loss of an undetermined number of Thoroughbred horses.
Owned by Santa Anita's parent company, The Stronach Group (TSG), San Luis Rey Downs Training Center boasts a mile track and many other amenities that have served as home to trainers such as Peter Miller, Doug O'Neill, Clifford Sise and many others.
"This is a horrific situation and everybody is trying to pitch-in and do whatever can be done to make things better," said Tim Ritvo, Chief Operating Officer of The Stronach Group. "The outpouring of support from inside and outside of our industry has been truly heartwarming. Together, we'll get through this."
The Del Mar Fairgrounds and Racetrack has graciously opened its arms to approximately 800 horses, Thoroughbreds and other breeds, that were forced to flee the Lilac Fire yesterday.
"We're here to help when a tragic situation like this presents itself," said Del Mar Thoroughbred Club's president Joe Harper. "With aid from our landlord, the 22nd District Agricultural Association, we're going to begin serving as a training center tomorrow morning and will continue on that path for the immediate future as our industry puts the pieces back together again. The Del Mar Fairgrounds is a multi-use facility and we do have constraints on just how far we can go with this, but for the next several weeks, or months, Del Mar will be holding training for our Southern California horsemen."
Following a cancellation of live daytime racing today, the Southern California racing agenda is set to return to normal on Saturday, as Los Alamitos will host their regularly scheduled Thoroughbred program, beginning with first post time at 12:30 p.m. Santa Anita's traditional Winter Meet will get underway on Tuesday, Dec. 26. For additional information regarding rescue efforts and fundraising relative to yesterday's fire at San Luis Rey Downs Training Center and for more information, please visit either santaanita.com or dmtc.com.