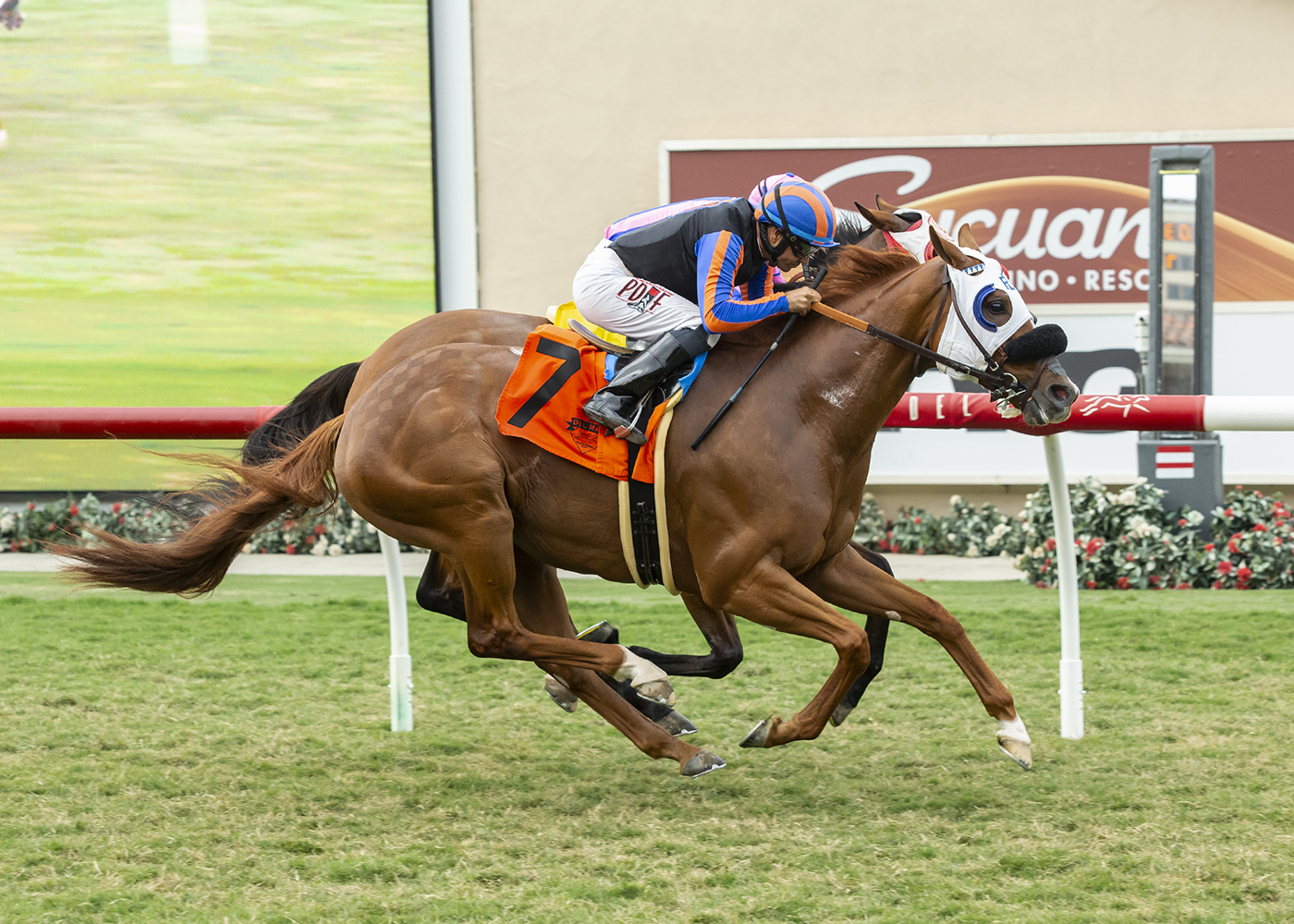 Rijeka © Benoit Photo
Slam Dunk Racing or Nentwig's Rijeka, 5-year-old Irish-bred gelding who had been racing on the east coast, made a trip to Del Mar a good thing as he came running late in the 11-furlong turf feature at the shore oval Thursday to get up by a head.
The chestnut son of the Galileo sire Roderic O'Connor covered the demanding marathon distance in 2:16.99 under rider Joe Bravo and bested Alfred Pais' Margot's Boy in the shadow of the wire. Mr. and Mrs. Larry Williams' Ward 'n Jerry, the race favorite, finished third, a length back.
In the track's ongoing rise to its Pick Six Single Ticket Jackpot wager, once again the punters couldn't solve the mystery of the elusive bet. This was the 17th day in a row that that was so and the carryover pool climbed to $1,751,883. Should the bet once again prove too tough to handle tomorrow, it will mean that Saturday's TVG Pacific Classic Day almost assuredly will see a massive influx into its exotic pool because Saturday is a "mandatory" payout day meaning the best ticket(s) will win the whole prize, which might rise to anywhere from $6 to $10 million.
Rijeka, who is trained by Phil D'Amato, earned $44,400 from the $74,000 allowance purse increasing his earning to $282,600. It was his fifth win in his 29th lifetime start.
The winner paid $8.00, $4.00 and $2.80 across the board. Margot's Boy returned $5.60 and $3.40 and Ward 'n Jerry paid $2.60.
First post for tomorrow's card is the usual "Four O'Clock Friday."