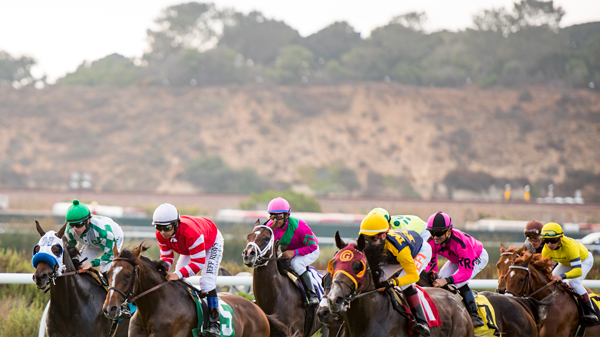 Del Mar's fall wagering menu will look a whole lot like its summer offering with one large exception: The seaside track's popular Pick Six bet now will return to its more traditional arrangement with a 70-30 daily payout and the elimination of the previous "single-ticket jackpot" portion of the wager.
The new/old bet will be called the "Classic Pick Six" and be available for $1. It will provide a daily payout of 70% of the pool to those who tab all six winners in the exotic wager, while giving a 30% "consolation" return to those who identify five of six. In the scenario where nobody picks six winners on a card, there will be a carryover of the major portion of the pool to the next betting program. In the past, even single-day carryovers have led to subsequent pools that move into the million-dollar range.
In all, there will be 16 different ways to invest in the track's daily programs starting with win, place and show bets and extending out to the exotic wagers topped by the Classic Pick Six during the four-week session that runs from November 10 to December 3.
"Some of our fans have encouraged us to return to the old school Pick Six, so we'll give it a go for the fall meet," said Bill Navarro, Del Mar's director of mutuels. "The previous 20-cent jackpot wager has provided some substantial pools, but we're hopeful the players will react favorably to the more traditional Pick Six."
Besides the Pick Six, the bets that draws the most buzz from the racing crowd are the Late Pick 5 (with its average pool over $700,000) and the late Pick 4 (average pool of approximately $600,000). Both wagers are natural spinoffs for Pick Six players.
Here's the full array of Del Mar bets that will be available during the stand: $2 Win, Place and Show (all races); $1 Exacta (all); $2 Quinella (all); $2 Rolling Doubles (all except last); $1 Rolling Pick 3 (all except last two); $1 Superfecta (10-cent minimum – all); $1 Place Pick All (starts w/Race 1 or 2); 50-cent Super High 5 (last); $1 Pick Six (last six); 50-cent Players' Pick 5 (first five and last five); 50-cent Pick 4 (Races 2 thru 5 and last four), and $2 Win-Place-Show Parlay (all races but last).
Del Mar will race on a Friday, Saturday and Sunday schedule throughout the 10th Bing Crosby Season, with the exception of an additional day of sport on Thursday, November 23, Thanksgiving Day. First post daily will be at 12:30 p.m. (11 a.m. on Thanksgiving) with eight races planned for weekdays and nine for weekends.