Monday, September 7th, 2020 ( 1 year ago )
Reddam, Hronis Split Honors for 2020 Owners at Del Mar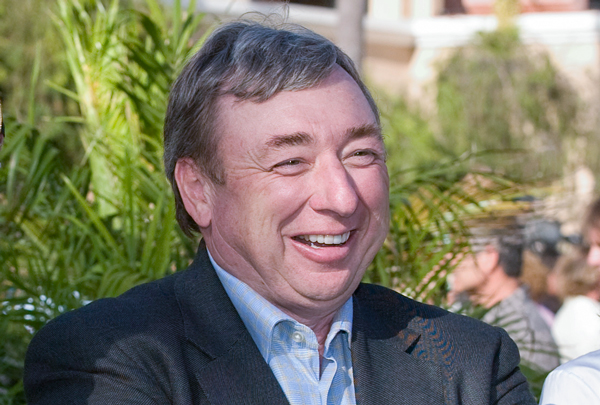 J. Paul Reddam © Benoit Photo
Reddam Racing and Hronis Racing, two of the major players on the Southern California circuit, wound up splitting owners honors for the 2020 summer meeting at Del Mar.
Reddam won the most money – registering $452,180 in purses over the 27-day meeting. Hronis won the most races – clicking for seven winners during the stand.
Reddam Racing is the nom du course for J. Paul Reddam of Laguna Beach, CA. His stable, which was Del Mar's leading owner in 2015 and is often in its Top 10 list, won six races total with 10 seconds and four thirds. Doug O'Neill is his primary trainer.
Hronis Racing is the racing moniker for two brothers from Delano, CA – Kosta and Pete Hronis. They have been Del Mar's top owners in five of the past seven years, including three straight between 2017 and 2019 when they topped the list for both money won and number of winners. Their racing record this season was seven wins, seven seconds and six thirds for earnings of $407,300. John Sadler is their trainer.
Also in the thick of the fray was partnership of Red Baron's Barn and Rancho Temescal, who finished second to Reddam with $423,950 in earnings and second to Hronis with six winners. That pairing consists of the father/son team of Jed Cohen of Encino, CA his son Tim of Piru, CA. They made a late rush when their 2-year-old Dr. Schivel captured the Grade I, $250,000 Del Mar Futurity on closing day. They race with several different trainers.
The list of leading owners follows:
Owner
Starts
1st
Purses
Reddam Racing
44
6
$452,180
Hronis Racing
48
7
$407,300
West, Gary & Mary, Magnier, Mrs. John, Tabor, Michael B. and Smith, Derrick
2
2

$390,000

Red Baron's Barn and Rancho Temescal
24
5
$

273,950

C R K Stable
15
4

$264,320

LNJ Foxwoods
10
1

$222,340

Eclipse Thoroughbred Partners
12
2

$219,880

Gary Barber
22
4

$219,020

Calvin Nguyen
11
3

$187,760

Zedan Racing Stables
2
2

$183,000