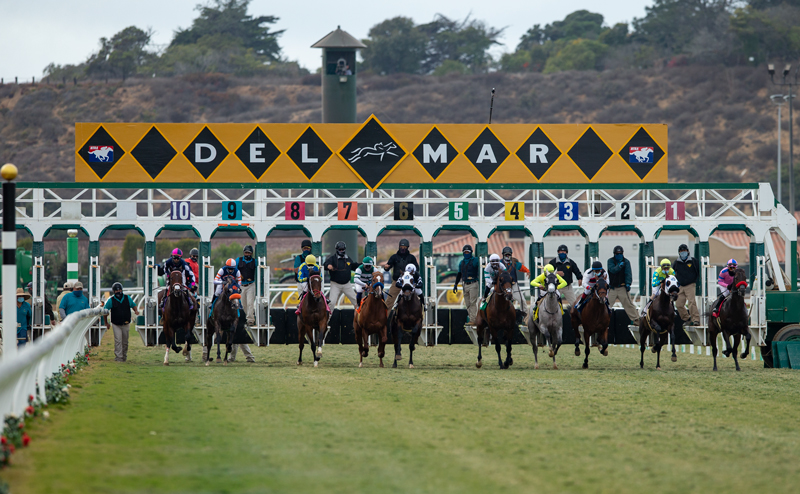 The Del Mar Thoroughbred Club continued its industry-leading safety record and its increased wagering trends as its Bing Crosby Season concluded on Sunday, November 29. The five-week fall meet provided total handle of $195.9 million, an increase of 33% over last season
"A terrific meet on all levels," said Del Mar's CEO, Joe Harper. "First and foremost, the horses and people who care for them were safe. Wagering, which fuels the industry's economic engine, exceeded expectations and the racing product was once again topnotch."
Average field size was 8.1 runners per race, a healthy increase of 9.5% from 2019's number of 7.4. A total of 131 races were run, compared to 114 last year. Grass racing, including the seven graded stakes that make up the "fall turf festival", once again highlighted the Bing Crosby Season. In total, races on the grass produced an impressive average filed size of 8.7.
"Outstanding support from our horsemen and horsewomen," said executive vice president of racing, Tom Robbins. "The racing was extremely competitive and, judging by our handle numbers, horseplayers responded. We raised purse levels prior to the meet and it's gratifying to see that pay dividends."
Racing during the seventh Bing Crosby Season was first-rate and no more so than the track's "turf festival" emphasis on its closing Thanksgiving weekend when seven graded stakes were run on the green and drew 20 runners from the east to participate. Champion trainer Chad Brown was especially successful with his horses, winning four of the stakes including the track's two Grade Is – the Hollywood Derby with Domestic Spending and the Matriarch Stakes with Viadera.
The meet's riding and training champions looked familiar: they were the same pair that led the session last year. Jockey Abel Cedillo easily outdistanced his rivals with 19 wins during the 15-day meet. Conditioner Richard Baltas sent out 11 winners after having won last year's crown with the same 11 firsts.
Juddmonte Farms was the leading owner for money won at the session with $256,000, while owners Perry and Ramona Bass won the most races – five all told.
"To follow up our highly successful summer meet with these excellent fall season results, on both the safety and business side, is a credit to the Del Mar team and the partnership we have with industry stakeholders," said DMTC president and COO, Josh Rubinstein. "It has obviously been a very unusual year and we have dearly missed our fans. But we have hopes that 2021 will bring us all back toward normal and let racing shine again in its usual fashion at Del Mar."
Del Mar now will look forward to hosting the Breeders' Cup on November 5 and 6, 2021. It will be the 38th running of the championship celebration that features 14 races worth $31 million. The seaside track previously hosted a record-breaking edition of the event in 2017.