Saturday, July 29th, 2017 ( 1 year ago )
Ransom the Moon Wins Eventful Bing Crosby Stakes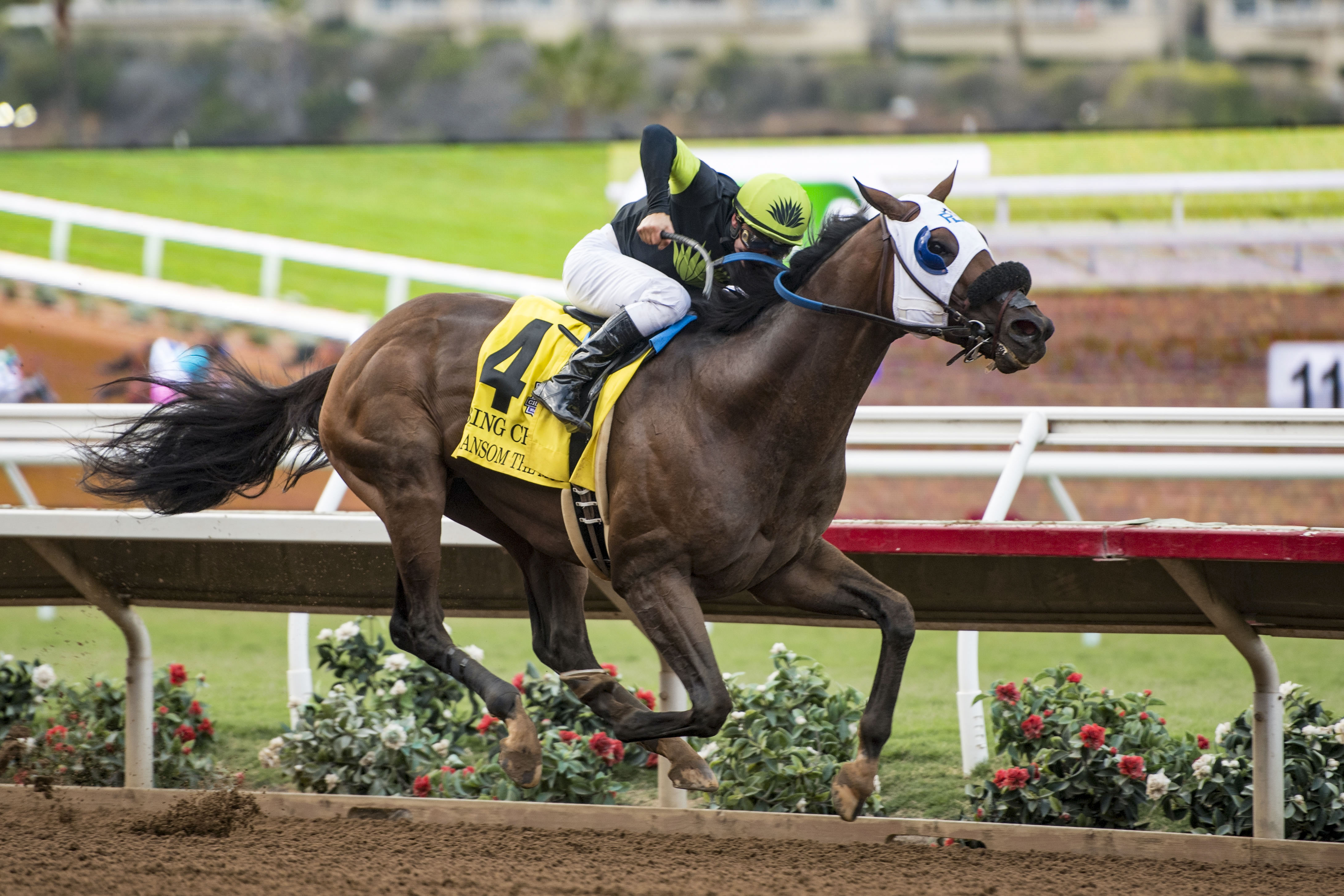 Ransom The Moon © Del Mar Thoroughbred Club
In a memorably eventful renewal of the Grade I $300,000 Bing Crosby Stakes Saturday, Ransom the Moon took advantage of untoward circumstances to triumph after Drefong, the champion sprinter of 2016, swerved badly shortly after the start and unseated jockey Mike Smith.
After Smith was unseated, Drefong, the 9-5 second choice, continued to run with the field, bore out badly turning into the stretch, carrying out 8-5 favored Roy H. and Moe Candy. Meanwhile, Ransom the Moon, piloted by Flavien Prat, rallied on the rail to take command and eventually win by one and one-half lengths.
Roy H recovered gamely under jockey Paco Lopez to be runner-up, one and one-half lengths in front of Moe Candy, with Kobe's Back fourth in the field of nine top sprinters. Withdrawn from the original field were Big Macher and Coastline.
Smith was examined at the track first aid station, apparently uninjured and cleared to ride Sunday at Del Mar.
Ransom the Moon, a five-year-old son of Malibu Moon owned by Agave Racing Stable and Wilke, ran the six furlongs in 1:09.63 and returned $10.80, $4.20 and $3.60 after scoring his fifth victory in 19 starts. First money of $180,000 increased the Phil D'Amato-trained runner's earnings to $520,829. The Bing Crosby Stakes is a "Win and You're In" qualifying event for the $1.5 million Breeders' Cup Sprint Nov. 4 at Del Mar. Thus, Ransom the Moon earned an automatic berth in that race.
Roy H paid $3.20 and $2.80, while Moe Candy, who went postward at 14-1, returned $5.60 to show.
In Saturday's supporting feature, the $150,000 California Dreamin' Stakes, My Italian Babbo and jockey Corey Nakatani rallied from last place to shade 9-10 favored He Will in the final strides, winning by a head in 1:41.91 for the mile and one-sixteenth over the infield turf course.
He Will, piloted by Mike Smith, was two lengths in front of Soi Phet, with G.G. Ryder fourth. Incredible Luck was fifth and last.
My Italian Babbo, owned by Nick Cafarchia and trained by Richard Baltas, returned $7.80 as the 5-2 second choice. It was the fourth victory in nine starts for the son of Papa Clem.
There were no perfect tickets in Saturday's Pick Six, so Sunday's program will feature a carryover of $161,490 with the single ticket Super Jackpot at $317,581.
---
FLAVIEN PRAT (Ransom the Moon, winner) – "On the backside I was concerned (about the loose horse, Drefong). I thought he was going to cause me problems. But I stayed behind him and then on the turn, he went outside and took the leader (Roy H) out with him. I got to go inside and it worked out perfectly. My horse is a really nice horse and I think six furlongs is his best distance. I got lucky today. Sometimes racing is like that."
PACO LOPEZ (Roy H, second) – "My horse was running really well and then the loose horse changed everything. I was trying to work around him, but we just kept getting pushed out. I don't know if I would have won if it hadn't happened, but I think I surely could have. Horse racing. What can you do?"
VICTOR ESPINOZA (Moe Candy, third) – "Really good race for him. We get pushed way out in the middle of the track (by the loose horse) and it just happened. There it is. He ran good, though. A very good race for him."
GARY STEVENS (Kobe's Back, fourth) – "He broke slow today. He'll break slow the next time he runs. That's what he does. But he came running and finished up well. He pulled up happy. He had some real life in him today. A good race for him. He felt good."
MIKE SMITH (Drefong, ninth) -- "I'm fine. It's just too bad it happened. The horse just outside me (No. 3 – St. Joe Bay), just brushed me a little bit and sent him (Drefong) left toward the gap. Then he just ducked for it (the gap) and I came off. If I don't get brushed, I think I go right through there and I'm going to be fine. But they tell me the horse is OK, and I'm OK. It's just one of those things."
---
PHIL D'AMATO (Ransom the Moon, winner) – "Flavien (Prat) did a great job feeling out the dynamics of the race and hats off to Peter Miller's horse (Roy H.) who ran a really good race. The weird thing is I ran a filly in the fourth race today (Table for Three) who did the same thing Drefong did, she tried to make the gap too. Luckily everyone is all right. We had to kind of sit behind Drefong and we were in the right spot at the top of the lane when he kind of drifted out. This horse is such a big, strong, good-looking Adonis of a horse and since trying him on the dirt he has been a totally different animal. We'll probably prep him on the dirt at Santa Anita and then come back here for the Breeders' Cup."
---
FRACTIONS: :22.19 :45.52 :57.48 1:09.63
---
The stakes win was the (meet leading) fourth of the session for rider Prat and his third straight (Lord Nelson, 2016 and Wild Dude, 2015) in the Bing Crosby. He now has 14 stakes wins at Del Mar.
The stakes win was the (meet leading) third of the session for trainer D'Amato, but his first in the Crosby. He now has 16 stakes wins at Del Mar.
Ransom the Moon is owned by the Agave Racing Stable of Mark Martinez of San Antonio, TX and Jeffry Wilke of Omaha, NB.