By Alexis Garske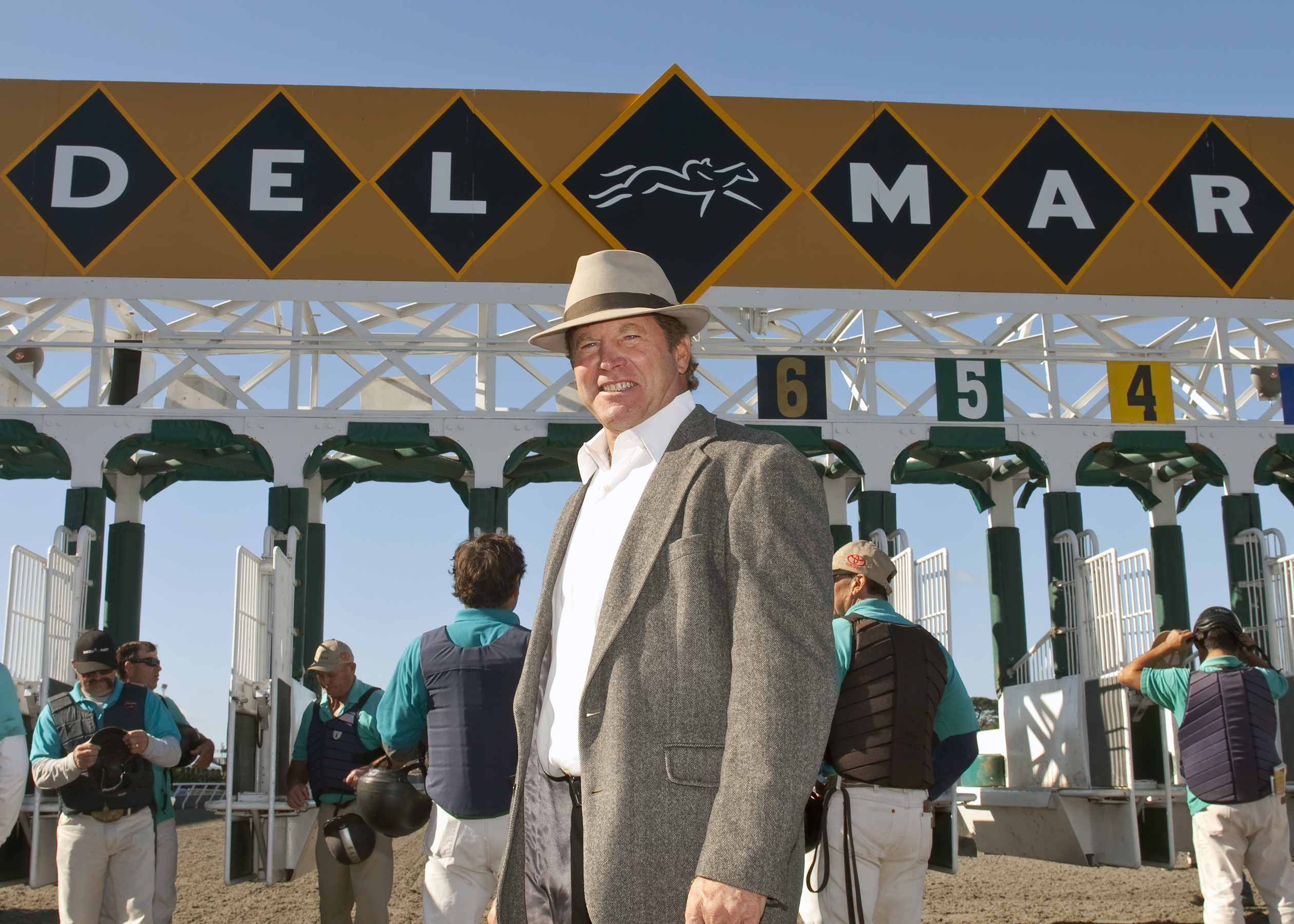 Del Mar's new starter -- Jay Slender – currently working his first meet at the seaside track.
There are many heroes in racing's stories. The winning horse gets a pat on the neck and a garland of flowers. The winning jockey gets applause and fans clamoring for their goggles and an autograph. Everyone usually wants to interview the trainer and the owner gets a nice pay day. Even the winning barn is rewarded with a warm box of donuts the morning after. But, far too often there are the forgotten few; those who helped make these stories a reality.
The starting gate crew is often the forgotten link compared to more glamorous jobs and the head starter is often unknown.
For Jay Slender, 53, that could never be the case. He has been a part of some of the most memorable moments in racing's history for much of his life. Though only in his first season as head starter at Del Mar, Slender is no amateur. He is the son of legendary starter Tucker Slender who held the same Del Mar position from 1985-1997 and Jay comes from a long line of Slenders in the racing world.
Like his father before him, he is the starter at Santa Anita for much of the year. Some would say there is no better place than Del Mar for Jay though. As an avid surfer, he literally embodies the slogan 'Where the turf meets the surf.' "I think I've surfed every single day this meet…I do like that," he says.
Though working on the starting gate is one of the most dangerous jobs on the track, Jay Slender is always ready with a smile and laid back attitude, right up until the horses approach his gate. Sitting on the bed of a friend's truck in between races while his wetsuit dries on the outside mirror of his own truck, Slender discusses his career path. Surfing could have this calming effect on him, or it could just be a lifetime of experience in his field of expertise.
Slender started on the gate in 1975 when a spot opened up at Los Alamitos and has been on the gate ever since. An assistant for many years under his father's tutelage, he officially became a starter in 1990 and earned the job at Santa Anita in '97. "It's fun, exciting," he offers. "It's different every race. I have a great crew. I don't care who you are, your crew makes you."
Top foreman John Lopez, who has worked with Jay since 1978 and was with Tucker for 17 years, will tell you father and son are more alike than Jay might admit to. "Tucker was tough. He had to be, though, because it's dangerous and it's not for everybody. Jay's exactly like his dad; does everything just like him. He tries not to, but it just comes out! He'll say something and it takes me right back to his old man."
When Jay Slender was a boy he would tag along with his father to the fairs up north each summer and would ride the gate along with the rest of the crew. Back then, there wasn't always a man for every horse like there is now. "When I was 14 or 15 my dad would yell at me to grab a horse. There wasn't protective gear back then; I think I might have had shorts on. The more guys you have, the safer it is."
Some of Slender's current crew even followed him from his time at Los Al. "You have to trust," he says. "If you can't trust someone, they don't belong out there. You can't have fear."
Slender still gets his hands dirty gate schooling in the mornings. "You've got to look these horses in the eye to help them, make them better. You've got to take your time. If you can finesse them and earn their respect, they'll follow you, they'll relax."
Slender and Lopez agree on how gratifying it is to see the change in a horse. "That's when it's rewarding" says Lopez, "when you do the work on the ground and horses win races after you've spent time with them." Slender concurs: "If you do your work in the mornings, it pays off in the afternoon."
Asked if he treats certain races or certain horses any differently, he takes only a second to consider the question. "I try to get fired up for every race. If you focus too much on any one horse, you'll miss something and that's not fair to the rest of the field. I learned that if you do your best, try your hardest -- and something still happens, then you just have to live with it."
All the heroes he has helped create over the years seem to be 'living with it' just fine.
The 2014 Del Mar fall meet gate crew:
Starter – Jay Slender; Assistant Starters – Gilbert Cardenas, Eddie Figueroa, Tim Fulgham, Rene Henriquez, Clifford Hinkle, John M. Lopez, John E. Lopez, Kyle Lopez, Hector Ramirez, Mike Sherlock, Kelly Steed, Kevin Steed, Keil Travis and Carl Woods.
11/22/14 ###