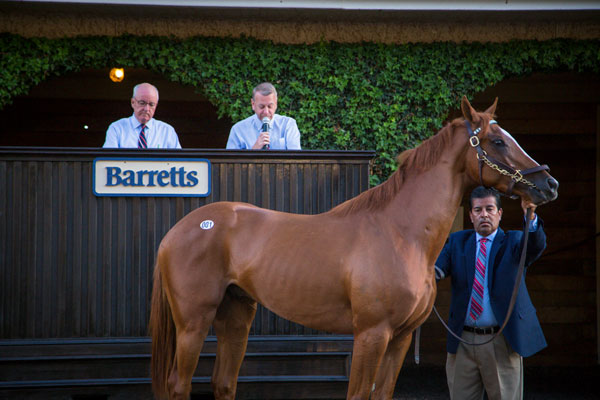 For the fifth summer in a row, Barretts Sales will conduct a "race ready" racehorse sale at Del Mar, providing opportunities for any and all – from first-time buyers to seasoned horsemen – to be involved in instant ownership and racing action during the summer of 2016 at the seaside oval.
The sale, which will be held on the second Saturday of the meeting – July 23 – will take place in the track's handsome paddock beginning approximately 20 minutes after the day's final race. A still-to-be determined number – estimated to be between 35 and 40 -- of runners of all ages will be offered during the session.
California-based horses as well as out-of-state entrants are expected to be available for bid at the vendue. The out-of-staters – those horses who have been racing recently outside California – are eligible to immediately take part in the track's highly successful "Ship and Win" program, now in its sixth year. Horses that qualify and are bought out of the sale earn an automatic check for $1,000 when they make their first start at Del Mar, as well as being eligible to add a 30% bonus on top of their regular purse earnings in that initial seaside start.
Unlike previous paddock sales, this one will have a training preview on Del Mar's racetrack immediately after regular morning workouts end (at approximately 10 a.m.) the day before the auction (Friday, July 22). All works will be at least three-eighths of a mile and videos will be posted on-line and as the horses come into the sales ring. All unraced horses must work at the preview and the session is also open to any of the other sellers.
Last year's paddock sale saw 19 runners sell for $728,500, an average of $38,342. The wide range of possibilities at the auction had horses sell for as little as $1,000 and as high as $200,000. Over the past four years, the sessions have seen on average 20 head selling at an average total gross price of $1,266,375 which works out to $65,650 per horse.
Many of the sales horses have gone on to be winners at Del Mar and other racetracks in California. Some have even become stakes winners. The 2014 seller ($145,000) Shh She's Ours has won her four most recent starts this year, including a tally in the Desert Storm II Stakes at Santa Anita and has banked over $175,000.
Barretts Sales, Del Mar Thoroughbred Club and the Thoroughbred Owners of California will host a free "Buying a Racehorse" seminar and preview of the sale on the morning of the session from 9 to 11:30 a.m. in the Veranda Café at the track. Seminar panelists will include bloodstock agent Rollin Baugh, trainer Ron Ellis, racing syndicate executive Jeff Lifson and international auctioneer Ryan Mahan. The seminar also will allow for a visit to the Barretts Sales barns for an up-close look at horses to be sold. Those interested can make a reservation at (626) 574-6617 or on-line at
www.toconline.com
Those wishing to contact Barretts Sales' personnel concerning the sale can do so at (909) 629-3099, or by e-mail at
info@barretts.com