Saturday, July 16th, 2016 ( 2 years ago )
Quintet of Interns Living, Learning the Del Mar Summer Scene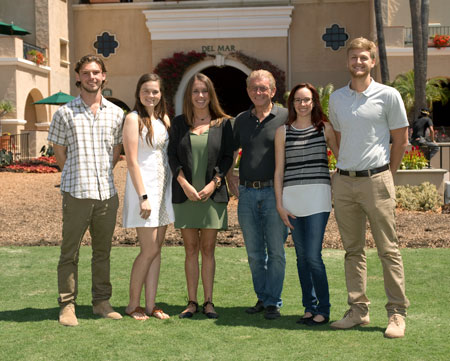 Del Mar's Intern Class of 2016
(L to R) Nick Avioli, Kristin Hill, Meg Reynolds, DMTC president Joe Harper, Erin Doty-McQuaid and Brian Glodowski
By Hank Wesch
Like any industry, Thoroughbred racing is always looking for young and enthusiastic career-seekers with potential to provide new ideas and leadership for the future.
One way, since 1977, in which Del Mar has sought to do its part in that regard is a summer intern program which, with five members for 2016, now numbers 94 overall.
A look at the new five, in alphabetical order:
Nick Avioli is the second son of former Breeders' Cup president and current Thoroughbred Owners of California CEO Greg Avioli to serve a Del Mar summer internship. Joey Avioli was a member of the intern class of 2014.
Nick, 19, was born in Atlanta, but now resides with his family in Lexington, Ky., three miles from the Keeneland racetrack. He is approaching his sophomore year at the University of Colorado, majoring in business marketing.
"I'm hoping to get a good feel for all the departments, but especially the business part," Avioli said. "I'm definitely looking to have a career in the (horse racing) industry."
Erin Doty-McQuaid, from Santa Rosa, is a senior-to-be in the University of Arizona's Racetrack Industry Program which has been, by far, the major source of interns to Del Mar since the inaugural year of 1977. At 33, she's one of the oldest to intern, but there are reasons for that.
"I tried doing more traditional jobs for 10 years before going for something that I have a real passion for," she said. Her passion was fueled over the years going to the county fair meeting in Santa Rosa and generally following the various aspects of the sport nationwide. She said she was particularly intrigued by Volponi's victory, as the 43-1 longest shot in the field, in the 2002 Breeders' Cup Classic at Arlington Park in Chicago. Like a lot of fellow horseplayers, she's still trying to figure that one out.
Brian Glodowski, 22, is a senior business marketing major at the University of San Diego who hails from Roseville, Ca. He's the second Torero to intern at Del Mar, arriving one year after Andrew Taggert.
"I started going to Golden Gate Fields with my brother and grandfather when I was 11 or 12, so I've liked horse racing for a long time," Glodowski said. "I've worked in group sales here the last two summers and I hope to learn more about the entire racetrack operation this summer. I think this (horse racing) is something I'd love to pursue as a career."
Kristin Hill, 22, is a San Diego native, graduate of La Jolla Country Day and a senior-to-be at Bradley University in Peoria, Ill., where she is majoring in Sports Communication.
A childhood interest in horses, which included an overnight camp in Bonsall, transitioned to several trips to Del Mar with her racing fan parents, Joe Hill and Donna Whitaker. Through a mutual friend she met Miles Himmel, a 2011 Del Mar intern, so she becomes the second Bradley student to grace the program.
Regarding her aims during the two-month experience Hill said: "I want to learn a lot about an industry that is unfamiliar to a lot of people."
Meg Reynolds, 20, from Laguna Niguel, is a junior majoring in journalism at the University of Missouri, a school which has a reputation for producing some of America's finest in the profession.
"I was taken to Arlington Park when I was around two years old and grew up around tracks in the summertime," she said. "My dad (Tom) loves racing and has owned some horses. He'll be here this summer."
Schooled in both the print and digital genres of journalism, she expects to delve more in the 21st Century, higher-tech side under Del Mar digital content manager Claire Crawford.
That's Claire Crawford, Del Mar intern Class of 2013.