Sunday, July 19th, 2015 ( 6 years ago )
Prize Exhibit Wins San Clemente Handicap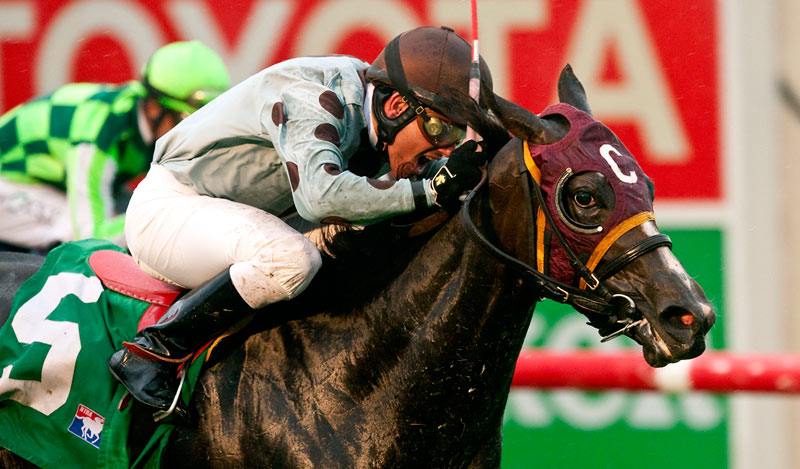 Winner of the Senorita Stakes at Santa Anita at odds of almost 10-1 three weeks ago, English-bred Prize Exhibit showed that success was no fluke with a strong come-from-behind victory in Sunday's Grade II $200,000 San Clemente Handicap on a rainy afternoon at Del Mar.
Taken back to last in the early stages of the one-mile event over a "good" grass course, Prize Exhibit displayed an impressive turn of foot as she rallied in the stretch under jockey Santiago Gonzalez to overhaul 8-5 favored Sunset Glow in the final sixteenth. She drew off late to tally by 1 ½ lengths in 1:36.05 for the once-around trip. It was the third win of the day for Gonzalez, a newcomer this summer to the Del Mar jockey colony. The 32-year-old rider from Venezuela made it a quadruple aboard Pretentious in the tenth and final race, like Sunset Glow conditioned by Jim Cassidy.l
Sunset Glow, with Gary Stevens, had to settle for second, three-quarters of a length in front of longshot Paulina's Love, with early pacesetter Spirit of Xian fading to fourth in the field of six three-year-old fillies.
Prize Exhibit, a daughter of Showcasing owned by DP Racing, earned $120,000 with her fifth triumph in 15 starts and increased her bankroll to $335,050. Third choice in the betting, she returned $9.20, $4.20 and $3.20. Sunset Glow, protecting her record of never finishing worse than third in nine career outings, paid $3 and $3, while Paulina's Love returned $4.80 to show.
With her win, Prize Exhibit figures to be one of the favorites in the season's championship-deciding race for sophomore fillies, the Grade I $300,000 Del Mar Oaks Saturday, August 15.
Sunday's attendance totaled 14,925.
---
SANTIAGO GONZALEZ (Prize Exhibit, winner) – (A primarily Spanish speaker, Gonzalez's comments were translated to English by his valet, Ozzie Ayala) – "I had no special instructions before the race. Just to ride her like I had before. (He had won the Senorita Stakes on her at Santa Anita in her last start on June 27.) She felt good all the way around; I knew I had horse under me. I waited until the quarter pole and then I let her run. She responded very well. This is my first stakes win at Del Mar. This is special, very special."
GARY STEVENS (Sunset Glow, second) – "Perfect trip; I had her right where I wanted to be. I asked her and she made her move. It was a good one. But the winner was just too much today."
VICTOR ESPINOZA (Paulina's Love, third) – "We had the good trip and she made the good try. Ones like this – I can't wait to ride them back."
JIM CASSIDY, (Prize Exhibit, winner) – "This turf seems pretty firm (despite the rain). There's no kickback to it at all. You have no idea how tough this filly is to train. She doesn't care. One work she started at the five-eighths pole, pulled up at the half, jogged to the three-eighths, galloped a little bit to the quarter pole, then took off and went all the way back to the five-eighths. But you look at her today and she wasn't even trying to run off. If you looked at her today and didn't know she was quirky, you'd think she was very professional. The Oaks is next."
---
FRACTIONS: :23.27 :47.25 1:11.76 1:23.90 1:36.05
---
The stakes win was the first ever for rider Gonzalez at Del Mar. He had three previous victory at the session. This is his first season riding at the track.
The stakes win was the first of the meeting for trainer Cassidy, but his fourth in the San Clemente. He now has 12 stakes victories at Del Mar.