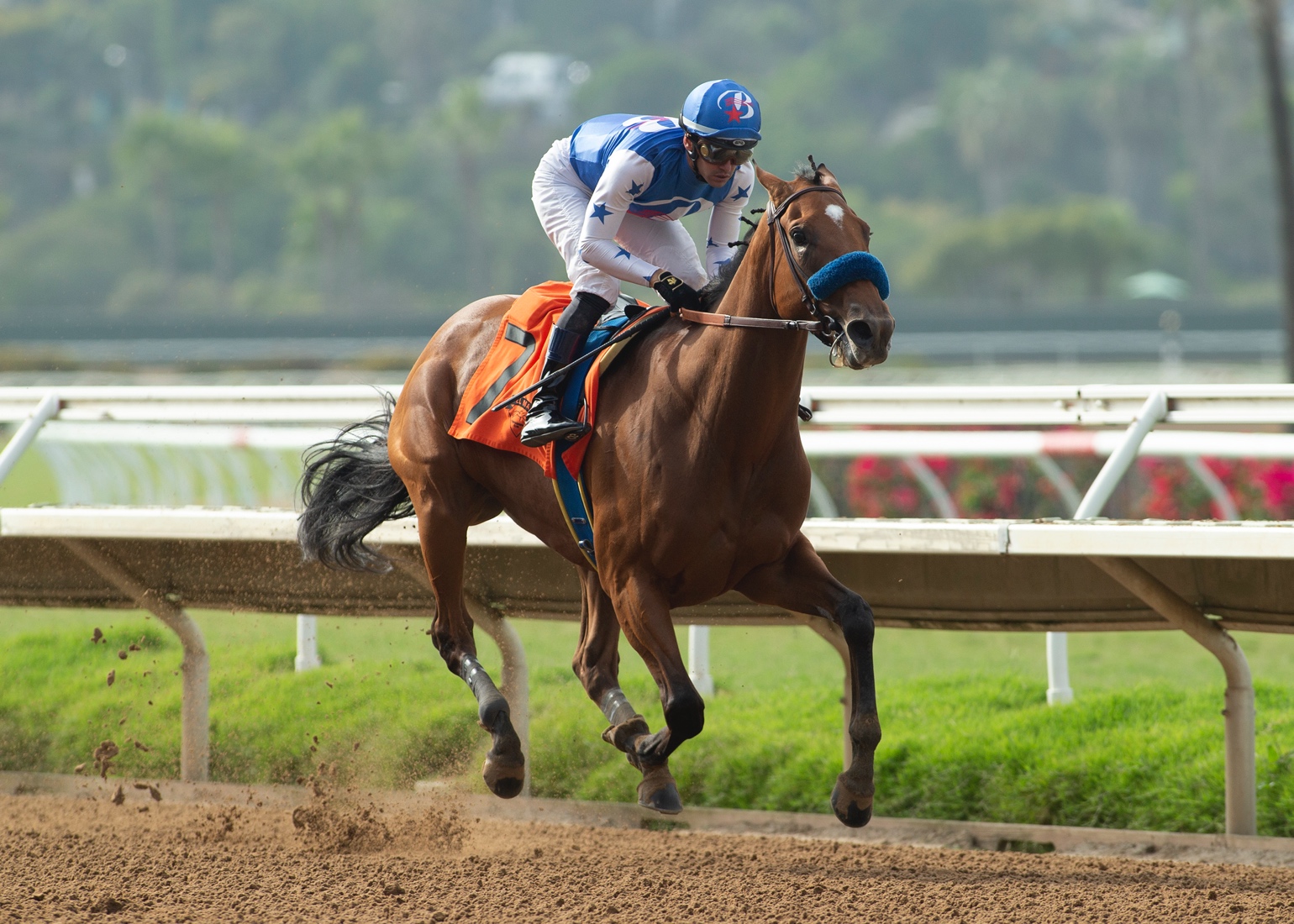 Private Mission © Benoit Photo
Baoma Corp's Private Mission, a $750, 000 yearling purchase, ran to her price tag and even-money odds Saturday with an easy victory in the $100,000 Torrey Pines Stakes for three-year-old fillies.
Taking command entering the stretch of the mile contest on the main track, Private Mission opened a daylight lead under jockey Flavien Prat and breezed to the wire six and one-half lengths in front in 1:37.89.
The daughter of Into Mischief and Private Gift provided trainer Bob Baffert with his all-time leading 140th stakes success at Del Mar and sixth triumph in the Torrey Pines.
Running a distant second in the field of seven fillies was KMN Racing's I'm So Anna, with Kyle Frey, seven and three-quarter lengths in front of 8-5 second choice, Phoenxi Thoroughbred III's Forest Caraway.
Private Mission earned $60,000 with her third win in four starts and first money increased her earnings to $136,800. As the choice, she returned $4, $3.20 and $2.20. I'm So Anna returned $6 and $2.80, while Forest Caraway paid $2.10 to show.
---
FLAVIEN PRAT (Private Mission, winner)—"She broke really well from the gate and put me right into the race. She got a little aggressive down the backstretch, so I gave her a little bit of a breather until the turn for home. When I asked her, she really dug in and got it done. She won pretty easily."
BOB BAFFERT (Private Mission, winner) – "We didn't know what she was going to do, but we always thought she could run long. This was a good spot and she passed the route test. That's very important. That's where all the money is."
---
FRACTIONS: :22.28 :46.71 1:11.91 1:24.61 1:37.89
The stakes win was the eight of the meeting for rider Prat and his second in the Torrey Pines (Harvest Moon, 2020). He now has 68 stakes wins at Del Mar, tied for 11the best all time with Patrick Valenzuela.
The stakes win was the first of the meeting for trainer Baffert, but his sixth victory in the Torrey Pines. He now has 140 stakes wins at Del Mar, the most of any trainer.
The winner owner is Baoma Corp, the nom du course of Charles Chu of North Andover, MA.