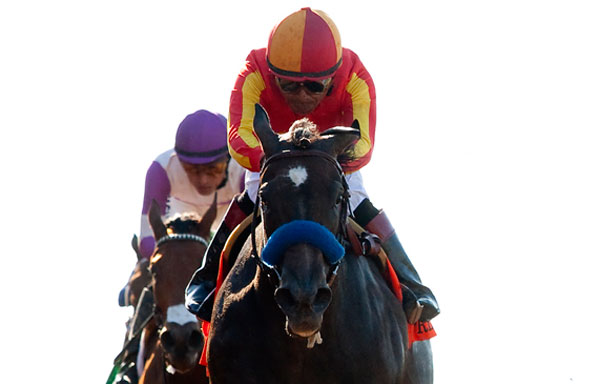 Pretty N Cool, the 2-5 favorite under jockey Martin Garcia, confirmed her status as favorite for the Grade I $300,000 Del Mar Debutante on September 5 with a convincing victory in Wednesday's featured $200,000 Sorrento Stakes for two-year-old fillies.
Pretty N Cool, a $160,000 Keeneland yearling purchase by owners Mike Pegram, Paul Weitman and Karl Watson, breezed to the lead turning for home and wasn't seriously threatened in the run to the wire as she won by two and three-quarters lengths in 1:16.94 for the six and one-half furlongs.
Pretty N Cool provided her trainer, Bob Baffert, with his seventh success in the Sorrento, which is the traditional prelude to the seven-furlong Debutante and a race the conditioner has won seven times in his Hall of Fame career.
Runner-up in the Sorrento Stakes was the longest shot in the field, 19-1 Gomo, who closed steadily in the stretch to be two and one-quarters in advance of third-place One True Kiss. Right There was fourth and the line-up was completed by Uptown Twirl and early pacemaker Undisputed. Sooner Time and Stays in Vegas were withdrawn.
Pretty N Cool, a daughter of Scat Daddy, earned $120,000 with her second triumph in as many starts, having won her first race on a sloppy track July 19. Her earnings now are $162,000. To her supporters in a crowd of 10,241, she paid $2.80, $2.20 and $2.10. Gomo returned $9 and and $6.20, while One True Kiss returned $5 to show.
---
MARTIN GARCIA (Pretty N Cool, winner) – "She broke right out of there, then the ground came out from under her. But she recovered right away. I saw how fast that filly up front was going (Undisputed) and I didn't want to go with her, so I took a hold. I can do what I want with this filly. When I asked her she went to the front. I stayed busy on her. She needed this race. It'll set her up for her next one. She's going to be a really good filly."
MARIO GUTIERREZ (Gomo, second) – "Good race for her; I'm very happy with her effort. I know my filly will run a mile. She'll run on."
TYLER BAZE (One True Kiss, third) – "She ran well. We have to be pleased. And she's crying out for two turns. That'll be right up her alley."
BOB BAFFERT (Pretty N Cool, winner) – "We thought that she could run and she's shown it. I liked what she did today. That one horse (Undisputed) must have bolted. She was going pretty fast. But Martin (Garcia) knew what he was doing. He got her settled and then she came running."
---
FRACTIONS: :22.24 :45.59 1:10.33 1:16.94
---
The stakes win was the second of the meet for rider Garcia and his second (Buffythecenterfold 2002) in the Sorrento. He now has 21 stakes victories at Del Mar.
The stakes win was the second of the meet for trainer Baffert and his seventh in the Sorrento. He now has 110 stakes wins at Del Mar, the most by any conditioner.
Pretty N Cool is owned by Mike Pegram of Scottsdale, AZ and Del Mar, along with partners Karl Watson and Paul Weitman of Tucson, AZ. This ownership group won the Sorrento with Executiveprivilege in 2012. Pegram, on his own, won the race in 1998 with champion Silverbulletday. The winner was a $160,000 Keeneland yearling purchase.