Friday, December 2nd, 2016 ( 2 years ago )
Premature Exit Doesn't Dim Jockey Flavien Prat's Rising Star
By Hank Wesch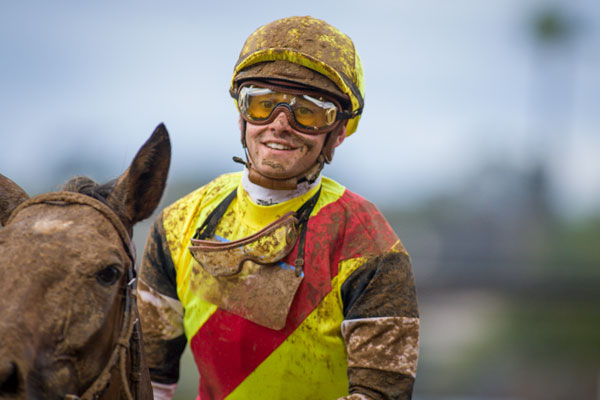 Flavien Prat © Zoe Mets for Del Mar Thoroughbred Club
Flavien Prat was scheduled for mounts in the third, seventh, eighth and ninth races at Del Mar last Sunday.
So, in accordance with standard procedure, an interview with this writer was set up during the break between the third and the sixth, Clerk of Scales Charlie McCaul acting as intermediary.
The gates opened for the third. Prat's mount, We Go Now, stumbled badly and the 24-year-old, the riding co-champion of the summer meeting and leader of the Bing Crosby session entering its final five days, was catapulted to the ground.
He lay still for a while, then got up slowly and took a ride in the ambulance – which follows the field of horses in every race – to the first aid station.
A call of concern was placed to the jockey's room. McCaul answered not with "Hello," but, seeing the caller ID: "You may have to cancel your interview."
"Understood."
A few minutes later, the call was returned and McCaul said: "How soon can you get down here? Flavien says he's OK to do it."
It was five minutes or less from the press box to the jockey's room.
Prat, who had been cleared to ride again, looked young, fresh-faced and, as always, serious. The answer to the obvious first question, about his condition, was "I'm fine."
The answers to the questions that followed were delivered cordially, easily and unhurriedly.
A question about the contrast in circumstances to a year earlier when he spent the Bing Crosby meeting at his Monrovia apartment in a full body cast, the result of a spill at Los Alamitos, relieving the boredom and occupying his time learning and improving his English.
Other questions about how he has followed a "breakout" 2015 season with an even better one this year; about Del Mar's role in his career arc, and about his plans for a trip back to his family home in France the day after the December 4 end of the current meeting.
Interviewer and interviewee shook hands and went back to their respective jobs.
Minutes later came the announcement that Prat was off his mounts for the rest of the day and headed to the hospital after a discovery of blood in his urine.
A night in the hospital preceded word Monday that Prat would not ride in competition again until the December 26 opening of the Santa Anita Park meeting. And assurances from his agent, Derek Lawson, that time and a previously-scheduled rest period would heal his client's wounds.
"He's going to be OK, actually he is OK, feeling much better," Lawson said Tuesday. "We don't know for sure, but the assumption is that he got kicked when he went down. The skin wasn't broken, there was just some redness, not really bruising.
"The doctor said some blood vessels in the kidney area may have broken and the cat-scan showed some fluid. He possibly could have ridden (the closing four days of the Del Mar season). But that could have led to more bleeding."
Prat's 2016 campaign comes to a temporary halt with him ranked 11th among North American jockeys for money earnings with more than $11.8 million on 165 wins from 911 mounts, along with an additional 290 in-the-money finishes. His win rate is 18% win and his in-the-money rate is 50%.
"Things have changed for sure," Prat said. "I've been really lucky, I've been riding some really good horses all year long. I've traveled a little bit. I'm feeling very good about the way things are now."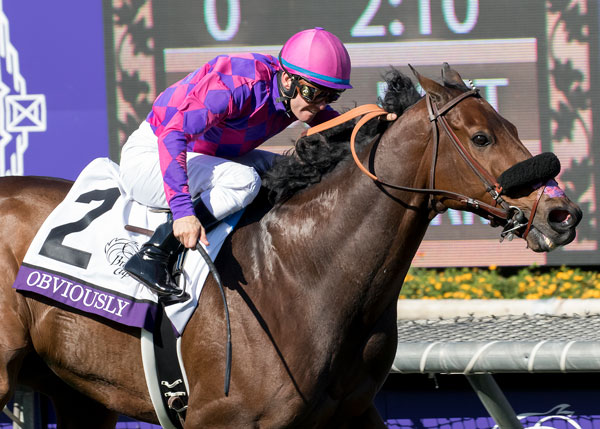 Obviously © Benoit Photo
Prat's seven Grade I victories this year came aboard Lord Nelson in the Santa Anita Sprint Championship and Bing Crosby Stakes, Illuminant in the Gamely, The Pizza Man in the Northern Dancer, Taris in the Humana Distaff, Avenge in the Rodeo Drive and Obviously in the Breeders' Cup Turf Sprint.
The last-named was Prat's first Breeders' Cup victory.
"It's not easy," Prat said of a year which has eclipsed a previous-best 2015 of $5.2 million in earnings despite the two months off due to injury.
"You work for (success like) that, but everybody in the jock's room is working for that. I had eight Breeders' Cup mounts on some really good horses and I expected to do well. The first day wasn't so good. But the second day, to get a winner (with Obviously) … when I was a kid I dreamed to win a Breeders' Cup and the dream came true."
Prat was the second-leading rider at the 2015 Del Mar summer meeting. He tied Rafael Bejarano for the title in 2016 and remains positioned for a high finish at the Bing Crosby meeting regardless of results in his absence during the final weekend.
"Every meeting is important, but I feel like Del Mar, especially in the summer, you have to be at your best because everyone wants to win at Del Mar," Prat said.
Prat and his girlfriend spent part of this week looking for an apartment in the Santa Anita area. Next Monday, as planned, he's off to France for a homecoming.
"It's a long year and you need a little break, so that when you come back you'll be happy again doing what you need to do," Prat said.
He'll stay with family and friends at a training center near Paris.
"My dad is a harness trainer, so I'll be going to the races, but not the Thoroughbred races," Prat said.
He could have explored opportunities as a harness driver. But his first inclination was to pursue a career as a jockey.
That career, a dangerous one, can have its down moments, as he experienced Sunday. But overall, it looks to have been a very good choice, both for him and the Thoroughbred sport.