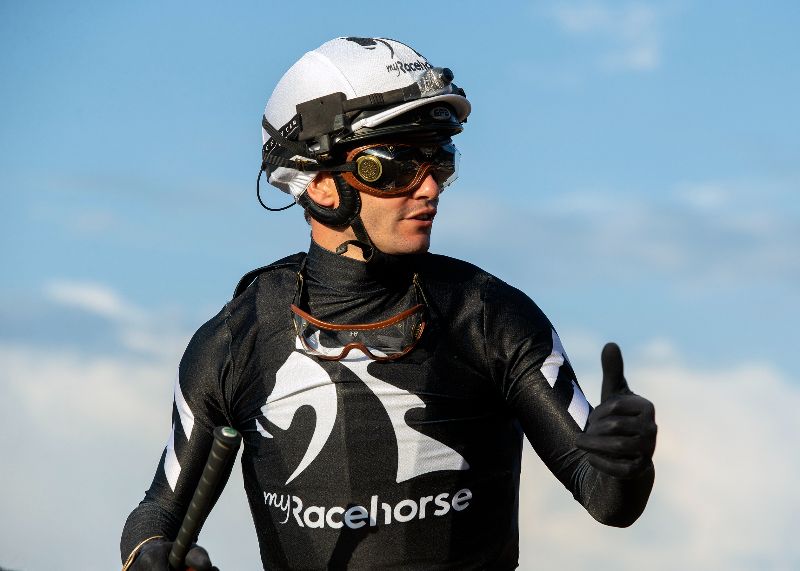 Flavien Prat © Benoit Photo
Flavien Prat and Peter Miller continued to reign supreme as the 82nd Del Mar summer season of Thoroughbred racing came to a conclusion on Labor Day Monday, September 6.
Despite missing part or all of three weekends during the meeting to accept assignments for major stakes at Saratoga in New York or Arlington Park in Chicago, Prat easily notched his third straight riding title and fifth, solo or shared, in the last six seasons.
With four wins on the final Sunday of the meeting and three more on Labor Day, Prat finished with 47 wins – only three less than in 2020 – and had a 15-win margin over Juan Hernandez and 18 over Abel Cedillo.
A year after establishing a single-season record 15 stakes wins, the 29-year-old native of Melun, France, added 11 more, boosting his total to 72, 11th best in track history.
Miller saddled 26 wins from 143 starters, two less than the previous year, but seven more than Bob Baffert posted from 63 representatives. The title was not only the second straight for Miller, it was his fifth at the summer meeting since 2012 and his ninth overall.
A pair of final weekend stakes victories – with None Above the Law in the Caesars Sportsbook Del Mar Derby and Liam's Dove in the Del Mar Juvenile Fillies -- boosted his stakes total to 43 at what the 56-year-old Encinitas and Manhattan Beach, CA, resident often refers to as his "home" track.
| Jockey | Mounts | 1st | Purses |
| --- | --- | --- | --- |
| Flavien Prat | 176 | 47 | $3,672,438 |
| Juan Hernandez | 193 | 32 | $2,261,114 |
| Abel Cedillo | 210 | 29 | $1,802,614 |
| Umberto Rispoli | 186 | 27 | $2,148,986 |
| Joe Bravo | 126 | 21 | $1,438,892 |
| Kent Desormeaux | 91 | 15 | $993,000 |
| Edwin Maldonado | 109 | 15 | $676,680 |
| Kyle Frey | 145 | 14 | $977,580 |
| Geovanni Franco | 102 | 12 | $598,240 |
| Jessica Pyfer | 119 | 10 | $476,412 |
| Trainer | Starts | 1st | Purses |
| --- | --- | --- | --- |
| Peter Miller | 144 | 26 | $1,888,594 |
| Bob Baffert | 65 | 20 | $1,516,800 |
| John W. Sadler | 91 | 18 | $1,554,656 |
| Philip D'Amato | 109 | 15 | $1,380,576 |
| Doug F. O'Neill | 146 | 14 | $1,043,000 |
| Richard Baltas | 99 | 14 | $1,136,420 |
| Mark Glatt | 81 | 13 | $919,922 |
| Robert B. Hess | 80 | 11 | $477,460 |
| Peter Eurton | 39 | 8 | $297,260 |
| Steven Miyadi | 25 | 7 | $300,700 |