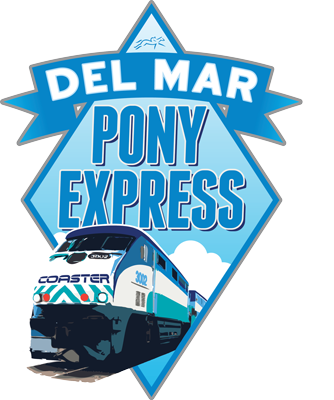 For the fourth straight summer, Del Mar Thoroughbred Club and North County Transit District have teamed up to provide racing fans an easy and economical way to enjoy a day at the races minus traffic hassles and parking fees.
Through a combination ticket called the "Pony Express," travelers can purchase a round-trip fare on the Coaster, Sprinter and Breeze, along with Stretch Run admission a free shuttle service between the Solana Beach Coaster station and the racetrack. Cost for the ticket remains at only $11, a $6 savings to racegoers. Additionally, those using the service save the $10 auto parking fee, allowing for a total savings of $16.
The first year the service was available it was for weekends only. But it proved so popular that it was expanded to all racing days, with the exception of the track's Opening Day. The full-meet schedule once again will be in effect this summer, minus the Thursday, July 16 opener. Del Mar will race a total of 40 days over eight weeks, finishing up on Labor Day Monday, September 7. A Wednesday-through-Sunday is in effect throughout the stand with first post daily at 2 p.m. with the exception of all Fridays when the first race runs at 4 p.m.
"Pony Express" passengers are ferried from the Solana Beach train station – which is approximately one mile north of the track – on DMTC's fleet of English double-decker buses that accommodate all trains both arriving and leaving the station.
Tickets for the "Pony Express" special are available at all ticket vending machines at every NCTD station by pressing the "Current Promotions" button. Additionally, they can be pre-purchased on-line at www.GoNCTD.com/Races. "Pony Express" riders will be able to pick up their admission tickets at the track's Diamond Club booth near the Stretch Run gate in close proximity to the double-decker bus stop.
Del Mar officials emphasized that "Pony Express" tickets have to be used in the context of attending the races, not merely for coming to the track's post-race concerts. Those using the tickets and attending the races will have free access to the concerts, just as all racing fans do. Those using the tickets to come after the races have concluded will be charged a $20 admission fee to enter the concerts, just as all late-comers are.
The Coaster is NCTD's scenic commuter train that runs along the ocean between Oceanside and downtown San Diego. Breeze buses operate throughout North County San Diego. The Sprinter is a light-rail train that runs east and west along the Highway 78 corridor between Oceanside and Escondido. The Coaster and the Breeze Route 101, which operates along Coast Highway, stop at the Solana Beach station. More information and schedules are available at GONCTD.com