Friday, August 25th, 2017 ( 9 months ago )
Paying Her Dues: Apprentice Laura Werner on a Rider's Road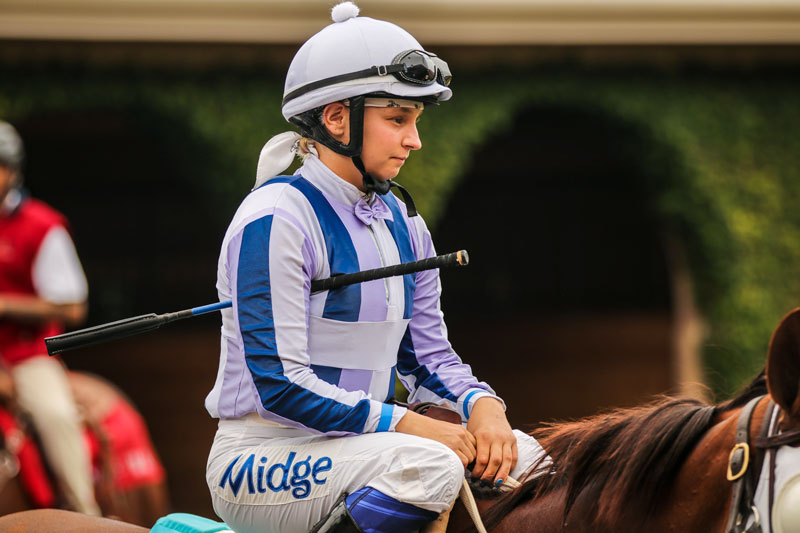 Laura Werner © Del Mar Thoroughbred Club
By Sean White
Oftentimes, what takes place on the turf outshines the preparation required. While the race to be first includes incentives of participating in stakes contests, earning monetary rewards and the notoriety of being a winning horse, owner, jockey or trainer, it is what takes place behind the scenes that sets the foundation for a successful performance.
A Wednesday morning tour of the racetrack's barn area, or backstretch as it is called, alongside apprentice jockey Laura Werner, known as 'Midge,' and her agent Carolyn Conley provided just the proper glimpse into the world of horseracing that many tend to overlook.
The backside is its own world. It is a world that operates according to a fast pace and one must keep your head on a swivel. Where barns are being cleaned and horses are being washed, walked and prepped for morning workouts on the track; all while trainers and owners are keen-eyed with stopwatches in their hand ready to track times at the drop of a dime.
A 6 a.m. arrival time marked the start of the tour. However, Werner's day was already well underway; she'd been working horses earlier that morning.
"I get up at four," she says, "have some breakfast, get my things together, leave around 4:30 and start here around 4:45. Our first workers are usually at 5:30 or 6:30, so before that I'll usually ride some gallopers. The morning works are [the most important part of our routine]. It's when we rack up our business. Besides racing, this is the most important part."
The duration of the tour included work at trainer Anthony Saavedra's barn at 6:30 a.m. and a 7:45 a.m. trip to the track to work a horse for trainer Eoin Harty. Ending Werner's rounds was an 8:15 a.m. work assignment. The busy morning served as preparation for her plans to participate in races one, four and six that afternoon.
Right by her side at each stop was Conley, ensuring that the jockey was efficient in completing each morning task. The jockey-agent duo has been together since April, with Werner being her only client, allowing Conley to solely focus on the apprentice's early career stages.
"With an apprentice like Midge, it's mostly about being given an opportunity. Sometimes she'll ride 6, 7, 8, or even 10 horses in the morning," Conley explained. "We work mostly seven days a week; we take the odd day off but it's rare. We feel like we're launching a rocket as we're launching her career. You can't just put the gas pedal down, you have to create all this combustion to really launch. When [horsemen] see her work ethic, it makes a difference."
With her horse racing origins beginning in England, accompanied by future stops in both Melbourne, Australia and New Zealand prior to making her U.S. debut in May 2017, Werner has worked her way up from the bottom using her knowledge from each past experience.
"My first job in England was for a racing trainer named Michael Gates," she said. "He always had a lot of faith in me and pushed me along. He taught me everything as far as horse races and horsemanship. When I went to Australia, I worked for Peter Moody (now retired) and Ciaran Maher. Ciaran wanted me to be a jockey. He always pushed me and gave me a lot of opportunities, and put me in a lot of trial races. He's the one who got me my job in New Zealand, where I started race riding. It's always been the people I've worked for that have pushed me and believed in me."
At age 21, Werner is a testament to earning a living both on and off the racetrack with no expectations of handouts or guarantees. Her journey as a jockey includes being away from her family and home country of England for the past three years.
The time away has been one of many influences for Werner, who pays for a work visa while here in the U.S., partially by working all those horses in the morning.
Thus far, Werner has shown good signs of progress since beginning her U.S. career. Entering Friday, the apprentice has ridden in 94 races and registered nine victories. Three of those tallies have come at Del Mar.
"I love [Del Mar]. It's great because it's a meet where I've been learning quite a lot," she noted. "It's a different track, there are a lot of horses, and it's more competitive. It's been a great experience for me to improve my riding."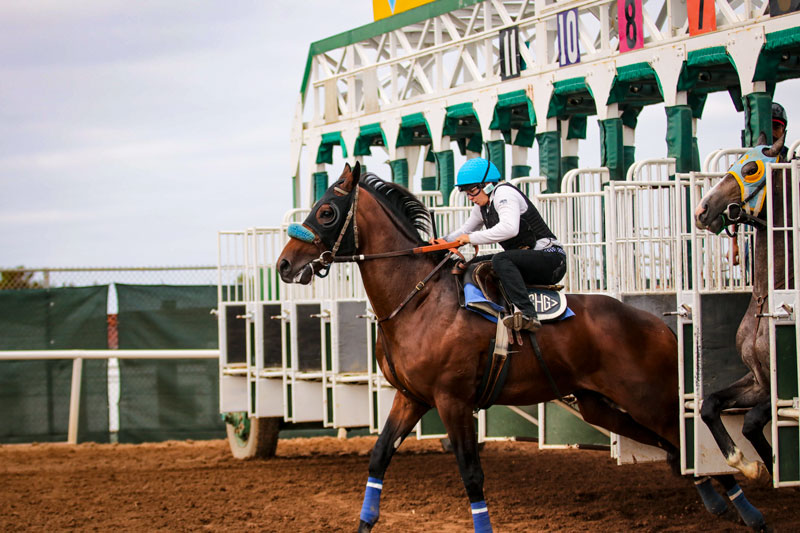 Laura Werner breaks one out of the gate in the morning at Del Mar.
Despite being in the early stages of her career, Werner has humbly made her mark throughout the horse racing community as an up and coming apprentice with encouraging potential. She has been working and building a rapport with various horses and trainers, starting with her initial U.S. efforts at Santa Anita.
"My first win at Santa Anita [has been my biggest accomplishment]," she stated. "It is a special place. Not many people get to say they've ridden there, let alone ridden a winner there. It took a lot of hard work to get to that point because I was new and no one knew me, so I had to prove myself. We had to work hard to get our first winner and that kind of kicked things off and helped us get rolling."
Nonetheless, being a female jockey is another motivational factor. No jockey gets races handed to them. Being a member of such a male-dominant industry could be perceived as intimidating, but the circumstances of her profession have been more influential than demeaning.
"The only difference I find is I just have to prove myself," she said. "I try really hard not to put that label on [being a female]. I don't want to be labeled that way because then people treat you that way. But I don't think a lot of people here see me that way."
As more opportunities are realized on the track, Werner continues to gradually find a balance between her jockey career and leisure life. The quick turnaround of each race day has the potential to take a toll but 'Midge' has managed to merge the two dimensions to her enjoyment.
"It's difficult because I am Laura," she said reflectively. "Laura is a jockey, riding is my main passion. I paint, but I paint horses so it's kind of both of my [passions] together. Apart from painting, I like to be outdoors. I like hiking, kayaking, all of that. Riding is all a part of it because you're outdoors, you get an adrenaline rush. That's what I'm all about."
The blonde rider stands 4 feet, 9 inches and weighing only 104 pounds, allowing her to be free of worries concerning her diet unlike the majority of jockeys (would you believe eggs benedict for breakfast!) She's open and easy to read. But what about the nickname? Where did 'Midge' come from?
"I had it ever since I was seven years old," she said. "I joined the Boy Scouts, they gave it to me and it stuck. I'm actually more used to being called 'Midge' than Laura. Everyone here knows me as 'Midge.'"
She followed up the explanation with a happy mention of the recent addition of her alias to her riding pants, reflecting the fun-seeking and hard working individual she is.
She is Midge.
It is a name with the potential to become familiar in the jockey ranks, one that she knows will take a day by day process to achieve.
Werner concluded her Wednesday with seventh-place, third-place and ninth-place finishes in her three starts.
So it was back to work the following morning. The road she has chosen is not an easy one, but she's a traveler on a journey that she wants to take.
---
Sean White, a student at the University of California, Santa Barbara, is one of Del Mar's 2017 summer interns.
Photos by Hannah Mathiesen, a student at Cal Poly San Luis Obispo, another of Del Mar's 2017 summer interns.