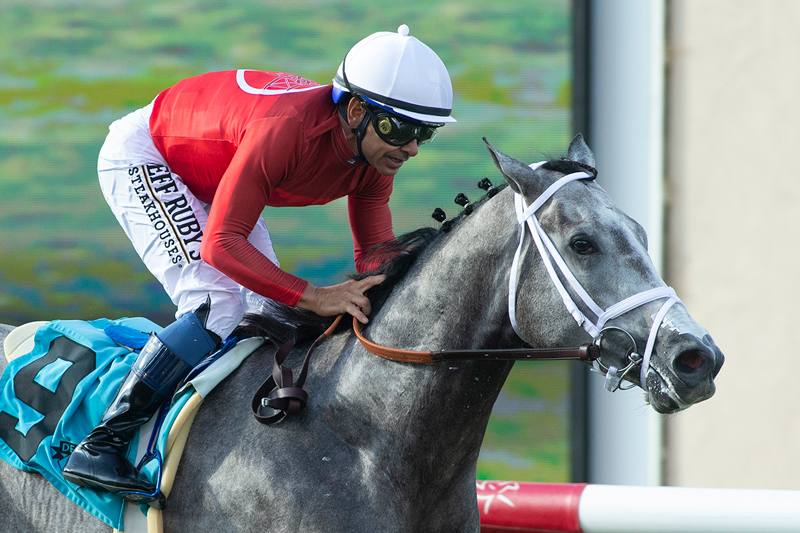 Packs a Wahlop © Benoit Photo
The father/son team of Jed and Tim Cohen – who race under the names of Red Baron's Barn and Rancho Temescal, respectively – threw a big punch Sunday with their 2-year-old colt Packs a Wahlop, who sat a pretty trip in second under Hall of Fame rider Mike Smith, then powered away from his field through the lane to take honors in the Grade III, $104,500 Del Mar Juvenile Turf Sunday at the seaside track.
The gray son of Creative Cause was four and a quarter lengths best at the end of the one mile test on the Jimmy Durante Turf Course, covering the distance in 1:35.96. The winning trainer was Jeff Mullins.
Finishing second was Gans, Jacobs or Katz, et al's Valiancer, who came from far back to finish ahead of the other Red Baron's and Rancho Temescal's colt Dandy Man Shines.
Phil Lebherz's Don'tthinkjustdoit actually was second across the wire, but was disqualified back to 7th for interference in the stretch.
Packs a Wahlop returned $18.00, $10.00 and $5.80 across the board. Valiancer paid $40.80 and $22.80, while Dandy Man Shines paid $4.00 to show.
The winner earned $60,000 for his good work and now has earnings of $110,000 for his second win in his third start.
---
MIKE SMITH (Packs a Wahlop, winner)-- "Jeff (trainer Mullins) and his crew did a great job getting this colt ready for this race. They were actually only going to run the other one (Valiancer) and this horse was doing so good Jeff said we got to run them both. He's (Pack a Wahlop) training unbelievable and I came out and worked him every time, so I feel like I was a part of it. I didn't think they were going to beat this colt, not today anyway. Nice comfortable pace and he had plenty left. "
JEFF MULLINS (Packs A Wahlop, winner) – "That was kind of the plan along. He showed speed going five-eighths; we figured he would be laying close somewhere in a comfortable position. Mike's worked him every time and he's had all the confidence in this horse, we all have. I was surprised he went off at 8-1."
---
FRACTIONS: :23.00 :47.24 1:12.32 1:24.31 1:35.96
The stakes win was the second of the meet for rider Smith, but his first in the Del Mar Juvenile Turf. He now has 76 stakes wins at Del Mar, 11th best of all time.
The stakes win was the first of the meet for trainer Mullins, but his second (Dry Summer, 2012) in the Del Mar Juvenile Turf. He now has 22 stakes wins at Del Mar.
The winning owners are father and son Jed and Tim Cohen of Red Baron's Barn (Jed) and Rancho Temescal (Tim). Jed resides in Los Angeles, Tim in Del Mar.