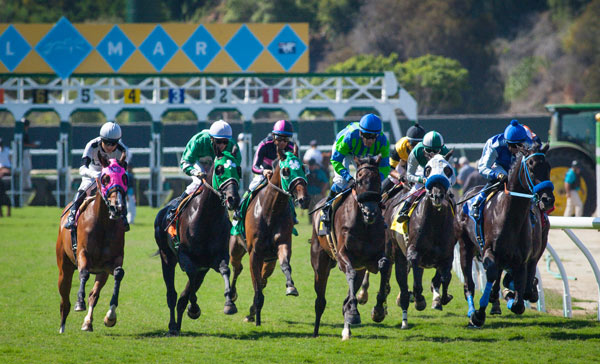 Del Mar raced to a close of its 76th summer season on Labor Day, completing a 40-day stand that saw total handle figures rise by nearly 10%, field size hold firm despite more racing and its new dirt track receive positive feedback from local horsemen.
The seaside oval stretched its summer season out to eight weeks for the first time – running between July 16 and September 7 – and added four more racing days to its agenda beyond the 2014 schedule. In the process, the track increased its cumulative handle from $442,626,307 in 2014 to $486,060,724, a jump of 9.8%.
Field size stayed at a California high of 8.8 horses per race for the third year in a row, even in light of the track running 354 races in 2015 as opposed to 326 the summer before.
The new, dirt main track, installed over the winter at a cost of approximately $5 million, performed well throughout the session, even overcoming freakish rain storms in the first weekend of the meet by utilizing its freshly installed drainage system to good advantage.
"Both tracks performed very well," said Del Mar Thoroughbred Club president and CEO Joe Harper. "We had a strong racing product and generated momentum going into the fall season. There is a new normal, not just at Del Mar, but with California racing in general.
"More racing here means more opportunities, but also less immediacy for our fans. We will continue to adapt as Del Mar plays a larger role in the industry."
Del Mar's second fall session, which will consist of five weeks instead of four this year, will run between October 29 and November 29. It will feature the two-day Breeders' Cup meet on October 30 and 31 being held at Keeneland in Kentucky.
Total handle increased $43.4 million, or 9.8%. California off-track wagering handle increased 17.2%. Out-of-state wagering was up 9.7%. However, total on-track handle decreased 5.1%.
Daily average handle at Del Mar finished off at $12,151,518 for the 40 days. Last year's 36-day stand saw the daily average at $12,295,175, meaning there was a 1.2% decline. Average daily on-track handle was down 14.6%, but average daily off-track betting in the state was up 5.5%. Average daily out-of-state handle decreased by 1.3%. Average daily ADW handle again showed positive results, rising up by 9.8%.
On-track attendance for 2015 was off by 12%, averaging 14,558 for the 40 days as opposed to 16,535 for last year's 36. Total attendance for 2015 was 582,324.
The track's new dirt course drew mainly positive reviews. Hall of Fame trainer Richard Mandella was one of its fans:
"I think it's a very good track," he said. "One of the best dirt tracks we've seen."
Another Hall of Famer, jockey Mike Smith, joined with Mandella in his track evaluation.
"It's a good track, a safe track," Smith said. "I've heard they're going to add a bit more sand to it after the meet is done and I think that will be a good thing. They'll make a good thing even better."
Del Mar's purses, the best in California and among the very best in the country – especially in light of the track not having any additional casino or outside supplements – totaled an estimated $26,224,000 for the full session, putting the amount at $655,600 per afternoon.
The track had two exceptional racing highlights during its season. The first saw the track's premier race – the $1,000,000 TVG Pacific Classic – won in smashing fashion by the champion mare Beholder, the first time a female had beaten males in the 25-year history of the mile and one quarter.
In addition, Del Mar basked in return of Triple Crown hero American Pharoah, who set up shop for training at the seaside course for the summer following his run to glory this past spring. The handsome colt, winner of the Del Mar Futurity in 2014, highlighted his summer activities with a special parade for the racing fans on Sunday, September 6, when nearly 33,000 fans turned out to see racing's newest hero.
Beholder and American Pharoah could give Del Mar fans one extra thrill this fall: it now appears quite possible that the two could meet at Keeneland in the $5-million Breeders' Cup Classic, a possible showdown that would have the racing world beside itself in sweet anticipation of a battle royale.