Sunday, August 9th, 2015 ( 6 years ago )
Overall Handle Numbers Up
As Del Mar Approaches Midpoint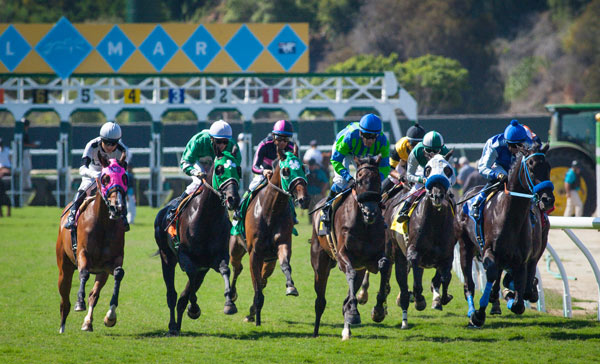 Overall handle – the barometer that racetracks point to when someone wants to take their business temperature – is in a positive zone at Del Mar as the seaside track ranges up on the midway point in its summer season.
Betting figures at the end of Sunday's Day 19 of a scheduled 40-day session show that all wagers registers in at plus 1.9%, boosted especially by ups of more than 6% in statewide Inter Track Wagering and Advanced Deposit Wagering, along with a 3% boost in out-of-state handle.
The track had things thrown all akilter on its opening weekend – traditionally the best of the meeting – when a rare two-day storm, accompanied by thunder, lightning and extended rains, struck the San Diego area on July 18 and 19 and put a serious dent in handle and attendance numbers. It had been 24 years – back to 1991 – since Del Mar last experienced a summer storm and a racetrack that was anything other than "fast." Additionally, the track has run four less races this season than last.
At one point Del Mar was down 12% in overall handle and 21% in on-track attendance. Since then, however, there's been a slow but steady climb upwards, taking the figures into the plus column on the wagering side and heading north at the turnstiles.
The track's attendance numbers currently register at 15,985 per afternoon after 19 racing days. That's a drop of 11.4% from last year's numbers at the same juncture, though it also is a reflection of a climb back from the opening weekend woes that put a heavy anchor on the turnstiles.
"Besides our weather-related issues," said Del Mar Thoroughbred Club's CFO Mike Ernst, "we also had a new dirt racetrack for our bettors – especially our big bettors – to feel out and become comfortable with. The track seems to be drawing positive reviews and our big players have begun to step up as the weather has returned to normal and they get to a comfort level with the new surface."
Horsemen are virtually universal in their praise of the new dirt racing surface, installed over the winter at a cost of approximately $5 million to replace the synthetic Polytrack that had been the primary racing surface for the past eight years. Their comments – from riders to trainers to owners – repeatedly call the "El Segundo sand" surface "fair and safe."
Trainer Peter Miller, who has led the track in victories in three of its last four meets, finds the new dirt to his liking and speaks for many of the horsemen when he says:
"I like it. Early on, I thought it was too deep. I didn't think you could win on the lead. But it has tightened down now. It's playing fair; very fair."
The track's expanded turf course, now in its second season since being installed in the spring of 2014, has drawn high praise from Del Mar's horsemen, especially its riders. Hall of Famer Gary Stevens said the now deep-rooted surface "just might be the best turf course I've ever ridden on. Leif (course superintendent Leif Dickinson) and his crew have done a wonderful job with it."
Field size through 19 days is a shade down from the 2014 meeting, again keyed around the opening weekend storm situation. Dozens of scratches were realized as the track had to shift races off the grass and onto the main track. Last year to this point, Del Mar had run 172 races and had 1,523 starters for a per-race average of 8.85. This year it has run 168 races with 1,474 starters for an average of 8.77 per race.
After an opening week "down" in handle and a second week of running on neutral, track wagering kicked up 16% in week three and then 3.4% in week four. Good racing and player comfort with the track's racing surfaces are seen as the primary reasons for the rises.
Ahead the track looks forward to some of its best races and racing and several major promotions and musical events that figure to keep the handle and attendance numbers heading in a positive direction .
Additionally, the track's new fall season – which last year in its first incarnation proved a solid success – will this year include an extra week of sport kicked off by the two big Breeders' Cup racing days (October 30 and 31) on its opening weekend.
Del Mar returns to action Wednesday with first post at 2 p.m.