Friday, July 18th, 2014 ( 4 years ago )
Outlook is Bright for Del Mar Intern Nine.
By Hank Wesch
If they wanted to form a baseball team, and call themselves The Del Mar Interns, every position would be filled.
Still, the nine young people, aged 17 to 23, who have signed on for duty at the track during the 75th summer season, all look on horse racing as a great American pastime. Every member of the largest intern group since the program was initiated in 1977 has expressed enthusiasm for the opportunity to learn about the inner workings of the sport and willingness to entertain the possibility of pursuing a career in the game.
Herewith the Del Mar Nine. Not in batting order, but alphabetically:
Joey Avioli, 18, from Lexington, KY, is entering his sophomore year at the University of North Carolina, majoring in applied math and computer science. He is the son of former Breeders' Cup president and CEO Greg Avioli and his wife Margaret. Early exposure to horse racing was a given considering his father's prominent position, and Avioli's has spent time through the years at many tracks, especially the major ones in New York, Kentucky and California. "I embrace the betting part of it, because I think it's such a science," he says. "I could read the (Daily) Racing Form backwards and forwards at a very young age and was telling my dad and his friends what to bet. But it becomes something deeper than the betting when you can be around the horses and see how they run. I think horses actually do care about racing and they actually do compete. It's always been interesting to me. I'm excited to be at the track. San Diego is a beautiful place and I'm looking forward to the summer here."
Aaron Brukman, 20, from Long Beach, is the 40th student intern at Del Mar from the University of Arizona's Racetrack Industry Program (RTIP). His parents, Lance and Barbara Brukman, pushed Aaron in a stroller at Del Mar on Pacific Classic Day in 1996 when Cigar lost to Dare And Go and he learned handicapping on many subsequent trips with his father. "I love it, especially at Del Mar," Brukman said. "I'm really happy I've found this (internship). I'm really interested in business, marketing and management, and I'm hoping to take away a lot from it."
Jack Carlino, 19, who hails from Phoenix, is a sophomore at the University of Louisville where he is studying equine business management. His father, Mark, introduced Jack to racing by bringing him to Del Mar about five years ago while the family was vacationing in the area. "I just kind of got hooked on it," Jack said. "I don't know what I want to do for a career yet, but I'd like it to be something in racing."
Charlotte Eldridge, 21, is from Middleburg, VA , and about to enter her senior year at Sewanee: The University of the South in Sewanee, TN.Her parents are Coe and Maria Eldridge of Middleburg and her grandmother, Jackie Eldridge, is a noted teacher of equitation in the horse country of Virginia. She was the one who introduced Charlotte and her older sisters to riding in fox hunts and hunter/jumper events among other equine pursuits.
Ryan Frear, 23, is a recent graduate of San Diego State University who was born in Scottsdale, AZ, moved to San Diego as a pre-teen and now resides in Dana Point. Introduced to horse racing by his father, Bob Frear, Ryan's early memories of Del Mar are of being young enough (5-12) to qualify for and attend Camp Del Mar during the races. "I've worked at the U.S. Grant hotel and learned something about hotel management," Frear said. "Hopefully, I'll get the opportunity this summer to learn about the business side of racing and how it works from the inside."
Jeff Furmanski, from San Clemente, will begin his senior year in high school in the fall and is, at 17, the youngest intern in the history of Del Mar's intern program. Del Mar, Santa Anita, Saratoga and Arlington Park are among the tracks he has visited with his parents, Joe and Julie Furmanski, and he has experienced a Breeders' Cup. Presently, his goal is to attend the University of Louisville and study for a career in equine business.
Cole Jaczko, 19, from Del Mar, is a sophomore business administration major at USC. His parents are Karen and Chris Jaczko and he recalls going to Del Mar with them, outfitted in a little suit, at around the age of six. During his years at nearby Torrey Pines High, when not occupied with football and baseball, he would come with friends on weekends. "Now, I like it a lot," he said. "I think the horses are such cool creatures. I'm looking forward to exploring all aspects of how the sport is run this summer."
Zoe Metz, 18, is the daughter of trainer Jeff Metz. Her mother, Jennifer, is a clocker. Her grandmother worked in the paymaster's office on the Southern California circuit. The family story is that Zoe first started to crawl in the stewards' office at Del Mar on August 10, 1996, the day Dare And Go upset Cigar in the Pacific Classic. The most recent of several racetrack jobs for the Cal Poly Pomona incoming freshman has been as a photographer. Among her assignments: the last two Breeders' Cups at Santa Anita and all three legs of the Triple Crown this year. "I've grown up in racing and Del Mar has been my second home, after Santa Anita," Metz said. "I've done a lot at the racetrack, but it has been mostly horse related. I'm looking forward to learning more about the business side."
Betsy Muirhead, 20, from San Diego, will be a junior in the fall at the University of Colorado, majoring in advertising and marketing. She has been going to the Southern California tracks with her parents, Charlie and Mary Alice, from a very young age. "I can't even remember the first time I came to Del Mar, but it was when I was very little," she said. "We'd always be right down by the finish line and I fell in love with the excitement of it."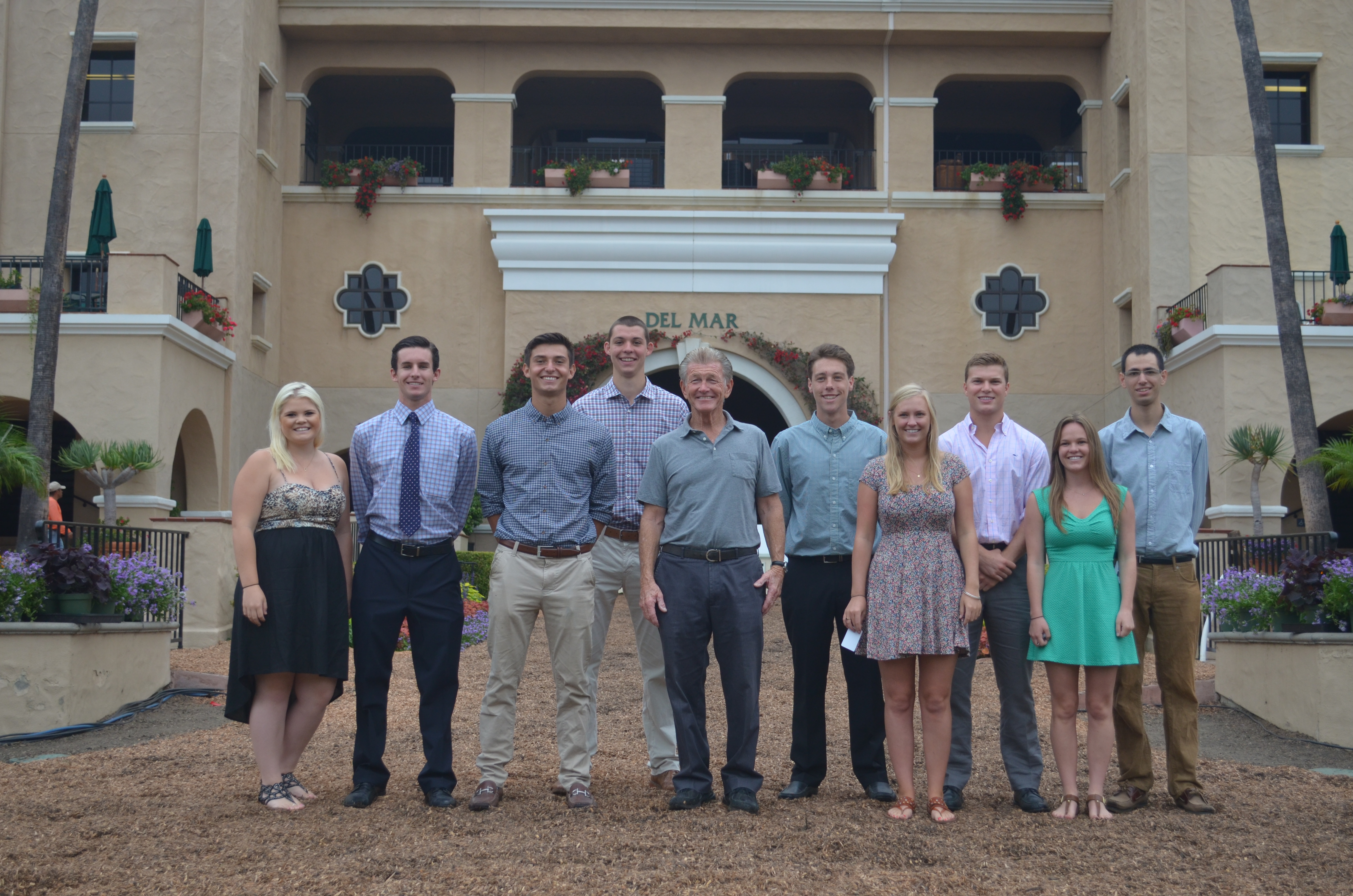 From Left: Zoe Metz, Ryan Frear, Joey Avioli, Jack Carlino, Joe Harper, President of Del Mar Thoroughbred Club, Jeff Furmanski, Charlotte Eldridge, Cole Jaczko, Betsy Muirhead, Aaron Brukman.
7/18/14 ###