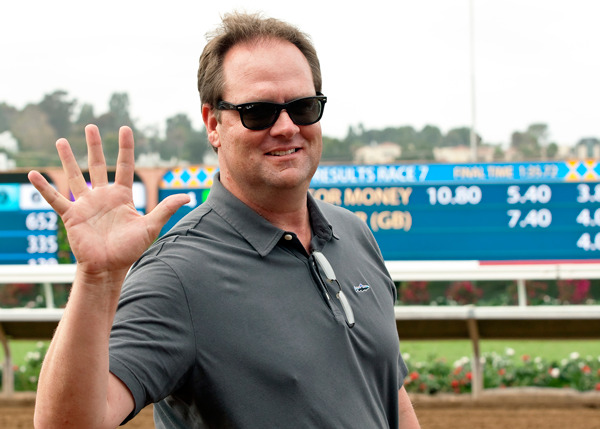 Doug O'Neill, four times the leading trainer at Del Mar in his highly successful career, set an all-time Del Mar record for most wins in a day by a Thoroughbred conditioner Wednesday when he saddled five winners on the eight-race program
The 47-year-old native of Dearborn, Michigan eclipsed the mark of four wins on a single program first established by the legendary Red McDaniel on September 4, l954 and equaled by him two days later September 6. Matching the standard in subsequent years were Farrell W. Jones, who won eleven training titles at Del Mar and accomplished the feat August 13, l963, followed by two Hall of Famers, Ron McAnally (August 20, l989) and Jack Van Berg (August 3, l995. Most recently, John Sadler had a quadruple August 29, 2009.
O'Neill won the first race with Hye I'm Jack at $28.80 under Tyler Baze, did not have a starter in the second, then swept the third, fourth and fifth races respectively with Jimmy Bouncer at $8.60 under Mario Gutierrez, Tumbleweedprincess at $8 with Alonso Quinonez and Land Over Sea at $3.40, again with Gutierrez in the saddle.
After not having a runner in the sixth race, O'Neill sent out two contenders in the seventh, Lookin for Money, a $10.80 victor under Flavien Prat, to give him his fifth win of the afternoon, and Housemaker, who was runner-up at 12-1 under James Graham. He didn't have an entrant in the eighth and final race.
"Unbelievable," said O'Neill in the winner's circle after his fifth triumph. "We thought we might have a good day, but this...
"It's hard to win a single race down here. But to do something like this, what can you say? Just very special. I've got to thank all the people around me. Leandro (assistant trainer Leandro Mora), my help, my riders, my owners, my family, everyone.
You hope for something like this, but you really can't expect it. But it all fell into place today. Great rides, perfect trips for the horses, right spots...you just couldn't ask for more. I'm lucky, really lucky, and so very happy."
Attendance Wednesday was 10,996.