Tuesday, October 24th, 2017 ( 1 year ago )
Officials Named for Del Mar's Special 2017 Fall Meeting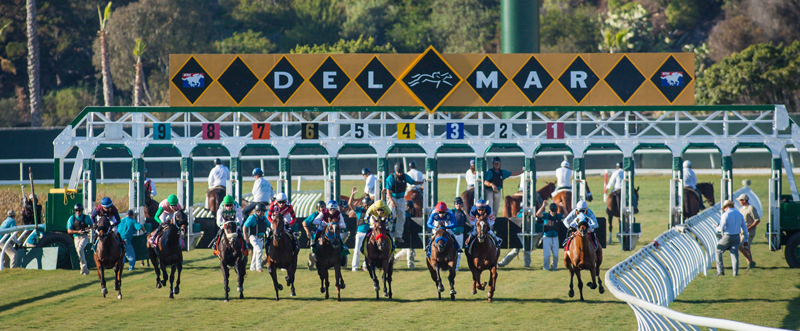 With the Breeders' Cup Championships adding a special dash of panache to the proceedings, Del Mar will host its fourth fall race meeting beginning on Wednesday, November 1, with an experienced crew of racing officials signed on to oversee the sport during the "Bing Crosby Season." The 16-day session runs through Sunday, November 26.
The seaside track will run for two days – November 1 and 2, then present its first Breeders' Cup over two days – November 3 and 4, before settling in for its November run closing out on Thanksgiving weekend. Heading the racing office staff of approximately 100 individuals is Del Mar's executive vice president for racing and industry relations Tom Robbins, currently in his 37th year as a track executive.
Robbins' right-hand man and the guy who does the heavy lifting of putting the racing cards together is David Jerkens, now in his role as the track's racing secretary for the fourth year. Jerkens' key aides are assistant racing secretary Zachary Soto, serving his 27th year at the track, along with Chris Merz, working his third autumn meet as stakes coordinator. Other experienced staffers on board for the stand include stable superintendents Dennis Sparks, Tom Fator and Jackie Lynn; jockey room clerk of scales Charles McCaul and his assistant, Matt Nichols, as well as clerk of the course Dawn Schmid.
The track's board of stewards will consist of Scott Chaney (in his 12th year at Del Mar), Kim Sawyer (in her ninth) and Grant Baker (in his fourth). Louis Jauregui fills the role of Del Mar's safety steward for the ninth year.
Placing judges will be Robert Moreno and Michael Burns, while Sue Brent will alternate as both a placing and patrol judge. Heather Correa also will serve as a patrol judge and Karen Denovel will work as both a paddock and patrol judge.
The track's veterinarians will be Dr. Dana Stead, D.V.M., working directly for Del Mar; Dr. Tim Grande, D.V.M., Dr. Barrie Grant, D.V.M., and Dr. Will Farmer, D.V.M., handling the California Horse Racing Board responsibilities.
Other officials for the four-week meet include Bridget Crawford, paymaster of purses; Dianne Piper, horse identifier; Russell Hudak, morning line maker; John Lies, official timer, and Victor Tovar, horseshoe identifier.
Leaf Dickinson, in his 18th season at Del Mar, once again will fill the role of the track's turf and landscape superintendent, while Dennis Moore will complete his first full season as its director of track maintenance. Jay Slender will continue as Del Mar's starter for the fourth year.
Following the Breeders' Cup programs on Friday and Saturday, Del Mar will follow with a Sunday card before taking the next four days off. Racing will resume on Friday, November 10. For the final three weeks of the session, racing will be conducted on a Thursday through Sunday basis with a first post of 12:30 p.m. The lone exception to that will be Thanksgiving Day, Thursday, November 23 when there will be an 11 a.m. start and a 2:30 conclusion to the day, allowing plenty of time for fans to make turkey dinner plans.