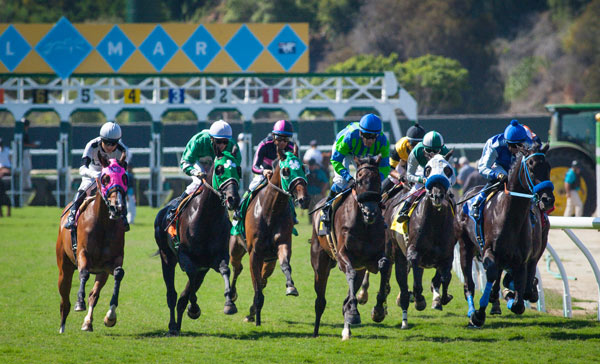 Del Mar Thoroughbred Club will conduct its 76th summer racing season starting Thursday, July 16 led by a solid group of veteran racing officials.
Heading up the crew in his 35th summer at the shore oval is DMTC's executive vice president/racing and industry relation, Tom Robbins. A racing man's racing man, Robbins is part of a family that has been prominent in the Thoroughbred game in California for decades. Besides his extensive work for Del Mar, he also is an executive presence nationally and internationally for the Breeders' Cup, The Jockey Club and the Thoroughbred Owners and Breeders Association.
Robbins' oversees a racing department that is guided by David Jerkens, who is working his second summer at Del Mar as its racing secretary. Like Robbins, Jerkens hails from a famous racing family and his prior racing office work in New York and Northern California prepared him well for his current assignment.
Jerkens' right-hand man is assistant racing secretary Zachary Soto, returning for his 25th summer at Del Mar. Joining him this year in his first turn as stakes coordinator is Chris Merz. Other key staffers are stable superintendents Dennis Sparks and Tom Fator; jockey room clerk of scales Charles McCaul and his assistant, Matt Nichols, and clerk of the course Melanie Stubblefield.
The track's Board of Stewards will consist of Scott Chaney, back for his 10th consecutive summer at Del Mar; Kim Sawyer in her seventh seaside season, and Tom Ward, who'll be in the stand for his 10th summer.
Placing judges will be Robert Moreno and Merry Young, with Sue Brent and Merz also pitching in. Patrol judges will be Brent, Heather Correa and Karen Denovel. Denovel additionally will serve as paddock judge.
The track's veterinarian crew will be threefold: Working directly for Del Mar will be Dr. Dana Stead, D.V.M. Dividing the California Horse Racing Board responsibilities will be Dr. Tim Grande, D.V.M. and Dr. Barrie Grant, D.V.M.
Other officials for the 40-day season include Bridget Crawford, paymaster of purses; Dianne Piper, horse identifier; Russell Hudak, morning line maker and official timer, and Victor Tovar, horseshoe identifier.
Head starter for the meet is the veteran Jay Slender, who put in his first tour at Del Mar during last fall's 15-day meeting.