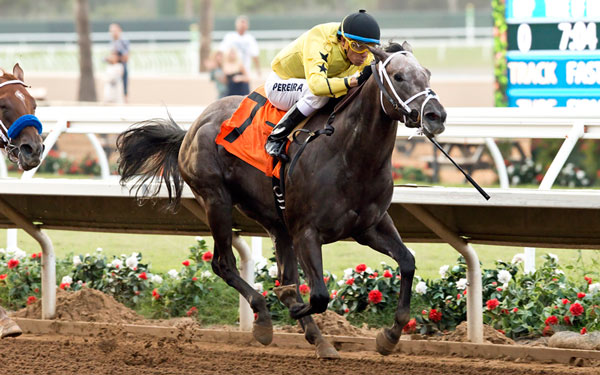 Ted Serna's Obey, the 7-2 second choice under jockey Tiago Pereira, outbattled 41-1 longshot Later My Love through the stretch to win Friday's featured $100,000 C.T.B.A. Stakes for California-bred two-year-old fillies.
Obey, trained by Sam Scolamieri, sped to a narrow advantage in the early stages of the five and one-half furlong sprint and doggedly retained her advantage through the stretch to defeat Later My Love by three-quarters of a length in 1:04.59. Later My Love, with Fernando Perez in the saddle, was five and one-quarter lengths ahead of third-place Just Google Me, with Ibelievewewillwin a distant fourth in the field of eleven fillies.
Reckless Charm, the 5-2 favorite, was a disappointing sixth.
Obey, a daughter of Desert Code, earned $57,000 to increase her bankroll to $90,600. To her backers, she returned $9.20, $5 and $3.80. Later My Love paid $26.20 and $10.80, while Just Google Me returned $5.80 to show.

Tyler Baze was the riding star of the afternoon as he booted in three winners – True History in the third, Motown Men in the sixth and W. Giles in the eighth.
With a one-day carryover of $53,418 from Thursday, an additional $446,004 was wagered Friday for a total Pick Six pool of $499,422. There were four perfect tickets and each was worth $72,917.
---
TIAGO PEREIRA (Obey, winner) – "He (trainer Sam Scolamieri) said 'If she breaks, go with her.' She did and we went. She was strong. She felt good all the way; a nice filly. She sure felt good to me."
FERNANDO PEREZ (Later My Love, second) – "She had good speed and put me in the race. She tried hard all the way. She's a runner."
RAFAEL BEJARANO (Just Google Me, third) – "The 5 (My Palmilla) pulled up right in front of me in the stretch and I was stuck. I had to wait. And my filly was moving."
TYLER BAZE (My Palmilla, 10th – pulled up in the stretch after being near the lead) – "She took a bad step."
SAM SCOLAMIERI (Obey, winner) –"We bought her last fall from the breeder. I saw her running out in the field and thought she could be something. She's real mature for her age. She's almost like a 3-year-old. Things just don't matter. A lot of things bother young horses but nothing seems to bother her. Introduce something new and she acts like she's been doing it for a long time. I knew she was fast, but I didn't think she'd have this much speed. We're going to see how things work out and maybe we'll try it again. The Generous Portion ($150,000, Friday, August 28) is a possibility."
---
FRACTIONS: :21.74 :45.69 :57.98 1:04.59
---
This is the first stakes win at Del Mar both for rider Pereira and trainer Scolamieri.
Obey is owned by Ted Serna of Maywood, CA.