Saturday, November 30th, 2019 ( 1 year ago )
Next Shares Upsets in Seabiscuit Handicap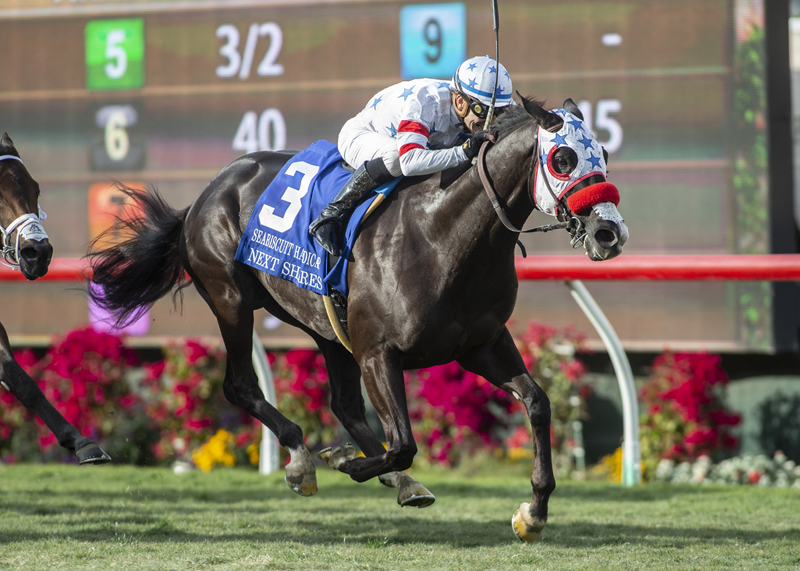 Next Shares © Benoit Photo
Rallying on the rail into and through the stretch, 26-1 longshot Next Shares and jockey Jose Valdivia, Jr., won the Grade II $200,000 Seabiscuit Handicap Saturday.
When the leading horses drifted out turning into the stretch, Next Shares took advantage of the opportunity to surge to the lead and then had enough left to resist the late challenge of 3-2 favored Sacred Life and win by a half-length in 1:42.00 flat for the mile and one-sixteenth over the infield grass course.
River Boyne was third, a head back of the runner-up and a length and one-half in advance of fourth-place Majestic Eagle in the field of nine older runners. Cleopatra's Strike was scratched.
Owned by Iavarone, McClanahan and Dunn and trained by Richard Baltas, Next Shares, a Kentucky-bred son of Archarcharch, scored his seventh victory in 29 starts. First money of $120,000 increased his career bankroll to $1,677,771.
Next Shares paid $56.40, $14.40 and $8. Sacred Life returned $3.40 and $2.60, while River Boyne returned $3.80 to show.
---
JOSE VALDIVIA, JR. (Next Shares, winner) – "I had to wait for room (on the turn). I was between Flavien (Prat on River Boyne) and Johnny (Velazquez on Ritzy A.P.). When Flavien went one way, I went the other. The hole opened up for me and this horse was there. I knew I was on a lot of horse all the way. I just needed a spot to run."
JAVIER CASTELLANO (Sacred Life, second) – "I had to check pretty good near the quarter. And it's a short stretch here and I just didn't have enough time to get there in the end."
FLAVIEN PRAT (River Boyne, third) – "He ran a good race."
---
RICHARD BALTAS (Next Shares, winner) – "I think f-or him it's always good to have a little cut in the ground. He doesn't like the firm turf, he likes it a little softer. It was very rewarding. I never gave up on him (1 for 7 in 2019); he just had a couple bad trips. I didn't do any rain dances. I'm running seven or eight horses on the grass and those that like it will run well and those that don't won't. This horse was ready today and had a great trip."
FRACTIONS: :23.51 :47.96 1:12.11 1:35.97 1:42.00
The stakes win was the first of the meet and the first in the Seabiscuit for rider Valdivia.
He now has 12 stakes wins at Del Mar (the last coming in 2012).
The stakes win was second of the meet, but first in the Seabiscuit for trainer Baltas. He now has 13 stakes wins at Del Mar.
The winning owners are Michael Iavarone of Halesite, NY, and Jerry McClanahan and Chris Dunn.