Friday, July 14th, 2017 ( 1 year ago )
New Infield LED Board to Enhance Video Viewing at Del Mar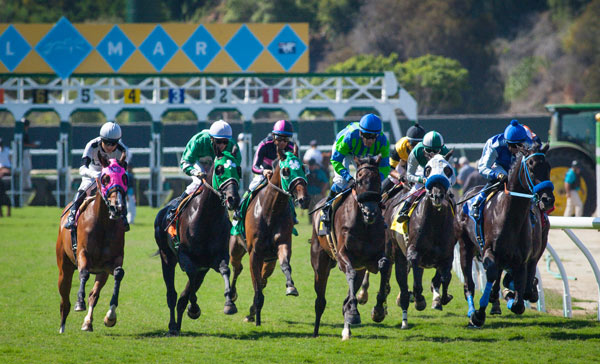 Racing fans will have a brand new crisp and clear way to see their horses in action this summer at Del Mar following the installation of a 21-foot high, 35-foot wide LED video board in the track's infield.
The state-of-the-art installation, which provides an improved 8-millimeter display upgrade over the 10-millimeter display previous put in place in 2011, provides approximately 735 square feet of imagery with the capability to show not only a full-screen presentation, but also multiple images at once in various zones on the board.
"Our fans are going to really appreciate this new look," said Josh Rubinstein, an executive vice president of the Del Mar Thoroughbred Club and its COO. "You'll see a race unfold in extra sharp images even in the bright sunshine we're used to here at Del Mar. This is an upgrade that will make a day at the races all the better."
Del Mar's new board has been manufactured and installed by Daktronics, the leading outfit in the sports world for video displays. Their video boards and display systems have been installed in more than half the National Football League, Major League Baseball and National Hockey League facilities in North America and they also are part of dozens of other sports and entertainment venues from coast to coast. Daktronics is headquartered in Brookings, South Dakota.
This biggest and best board at Del Mar is the 11th of its kind employed on the Del Mar Fairgrounds going back more than a decade. A trio of smaller boards using similar technology was installed in Del Mar's paddock in 2016. The boards have been used both for the live race meetings and also for various shows and displays that are part of the huge Del Mar Fair each year, as well as additional events and productions that take place on the 350-acre Fairgrounds throughout the year.
Del Mar's 78th summer season is off and running this Wednesday (July 19) with first post at 2 p.m. The 36-day meet will continue through September 4, Labor Day. More information and tickets can be accessed at
www.delmarracing.com