Sunday, August 23rd, 2020 ( 6 months ago )
Mo Forza Power Home in Del Mar Mile Sunday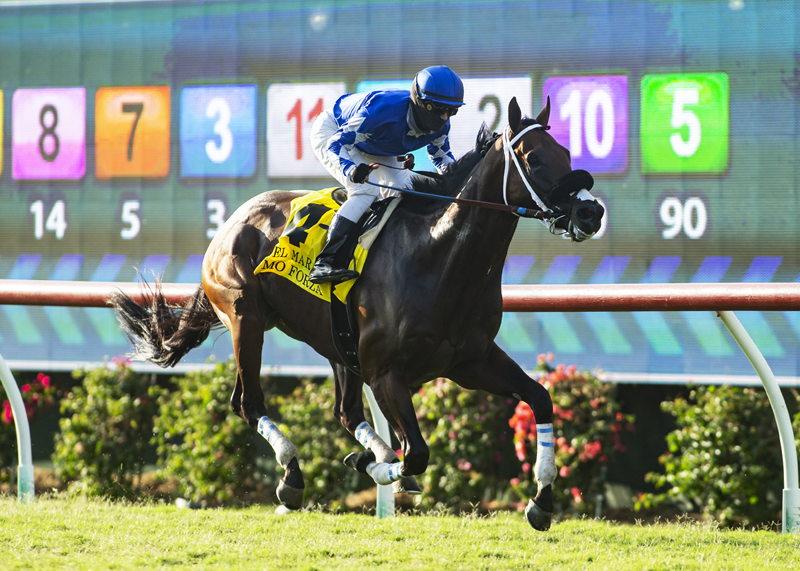 Mo Forza © Benoit Photo
Bardy Farm and OG Boss' Mo Forza, making his first start in seven months, looked like he'd never been away as he powered past a good field of turfers in capturing the $152,000 Del Mar Mile Sunday at Del Mar.
The 4-year-old colt by top stallion Uncle Mo out of the Unusual Heat mare Inflamed, scored by four and a quarter lengths in the good time of 1:33.27 for the mile and, as the 6-5 favorite, paid $4.40, $3.00 and $2.40 across the board.
This was the 34th running of the Grade II Del Mar Mile and it rewarded its winner with a purse of $90,000, pushing his bankroll to $614,460. The bay has now won five of his 11 starts, four of those victories coming in stakes races, including the Hollywood Derby last fall at Del Mar.
Bardy Farm is the nom du course for former trainer and breeder Barry Abrams, who raced horses for many years with great success on the Southern California circuit. He is home battling cancer these days but this horse – who Abrams also bred – had to pick his head up for sure. His partner in the colt is Onofrio Pecoraro of San Diego.
Finishing second in the feature was Kelly Brinkerhoff and Bog Grayson, Jr.'s Restrainedvengence and third was Fox Hill Farms and Siena Farm's Royal Ship.
The riding and training stars of the day were Prat and Miller, who combined to win three races on the 11-race card. Besides Mo Forza they also clicked with Querelle ($4.60) in the 2nd Race and Worthy Turk ($8.20) in the 7th. Prat is now second-leading rider at the meet with 34 wins after 19 days of racing. Miller leads the trainers' list with 18 firsts. Prat has been Del Mar's top rider on three different occasions, while Miller has been the leading conditioner seven times.
Nobody could solve the Pick Six mystery on Sunday resulting in a $89,465 carryover and a $19,171 Jackpot carryover when racing resumes Friday at Del Mar starting at 2 p.m.
---
FLAVIEN PRAT (Mo Forza, winner) – "Peter (trainer Miller) and I talked before the race and we noted that there looked like a lot of speed in the race. That turned out true. He told me he took his blinkers off and he was hoping for the best. I had a good trip; my horse was relaxed. Then, when I say 'Go,' he had a really strong response."
PETER MILLER (Mo Forza, winner) – "That gave me goose pimples. I was just hoping I had him tight enough and ready to perform. These were a good group of horses, but he's exceptional. To see this horse back in the winner's circle is really exciting. He had a tendency to get rank in his races last year and wanted to run over horses, so we thought we didn't want that problem this year so we took the blinkers off. He's been working without them and I thought that if it doesn't work out I'm going to look like an idiot, but thank goodness it worked out. We think the Breeders' Cup will definitely be the end of the year with one race in between."
---
FRACTIONS: :22.59 :45.84 1:09.69 1:22.06 1:33.27
The stakes win was the 10th of the meet for rider Prat, but his first in the Del Mar Mile. He now has 54 stakes wins at Del Mar.
The stakes win was the third of the meet for trainer Miller, but his first in the Del Mar Mile. He now has 32 stakes wins at Del Mar.
Prat and Miller combined to win three races today – Querell ($4.60) in the 2nd Race, Worthy Turk ($8.20) in the 7th and Mo Forza ($4.40) in the 9th.
The winning owners are Bardy Farm (Barry Abrams of Arcadia, CA, who is also the breeder of the horse) and OG Boss (Onofrio Pecoraro of San Diego).