Sunday, November 26th, 2017 ( 1 year ago )
Miller, Prat Reign as Bing Crosby Meeting Champions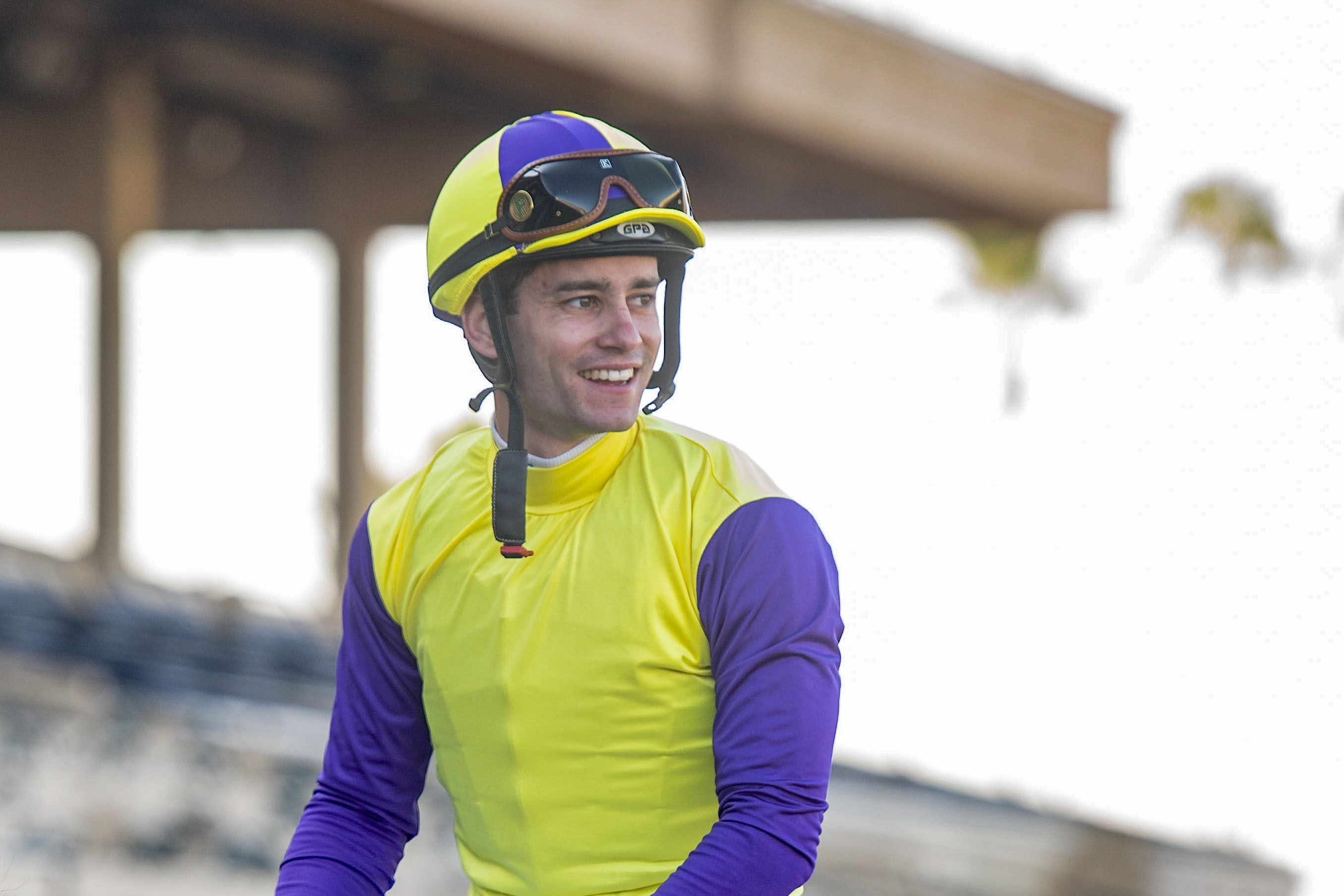 Flavien Prat
Peter Miller won the training title for the third time in the four Bing Crosby Fall meetings at Del Mar and Flavien Prat secured the jockey championship as the season came to an end Sunday.
Miller's 19 victories were more than double that of runner-up Phil D'Amato, who won three times on closing day to finish with nine.
Prat won once on closing day, aboard Hunt in the Grade II $200,000 Seabiscuit Handicap, to finish with 18 wins. Apprentice Evin Roman was second with 14.
---
MEET LEADERS
Jockey Standings
(Current Through Sunday, November 26, 2017 Inclusive)
| | | | | | | | |
| --- | --- | --- | --- | --- | --- | --- | --- |
| Jockey | Mts | 1st | 2nd | 3rd | Win% | In-money% | Money Won |
| Flavien Prat | 85 | 18 | 10 | 14 | 21% | 49% | $2,245,550 |
| Evin Roman | 88 | 14 | 7 | 12 | 16% | 38% | $474,678 |
| Tyler Baze | 83 | 10 | 8 | 8 | 12% | 31% | $492,555 |
| Kent Desormeaux | 57 | 10 | 8 | 5 | 18% | 40% | $1,541,485 |
| Rafael Bejarano | 63 | 9 | 11 | 9 | 14% | 46% | $518,655 |
| Drayden Van Dyke | 78 | 8 | 9 | 9 | 10% | 33% | $769,539 |
| Mike Smith | 30 | 6 | 4 | 3 | 20% | 43% | $1,960,040 |
| John Velazquez | 20 | 6 | 1 | 2 | 30% | 45% | $2,812,560 |
| Corey Nakatani | 46 | 5 | 8 | 6 | 11% | 41% | $706,897 |
| Stewart Elliott | 45 | 5 | 3 | 1 | 11% | 20% | $169,404 |
Trainer Standings
(Current Through Sunday, November 26, 2017 Inclusive)
| | | | | | | | |
| --- | --- | --- | --- | --- | --- | --- | --- |
| Trainer | Sts | 1st | 2nd | 3rd | Win% | In-money% | Money Won |
| Peter Miller | 62 | 19 | 7 | 8 | 31% | 55% | $2,202,628 |
| Philip D'Amato | 54 | 9 | 7 | 7 | 17% | 43% | $489,825 |
| Jerry Hollendorfer | 41 | 8 | 5 | 8 | 20% | 51% | $954,065 |
| Doug F. O'Neill | 57 | 8 | 2 | 7 | 14% | 30% | $406,204 |
| Vladimir Cerin | 26 | 5 | 7 | 2 | 19% | 54% | $189,604 |
| Richard Baltas | 41 | 5 | 6 | 6 | 12% | 41% | $265,452 |
| James M. Cassidy | 23 | 4 | 4 | 5 | 17% | 57% | $236,578 |
| Chad C. Brown | 17 | 4 | 2 | 2 | 24% | 47% | $3,100,345 |
| Steven Miyadi | 16 | 4 | 1 | 0 | 25% | 31% | $175,545 |
| Dan Blacker | 13 | 3 | 3 | 1 | 23% | 54% | $90,710 |