Sunday, July 30th, 2017 ( 1 year ago )
McCubbins wins $185,000 in the July 29 & 30 Del Mar Handicapping Challenge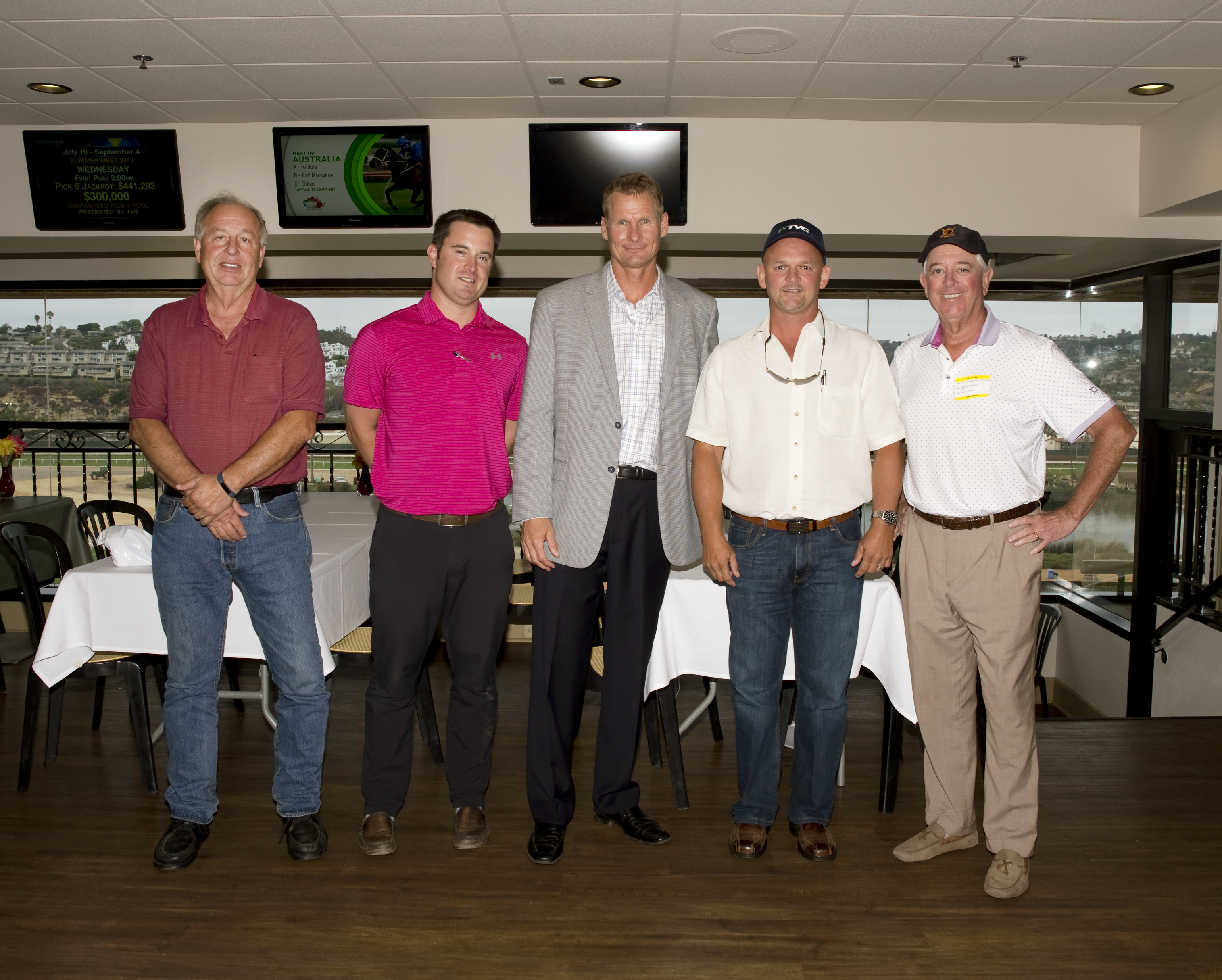 From left to right: Steve Hartshorn, Garett Skiba, Contest Director Chris Bahr, Faron McCubbins, Ed Robinson
Faron McCubbins of Mt. Washington, KY, turned his $5,000 starting bankroll into $64,535 to coast home in the $300,000 Del Mar Challenge. First Place was worth $120,000+ in prizes including a $10,000 entry in the Breeders' Cup Betting Challenge (BCBC) at Del Mar in November. Along with his $64,535 bankroll winnings, total prizes amounted to over $185,000. In addition, a win for McCubbins in the BCBC will be worth a $1 million bonus.
Garett Skiba from Hinsdale, IL, was the 2nd place finisher with a final bankroll of $40,593. He receives $60,000+ in prizes for earnings of more than $100,000.
The top six finishers receive BCBC entries and the top eight finishers receive entries in the National Horseplayers Championship in February with an expected $2.5 million in total prize money.
FINAL STANDINGS
| | | |
| --- | --- | --- |
| 1 | Faron McCubbins | $64,535.00 |
| 2 | Garett Skiba | $40,593.00 |
| 3 | Ed Robinson | $36,350.00 |
| 4 | Steve Hartshorn | $26,489.60 |
| 5 | Greg Bone | $25,480.00 |
| 6 | Mickey Hopkins | $22,448.30 |
| 7 | Ray Arsenault | $19,153.00 |
| 8 | John Doyle | $17,743.40 |
| 9 | Christopher Dewey | $17,300.00 |
| 10 | Frank Mustari | $17,127.50 |
| 11 | Bill Shurman | $15,200.00 |
| 12 | Frank Scatoni | $14,558.00 |
| 13 | Gary Broad | $13,200.00 |
| 14 | Ilan Cuellar | $13,200.00 |
| 15 | Faron Mccubbins | $12,100.00 |