Friday, November 24th, 2017 ( 1 year ago )
Manitoulin Wins Hollywood Turf Cup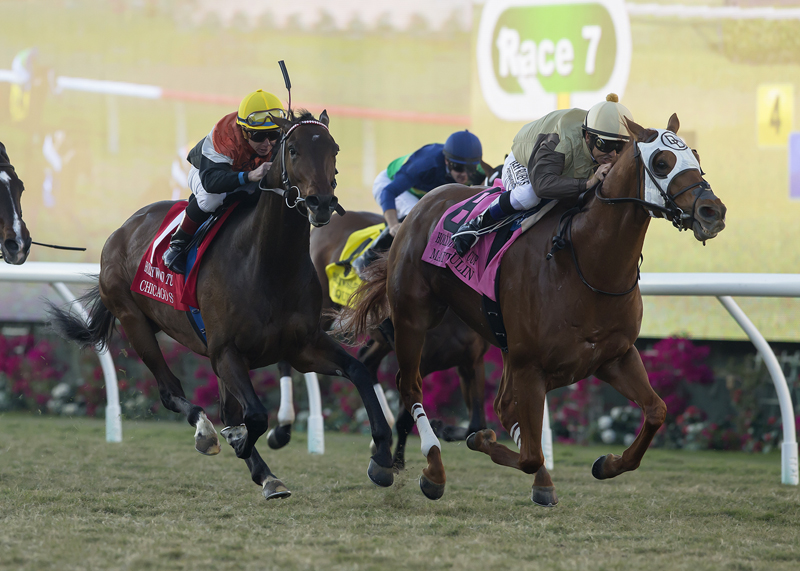 Manitoulin © Benoit Photo
Darby Dan Farms' Manitoulin, an invader from the East Coast trained by James Toner, withstood the late challenge of the fast-closing 7-5 favored Chicago Style to win the featured Grade II $200,000 Hollywood Turf Cup Friday at Del Mar.
Beautifully-rated in a stalking position by Hall of Famer Mike Smith from the start of the mile and one-half marathon over the infield grass course, Manitoulin went to the lead in the upper stretch and showed his gameness to score a neck victory over Chicago Style, who was piloted by Drayden Van Dyke.
Third in the field of seven older Thoroughbreds was Flamboyant, a length and three-quarters behind the runner-up and a length and one-quarter ahead of fourth-place Tequila Joe. Infobedad and Prime Attraction were withdrawn from the original line-up.
Manitoulin, a four-year-old Kentucky-bred son of Awesome Again, had campaigned exclusively in the East, most recently running seventh in the Sycamore Stakes at Keeneland race course Oct. 19.
Sent to the gate at 4-1, Manitoulin returned $10.40, $4.80 and $3.40 after his fifth victory in 17 starts. First money of $120,000 increased his earnings to $394,506. Chicago Style paid $3.40 and $2.40, while Flamboyant returned $3.60 to show.
Time for the distance was 2:30.16.
There were no perfect tickets in Friday's Pick Six, so Saturday's nine-race program will offer a carryover of $148,562. Post time for the first race is 12:30 p.m. on the next-to-last day of the 16-day Bing Crosby Fall Racing Season.
---
MIKE SMITH (Manitoulin, winner) – "I've got some history here. I rode his mother (Soaring Softly) and I rode the sire (Awesome Again), too. It was just like J.J. (trainer James J. Toner, whom Smith spoke to by phone about an hour before the race) told me. He said 'He can get a little lazy on you.' He said if I dropped my hands he'd back right out of there. He said warm him up good; get his blood pumping. Make him think he's running a half-mile instead of a mile and a half. It worked out just right."
DRAYDEN VAN DYKE (Chicago Style, second) – "I saved all the ground I could. Saved it all. He came running; just not enough."
BRICE BLANC (Flamboyant, third) – "I think maybe a mile and a half is just a bit too far for him. He struggles that last eighth. Sometimes if it sets up just right, he can do it, but it didn't work that way today. Not a lot of pace. But no excuses for me. We got outrun late."
TIFFANY WEBB, assistant to James Toner (Manitoulin, winner) – "I was a little surprised Mike (Smith) had him up so far, but Mike told me in the paddock that there wasn't a lot of speed and he wanted to put him in the race. Which was brilliant. I was a little afraid at the top of the lane when Mike wasn't asking him and I saw Chicago Style getting geared up. But I told Mike in the paddock that I know this horse and he's always going to stick his nose out in front. I know he's a fighter and I knew that if somebody came to him he'd fight on."
---
FRACTIONS: :25.30 :51.36 1:17.08 1:43.00 2:07.38 2:30.16
The stakes win was the third of the meet for rider Smith and his second (The Pizza Man, 2015) in the Hollywood Turf Cup. He now has 65 stakes wins at Del Mar, 11th best all time.
The stakes win was the first ever for trainer Toner at Del Mar.
The owner is Darby Dan Farm Racing of Lexington, KY, one of America's foremost breeding and racing enterprises going back to legendary names like Col. E.R. Bradley and John Galbreath. The farm is responsible for six Kentucky Derby winners and hundreds on top sires and runners.