Friday, August 11th, 2017 ( 1 year ago )
Majestic Heat Wins Solana Beach Stakes - Again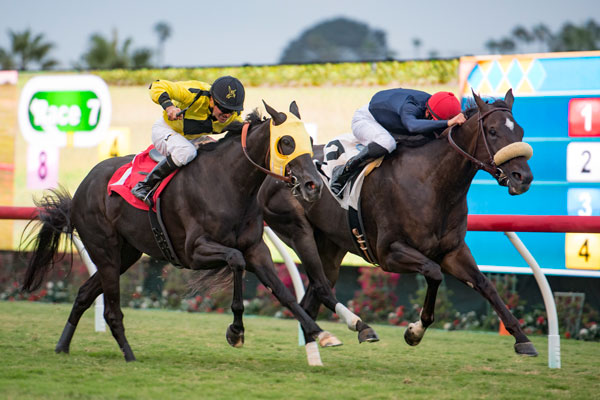 Majestic Heat © Del Mar Thoroughbred Club
For the second straight year, Majestic Heat and jockey Flavien Prat won the $100,000 Solana Beach Stakes, and for the second straight year they won the grass race for California-bred fillies and mares by the slimmest of margins, a nose.
Sent postward the 3-5 favorite, Majestic Heat was well-rated on the lead by Prat, shook off the stalking How Unusual in mid-stretch but then was pushed to the limit to barely resist the last-ditch challenge of the fast-closing Moonless Sky, piloted by Kent Desormeaux.
The stewards conducted an inquiry after How Unusual was forced to take up by jockey Norberto Arroyo, Jr. when Moonless Sky came through an opening in pursuit of Majestic Heat. However, they ruled that the incident did not warrant a change in the placings.
Majestic Heat, a five-year-old daughter of Unusual Heat owned by Auerbach, McCauley and Bardy Farm and trained by Hall of Famer Richard Mandella, was timed in 1:42.38 for the mile and one-sixteenth in scoring her fifth victory in a dozen starts.
Last summer, she was timed in 1:34.98 for a mile in nosing out Tiz a Kiss while packing 121 pounds, two more than Friday.
Majestic Heat returned $3.40, $2.60 and $2.60 while earning $85,500 to boost her earnings total to $352,639. Runner-up paid $4 and $3, while How Unusual returned $4 to show.
There were no perfect tickets in Friday's Pick Six. Thus, Saturday's ten race program will feature a Pick Six carryover of $73,503.
---
FLAVIEN PRAT (Majestic Heat, winner) – "She's terrific. She's so game. Richard (trainer Richard Mandella) does such a good job with her. She dug in there at the end. She felt that other horse (Moonless Sky) come to her and she dug in. She's very game; a good horse."
KENT DESORMEAUX (Moonless Sky, second) -- "I can't believe I got beat. She ran too good to get beat. Too good."
NORBERTO ARROYO, JR. (How Unusual, third) – "She ran good. I clipped heels and thought I was going to go down. But she ran well for us."
---
RICHARD MANDELLA (Majestic Heat, winner) – "[To repeat] it's a great feeling, especially [because] the mare had been off for a long time. I didn't have quite as much time to get her ready, but she's good enough to overcome my training. We pushed her along but she took it. If it looked like she wouldn't take it we wouldn't have done it, but she seemed to enjoy it so we pushed her along."
---
FRACTIONS: :23.72 :48.77 1:13.09 1:36.35 1:42.38
---
The stakes win was the fifth of the meet (the most by any rider) for jockey Prat and his second in this race (he won it last year on the same horse also by a nose). He now has 15 stakes wins at Del Mar.
The stakes win was the first of the meet for trainer Mandella and his second in this race (he won it last year with the same horse). He now has 61 stakes wins at Del Mar, fifth most of any trainer all time.