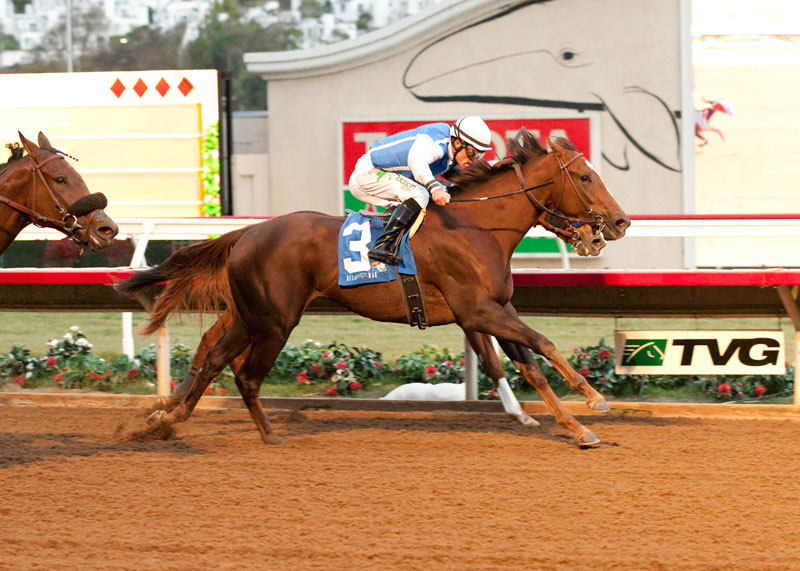 Lucky Folie © Benoit Photo
Lucky Folie, well-supported at 2-1 despite the presence of 3-5 favored Pretty N Cool, held on tenaciously in the final strides to win the featured $100,000 Desi Arnaz Stakes for two-year-old fillies Sunday at Del Mar.
With Hall of Famer Gary Stevens in the saddle, Lucky Folie sped to the lead at the start of the seven-furlong sprint, responded when challenged at the top of the stretch by Pretty N Cool and then was able to hang on desperately to defeat 11-1 longshot Treasuring by a half-length in 1:23.86 for the distance.
Treasuring, a stablemate of Pretty N Cool from the barn of trainer Bob Baffert, nosed out 16-1 Street Fancy for second, with Surfside Tiara another half-length back in fourth.
After bidding for the lead entering the stretch, Pretty N Cool faltered badly and finished fifth and last under Martin Garcia. Withdrawn from the original field were Patriotic Demand and Imflatoutsweet.
Lucky Folie, owned by brothers Alain and Gerard Wertheimer and trained by Richard Mandella, returned $6.40, $4.60 and $6 while earning $60,000 with her second win in three starts. Her earnings now total $114,000. Treasuring paid $8.20 and $10.80, while Street Fancy returned $15.80 to show.
Doug O'Neill, who set a Del Mar record for most wins on a single day for a trainer when he sent out five winners last July 29 during the summer season, came close to equaling his mark Sunday as his horses won four races Sunday.
He swept the fourth through seventh races with Sorryaboutnothin($41.20), a winner by disqualification, Anthonysgotgame ($4.20), Pay the Fine ($7.80) and Sweet Halory($15.40) to increase his lifetime victory total to 1,995. He had an opportunity to equal his record-setting feat of last summer with Over Par, a 3-1 choice, but the three-year-old finished sixth of nine horses on the grass in the ninth race.
With a two-day carryover of $230,699, $1,298,961 was bet Sunday on the Pick Six for a total pool of $1,529,660. There were six perfect tickets and each paid $154,105.60.
---
GARY STEVENS (Lucky Folie, winner) – "She's super quick; she fooled me. I thought I had it under control early; I thought maybe it was going to be a Beholder thing. But then I thought maybe I didn't. I knew those two fillies outside me were fast, but I couldn't hear them (because he was so far ahead). Then when we got to the quarter pole I thought I was going to be out of horse. I thought they were going to run by me. But she heard those other two coming up and her ears went up and she came on again. I can fix this for next time. She's a good one."
VICTOR ESPINOZA (Treasuring, second) – "It was a good pace and I was catching up at the end. Almost."
MIKE SMITH (Street Fancy, third) – "Good try for her. They ran fast."
MARTIN GARCIA (Pretty N Cool, fifth) – "She came back OK, I think. She just didn't have it today."
RICHARD MANDELLA (Lucky Folie, winner) – "I didn't think she'd be that quick (early) coming out of a mile race. She's so quiet I didn't think she'd be that aggressive but she sure was. And it turned out pretty good."
---
FRACTIONS: :22.48 :44.99 1:10.44 1:23.86
---
This is the second running of the Desi Arnaz Stakes at Del Mar. Previously, it had been known as the Moccasin Stakes and had been run 27 times at Hollywood Park.
This is the first stakes win of the meet for rider Stevens, but his 89th overall at Del Mar, seventh most of all time.
This is the first stakes win of the meet for trainer Mandella, but his 57th overall at Del Mar, fifth most of all time.
The owners and breeders of Lucky Folie are the French Wertheimer Brothers – Alain (of New York and Connecticut) and Gerard (of Geneva, Switzerland).