Thursday, July 15th, 2021 ( 1 week ago )
Long-Winded Sextet to Travel Far in Sunday's Cougar II at Del Mar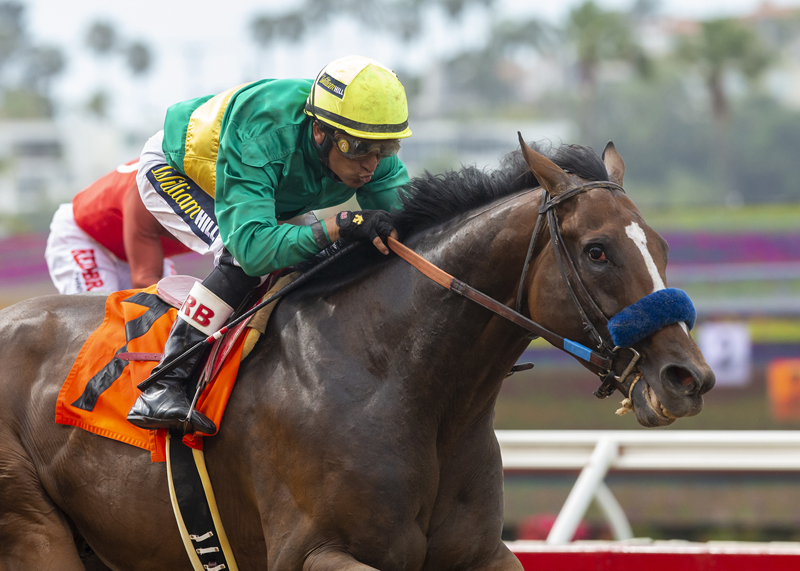 Campaign © Benoit Photo
Six well-seasoned racehorses with large, full lungs will run a testing mile and one half at Del Mar Sunday in the 70th edition of the Cougar II Stakes. The race carries a Grade III enhancement and has a purse of $100,000.
Though the Cougar II has a relatively short field, it doesn't lack for solid stakes horses. Four of the runners are stakes winners, including the defending Cougar II champion – Woodford Racing's Campaign, who captured the race in 2019 when it was last run.
The Cougar II -- named for the South American racehorse who came north and into the barn of Hall of Fame trainer Charlie Whittingham where he went on to a Hall of Fame career that included being named U.S. grass champion in 1972 – is not for the faint of heart at its 12-furlong distance and the majority of the half dozen who'll give it a go Sunday all have shown an affinity for marathons.
Campaign, as noted, has won at a mile and one half. Flawless Racing, Masino Racing Stable or Flanagan, et al's Cupid's Claw has done likewise. Same same for MyRacehorse or Spendthrift Farm's Tizamagician. And Little Red Feather Racing, Jacobsen or Belmonte's Red King has won at a mile and three quarters. Hronis Racing's Heywood Beach has "only" won at a mile and a quarter, while Gary Barber's Contagion is coming off three mile wins in his last five starts.
Here's the lineup from the rail out with riders and weights: Heywood Beach (Tyler Baze, 121); Contagion (Juan Hernandez, 121); Campaign (Trevor McCarthy, 121); Red King (Umberto Rispoli, 123); Cupid's Claws (Kent Desormeaux, 123), and Tizamagician (Flavien Prat, 123).
Tizamagaician, a 4-year-old colt by Tiznow who races out of the Richard Mandella barn, shows four wins and seven seconds from 17 starts and a bankroll of $367,851. He was second most recently in the venerable Brooklyn Invitational Stakes at Belmont Park going 12 furlongs when he was shipped east for the June 5 tilt.
Red King, a 7-year-old entire horse by English Channel, sports seven wins and career earnings of $483,755. Among his victories was a score in last summer's mile and three eighths Del Mar Handicap on the local Jimmy Durante Turf Course.
Cupid's Claws captured the mile and one half Tokyo City Cup Stakes at Santa Anita last September. The 6-year-old Kitten's Joy gelding has earnings approaching $200,000.
The Cougar II is the 10th of 11 races on the Sunday card that begins at 2 p.m. and closes out the first week of Del Mar racing. Also on the program is a nice $80,000 overnight race called the Wickerr Stakes that has drawn eight runner for a mile on the turf and is offered as Race 7.