Friday, November 13th, 2015 ( 5 years ago )
Kenny Black Focused on Raising
Old English Rancho Banner
By Hank Wesch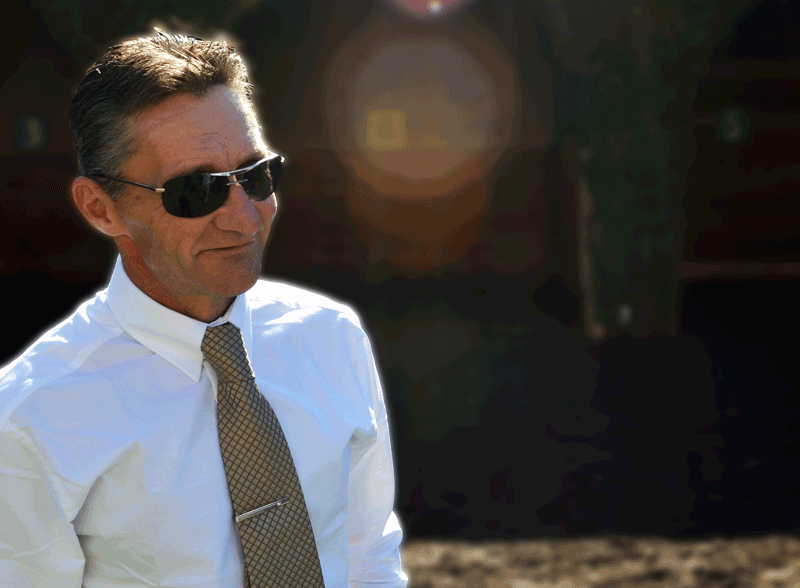 Kenny Black
Kenny Black fought back tears, only partially successfully, at the thoughts of two men during a recent interview.
The first was the late E. W. "Buddy" Johnston, owner of Old English Rancho, for which Black is now the principal trainer, having taken over for retired Don Warren. Johnston, who assumed operations at Old English Rancho for his father E.B. "Pie Man" Johnston in 1957, died May 5, one day short of his 78th birthday.
"He was such a good man, such a gentleman, a wonderfully warm person and he was unbelievably good to me in the year and a half I worked for him and the 30 years I knew him," Black said. "He and his wife Judy were at my house two days before he died."
The occasion was a birthday party for Black's 7-year-old daughter.
"Fifteen 7-year-old girls at a pool party and Bud there blowing up the raft for the pool and just having a great time," Black said. "They were the last to leave."
Old English Rancho covers 400 acres in Sanger, 15 miles east of Fresno. It has been in the Johnston Family since its founding in 1948 and remains so. Bud Johnston's widow Judy and daughter Mary Johnston Hilvers and her husband Pete being owners and the Hilvers' son, Jonny, the ranch manager.
Acclamation, the 2011 TVG Pacific Classic and Eclipse Award winner in the Older Male category, is one of more than 200 stakes winners bred and raised on their grounds. Old English Rancho has been California's leading breeder 13 times.
"Training for a ranch with that kind of history and the love for the sport the Johnston family has … It's the perfect job for me and I'm the most content I've been in 30 years," Black, 51, said. "I'm not real good at selling myself (to clients) and it takes so much of the pressure off if you don't have to worry about filling stalls.
"There were 90 horses born there this year and 45 the family owns. Some are for sale, but if four go out I know four others will be coming in soon. It gives me all my time to focus on training my horses. I have one job and that's to make them successful."
Black was born into a racing family – his father, Arden, was a Quarter Horse jockey and trainer, younger brother Corey followed him into the profession – and was a contemporary and cohort with brothers Steve and Cash Asmussen and "The Kid," Steve Cauthen.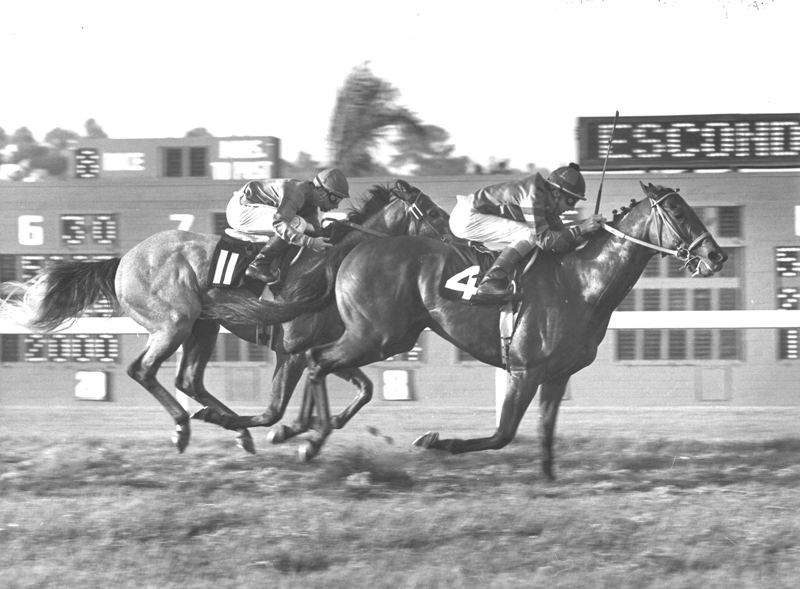 Rock Softly with Kenny Black up winning the 1982 Escondido Handicap at Del Mar
Between 1980 and 1984, Black rode 5,516 horses, rang up 748 wins and earned purses of $9,279,457. He began riding on the East Coast, came to California in 1982 and won several graded stakes, including a division of the 1982 La Jolla Mile Handicap (Hugabay) and the Escondido Handicap (Rock Softly) here and the 1984 California Derby (Distant Ryder).
And then he was gone. Drug positives and weight problems starting in the mid-1980s re-routed his career from major tracks to smaller ones and "bull rings" in places like St. George and Beaver, Utah; Globe, Arizona, and Farmington, New Mexico.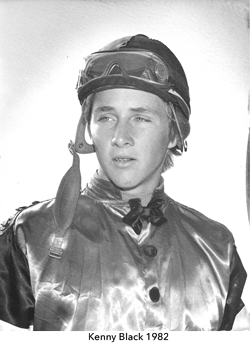 Records are scarce, but Black figures he won in the neighborhood of 2,500 races – not counting those at some of the real out-of-the-way spots where he plied his trade. Black officially retired in 2002 after accompanying a horse to the Dubai World Cup and over-indulging on the free rein at a multitude of restaurants afforded participants by host Sheikh Mohammed.
"I spent 21 days there and put on 26 pounds," Black said. "I weighed 148 ½ stripped when I got home and I quit. I've said Keeneland (sales) couldn't break Sheikh Mohammed but I nearly did."
Black took out his trainer's license in 2007 and averaged a couple dozen starters on his own in the beginning. In recent years he helped Warren, who battled health issues even as Acclamation and Norvsky brought glory to the farm in 2011 and 2012. The relationship with Warren led to the treasured one with Bud Johnston.
Equibase figures show Black with seven wins and nine additional in-the-money finishes from 33 starters for 2015 and purse earnings of $284,720, a 21 percent win and 48 percent top-three finish rate.
"I've got many more, and much better horses than I ever had before," Black says.
The other person whose memory brought a tear to Black's eyes? Bill Shoemaker.
"When I first came to California, those were the classiest guys ever in a jockeys' room," Black said. (Among the jockeys riding at Del Mar in 1982 were Hall of Famers Eddie Delahoussaye, Sandy Hawley, Chris McCarron, Don Pierce, Laffit Pincay, Jr. and, of course, Shoemaker.) "And it all came back to the one who set the tone and commanded respect from everyone in there. And that was Bill. One of the greatest people I've ever known."