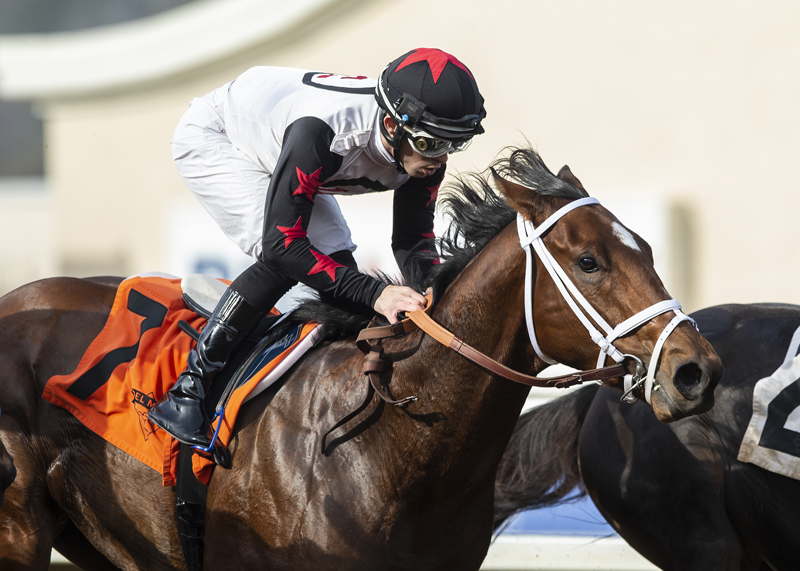 Kyle Frey aboard Tizlightning © Benoit Photo
Jockey Kyle Frey registered a head victory Friday in the 3rd Race at Del Mar aboard the 2-year-old gelding Tizlightning and in the process won the 1,000th race of his career.
Frey put Tizlightning on the lead out of the gate and stayed there throughout. He had to nurse the tiring horse through the last sixteenth of a mile but got it done. The bay son of Stanford is owned and was bred by Lori Gallegos and is trained by Steve Miyadi, a primarily Northern California-based trainer who had used Frey hundreds of times previously in the Bay Area. The winner paid $4.80 as the favorite in the starter optional claiming sprint after running six furlongs in 1:11.40.
The 29-year-old Frey, a Northern California native who has ridden at tracks from coast to coast, appears to have found a riding home in Southern California this past year and his recent marriage and the birth of his daughter have given him even more reason to stay in one spot.
Frey was the Eclipse Award winner as the nation's top apprentice in 2011. His career has started and stopped several times due to injuries, but he's riding in fine form now and has become one of the steady members of the Southern California colony.
Frey has followed in the footsteps of his late grandfather, Paul Frey, who was a talented jockey who rode in both California and Washington State.
"I feel great joy in this win," Frey said afterwards in the winner's circle. "I was asked about the fuss of the pressure of reaching a milestone, but I really didn't feel that. I'm just real happy I got it done."