Friday, August 19th, 2016 ( 2 years ago )
Jim Rome's 'Jungle' Comes to Del Mar to Broadcast Friday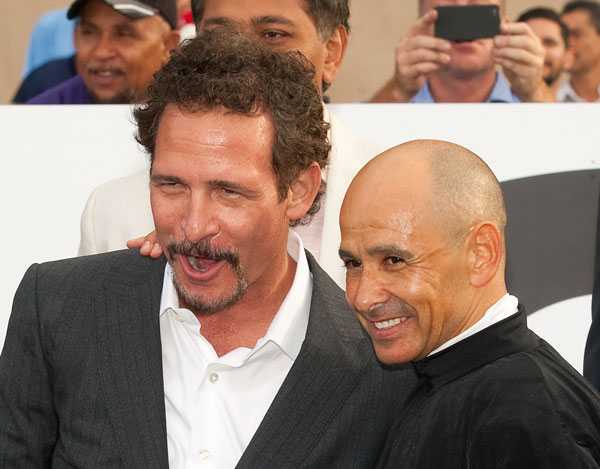 Jim Rome (left) and Mike Smith © Benoit
Jim Rome, a sports radio and TV star/host of the first degree, will bring his radio entourage to Del Mar next Friday (August 26) to broadcast his nationally syndicated show known to many as "The Jungle."
Rome's show runs from 9 a.m. to noon locally on The Mighty 1090 AM radio station and it will be broadcast from the track's Plaza de Mexico area around its big fountain. Fans are invited to be part of the audience.
Besides his Media exploits, the 51-year-old Rome has been heavily involved in the Thoroughbred racing game with his wife Janet. He's had notable success with several horses -- including two time Breeders' Cup champion Mizdirection and Eclipse Award winner Shared Belief – and currently has one of the top 2-year-olds in the nation in possible Del Mar Futurity favorite Straight Fire.
This year Del Mar renamed its El Cajon Stakes for 3-year-olds the Shared Belief Stakes in the horse's honor. Rome will be in the winner's circle to salute the winning horse and owner and to pay homage to his winner of 10 of 12 starts and more than $2.9 million, including a smart tally in the 2014 TVG Pacific Classic.
Rome, a Los Angeles native, actually began his radio career in San Diego on XTRA Sports 690 with a radio show that was syndicated in 1996. The show evolved into an award-winning listener favorite consisting of a three-hour mixture of interviews, calls, e-mails, Tweets and Rome's own thoughts and analysis.
Rome will finish up his Del Mar radio show by doing "cross talk" with The Mighty 1090 daytime host Darren Smith, whose show follows Rome's from noon to 3 p.m. and who also will broadcast live from Del Mar that day.
There will be no charge for admission at the track that morning through to 1 p.m. Also, free parking will be available up until 11:30 a.m. Fans coming into the track's main parking lot off of Jimmy Durante Blvd. should follow the signs for "Jim Rome Live Broadcast."
Del Mar's Friday racing program will kick-off at 3:30 p.m. with an eight-race card. The Shared Belief will be the 7th on the program.