Monday, September 2nd, 2019 ( 11 months ago )
Irish-Bred Yesterdayoncemore Upsets in Juvenile Fillies Turf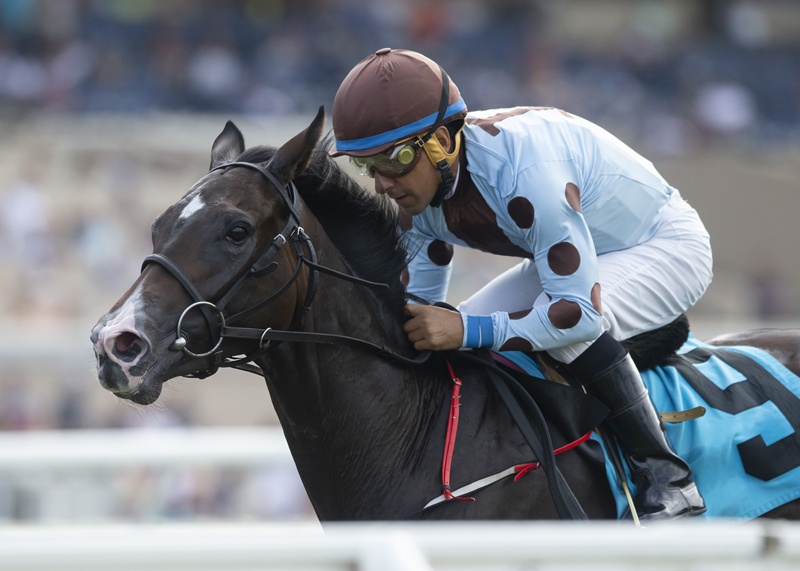 Yesterdayoncemore (IRE) © Benoit Photo
Making her United States debut, Irish-bred Yesterdayoncemore rallied in the stretch under Hall of Fame rider Victor Espinoza to win the $100,000 Del Mar Juvenile Fillies Turf, a supporting feature on closing day Labor Day Monday of the 2019 summer season.
Yesterdayoncemore, who entered the one-mile contest as a maiden, never having won in five starts in Ireland, moved authoritatively under Espinoza's direction on the far turn, was able to split horses in the upper stretch and went on to score by a length in 1:35.67 for the mile over the infield grass course.
The winner, owned by the partnership of Deron Pearson of DP Racing, Mrs. Paul Shanahan and Mrs. M.V. Magnier, is conditioned by James Stack, a native of Tipperary, Ireland.
Yesterdayoncemore led a sweep of the first three places by Irish-bred fillies in the Juvenile Fillies Turf as Croughavouke was second under Drayden Van Dyke and Applecross third, three and one-quarter lengths behind the runner-up and one and one-half lengths in front of fourth-place Shedaresthedevil, the 6-5 favorite in the field of eleven. Withdrawn were A Thousand Dreams and Mean Sophia.
Yesterdayoncemore, a daughter of No Nay Never, returned $24, $10.20 and $7 while earning first prize of $60,000. Croughavouke paid $6.40 and $4.40, while Applecross returned $5.60 to show.
---
VICTOR ESPINOZA (Yesterdayoncemore, winner) – "They said in a perfect world, if you can sit three or four lengths back, cover her up, and then make a late run. It worked out just that way. She's built strong and I thought she'd love this turf. Sure enough. I was just going to play it with her off the break, and she broke great. This kind of horse will pretty much take you there. She did today. This has been a very good meet for me. I'm very pleased. I really couldn't have asked for more."
DRAYDEN VAN DYKE (Croughavouke, second) – "Good trip for me. I was right behind the winner and she sort of got the jump on me. We both sprinted for home and she (Yesterdayoncemore) got there first. Both these fillies are real nice."
FLORENT GEROUX (Applecross, third) – "My trip was a good one. She handled it all well. Those two in front got away from us."
JAMES STACK (Yesterdayoncemore, winner) – "She did it well. She looked the part at home and for the better part of two weeks we've been here. Victor gave her a good ride and it worked out well. She'll stay here and she's got plenty of options now. We were looking at Flavien (Prat) and Florent (Geroux), but they were taken and Victor was open. He's won a Triple Crown, which is a heck of a lot more than I've done. "
---
FRACTIONS: :23.24 :48.27 1:12.02 1:24.07 1:35.67
The stakes win was the fourth of the meet, but the first in the Del Mar Juvenile Fillies for rider Espinoza. He now has 101 stakes wins at Del Mar, third-most in track history.
The stakes win was the first for trainer Stack. It was the first horse he's run at Del Mar. He is from Golden, County Tipperary, Ireland.
The winning owners are D P Racing, which is the nom de course for Deron Pearson of Las Vegas, NV, and Mrs. M. V. Magnier and Mrs. Paul Shanahan.