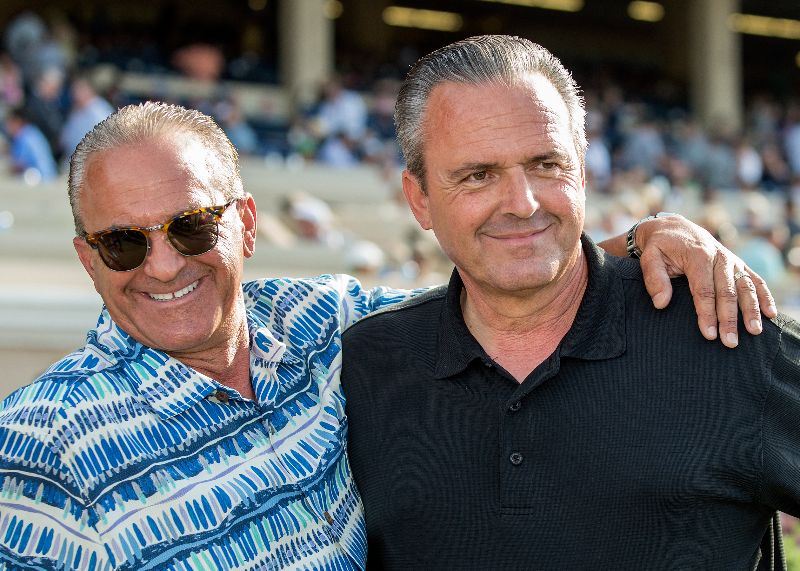 Hronis Brothers © Benoit Photo
Hronis Racing of Kosta, Stephanie and Pete Hronis of Delano, CA, were the leading owners at the 2021 Del Mar summer meeting, both for money won and number of wins.
This is the sixth time that the Hronis' have been leading owner for money won. They did it previously at the shore track in 2019, 2018, 2017, 2014 and 2013.
Hronis Racing earned $1,020,440 during the season, a large portion of it -- $600,000 in fact – when their horse Tripoli won the TVG Pacific Classic on August 21. The Hronis' also had eight wins, the most by any owner.
Second in money won was Red Baron's Barn and Rancho Temescal with $520,852. Third was Reddam Racing with $442,140.
Nick Alexander and Kaleem Shah were second in the wins department, each with seven firsts.
Owner
Starts
1st
Purses
Hronis Racing
37
8
$1,021,440
Red Baron's Barn & Rancho Temescal
48
5
$520,852
Reddam Racing
42
5
$442,140
Downstream Racing
16
6
$424,890
LNJ Foxwoods
16
4
$406,320
Gary Barber
39
6
$395,740
SF Racing, Starlight Racing, Madaket Stables,
Masterson, Stonestreet, Schoenfarber, Waves Edge Capital,
Donovan, Golconda & Siena Farm
11
5
$393,200
Nicholas B. Alexander
25
7
$392,800
MyRacehorse & Spendthrift Farm
5
2
$316,500
C R K Stable
15
5
$292,580
Kaleem Shah
7
3
$233,332
Willow Grace Farm & Petersen
2
2
$222,000