Friday, November 24th, 2017 ( 1 year ago )
Hills Add Del Mar to Their 'Places to Race' List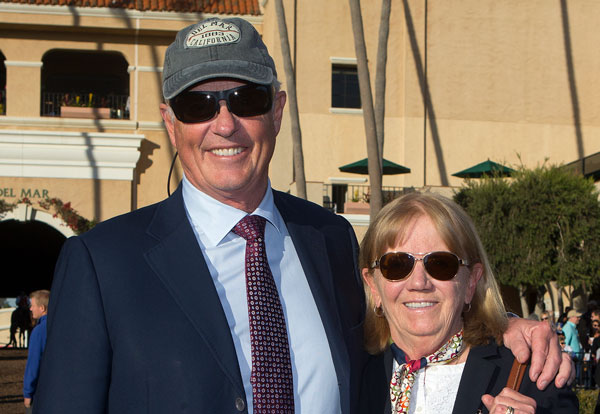 Jim & Susan Hill © Benoit Photo
By Hank Wesch
The presence of owners Jim and Susan Hill at Del Mar, a place Jim Hill concedes – "We'd never been to, never seen until this year" -- with more than a dozen horses for the Bing Crosby Fall meeting leads to one inescapable conclusion.
Del Mar hosting the Breeders' Cup for the first time was the lure that brought them here.
One inescapable, and totally wrong, conclusion.
"We actually didn't think we'd have a Breeders' Cup horse and we booked the house we're staying in last spring," Hill said. "We wound up having two horses run on the Breeders' Cup undercard, but the plans were in place months ago.
"We'd always raced in Keeneland in October. We'd always raced at Aqueduct and Churchill Downs. We were looking for some November racing and this is what we decided to try."
The Hills brought 18 horses with them, notched their first win with Winning Element on Thursday, November 16 in a maiden event and took seventh with Phantom Opening in an allowance on Sunday, November 19.
Entering the final four days of the meeting, which included eight graded stakes races, the Hills were anticipating sending out several more of their runners to the starting gate. Chief among them was 2-year-old filly Daddy Is a Legend, a daughter of Scat Daddy and a $160,000 purchase at the Keeneland September sale in 2016, in the Grade III Jimmy Durante Stakes on Saturday.
Daddy Is a Legend was second, beaten 1 ¼ lengths by Rushing Fall – who went on to win the Breeders' Cup Juvenile Fillies Turf – at Belmont Park in September and then notched her first win in her third career start in October at Keeneland.
On Friday, the Hills are scheduled to send out Moneigh Moproblems in the fourth race and Clear the Mine in the sixth. On Saturday, the Hills were to be represented by Prairie Citizen in the second race and Daddy Is a Legend in the Jimmy Durante (9th) to complete their Del Mar 2017 experience.
The Hills are Canadians who spend the majority of their time in Calgary, but travel to Kentucky or Florida when their horse racing business requires. Jim, a native of Toronto, studied engineering and accounting and guided Pason, a company that provides specialized data management systems for drilling rigs, from a small start-up to a public company worth more than $2 billion.
Hill, 67, is chairman of Pason but sufficiently retired to be able to devote plenty of energy to racing. The Hills own the 650-acre Margaux Farm outside Midway, KY, and among their stakes-winning horses are Solid Appeal, the champion turf female of Canada in 2013.
The Hills have horses at Del Mar with their two main trainers, Brian Lynch and George Weaver. Lynch has been on site at Del Mar. The Weaver group is under the care of his assistant Austin Trites.
"I think the plan is that Brian's horses will go back to our farm at Margaux or to Gulfstream Park in Florida and George's horses will stay out here with Austin and go on to Santa Anita," Hill said.
Making the trip to Arcadia to watch their horses run at Santa Anita figures to be considerably less taxing than the cross country journeys to Kentucky or Florida.
"We did race at Santa Anita maybe seven or eight years ago, but we only had two horses and it wasn't that good of an experience," Hill said. "We've got more horses this year, so it will be a better test. We'll probably make it down for a weekend or two."
Trites first met Jim Hill at the Keeneland Fall meeting in 2016.
"He's a friendly, unpretentious guy, very knowledgeable and very statistical in his approach to racing," Trites said. "Not a typical owner but kind of an ideal owner. He has certain things that he expects. He's a big fan of getting horses to rate and come from off the pace, which is sometimes easier said than done. But he feels, and I think the numbers prove him out, that it makes good sense and you have a much better chance if you don't expend too much energy early and you have something left at the end."
The California fall campaign was well thought out and planned in advance.
"He was saying how they used to pull the plug on everything in the winter," Trites said. "Then they realized they might have Derby prospects or who knows what, but by the time those horses got back into training, it was too late.
"Now, the thinking is that with certain horses you still pull the plug in the winter because they've had long campaigns. But with a lot of the younger horses especially, that are only a few races into their careers and are just starting to learn the game, there's no point in pulling the plug.
"You're better off taking a shot, wherever it is. And we've decided that
California is a dream come true for that."
Words to warm the heart of Del Mar Thoroughbred Club vice president of racing Tom Robbins.
"It's wonderful for us," Robbins said. "We try to encourage new people to come here and their trainers as well, so this is like a double bonus. We're thrilled they made the effort and hope they do well."
Jim Hill's impressions from his initial fall race meeting at Del Mar?
"I think the track is beautiful, the area is beautiful and the people here have been very accommodating," Hill said. "You've got beach walking and hiking and all kinds of fabulous restaurants around here, so there's plenty to do. I'm definitely a fan and I'm sure we're going to be back here at some point."